With the NBA trade deadline just a little under a month away, underachieving teams like the Boston Celtics, Dallas Mavericks and Los Angeles Lakers, may all be looking to shake things up a bit as they look to make a run at this year's postseason.
Boston Celtics
Currently riding a five-game losing streak, the Boston Celtics have been linked to trade rumors throughout the association. With a record of 20-22, good enough for the eighth seed in the Eastern Conference, the Celtics clearly need to make a move if they want to put together a meaningful run this postseason.
Although the Memphis Grizzles may have unofficially taken Rudy Gay off the market this week with a payroll-shedding trade, Gay is someone for whom the Celtics should be trying make a move, and with news that the Celtics may be looking to move Paul Pierce, the timing couldn't be more perfect.
While Pierce may still be putting up All-Star-worthy numbers in his 15th NBA season, the time to part ways with this Celtic has come. The Celtics must trade Pierce while he still has value and if they can obtain Rudy Gay in the process, even better.
Dallas Mavericks
Another team that also desperately needs to make a move, would have to be the Dallas Mavericks.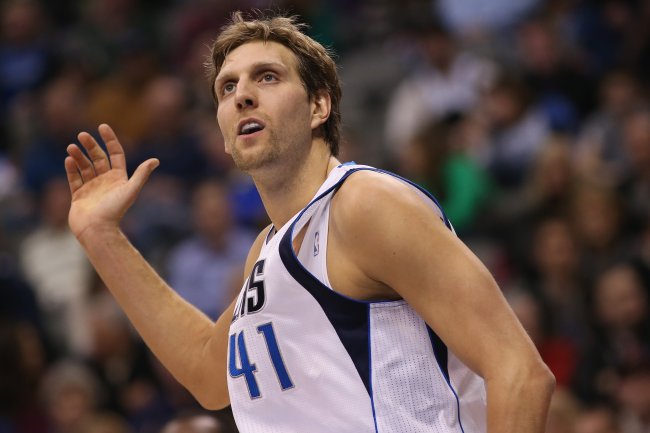 Ronald Martinez/Getty Images
Sitting in the 11th spot in the Western Conference with a record of 18-24, the Mavericks and Mark Cuban are reportedly open to considering a trade.
After missing out on Dwight Howard this past offseason, the Mavericks may finally have a chance at acquiring him via trade. According to ESPN's Jean-Jacques Taylor, if the opportunity arises, the Mavericks must go after Howard.
While this trade scenario relies solely on the Los Angeles Lakers willing to part ways with their new center, the Lakers may have to look into this if they don't want Howard leaving for nothing.
As for who the Dallas Mavericks would trade? That still remains unseen, but if the "Bank of Cuban" is open, anything can happen.
Los Angeles Lakers
The Los Angeles Lakers are no strangers to making big trades, and this year they may have to make another one if they want to be playing in late April.
With a record of 17-25, frustration is building in Los Angeles as the Lakers are on the verge of missing the playoffs for the first time since 2005.
How can the Lakers fix this? One solution is trading Pau Gasol.
Gasol is having his worst year as a Laker and clearly doesn't fit into Coach D'Antoni's offense. With news that Gasol is growing unhappy with his role and even expecting a trade, the Lakers should look into trading Gasol as soon as possible.
After apparently passing on an opportunity that could have landed Atlanta Hawks' power forward Josh Smith earlier this season, the Lakers need to revisit this exchange.
While Smith may not be the answer the Lakers were originally looking for, he may be all they can get at this point—but only if Atlanta is still willing.