The San Diego Chargers have filled their coaching staff with some high-end profiles, could former Chicago Bears head coach Lovie Smith be the next name added to that list?
While I wouldn't rule it completely out, at this time Chargers defensive coordinator John Pagano has anything to worry about.
Smith was considered for the San Diego Chargers head coaching vacancy and was interviewed Jan. 11 according to a report from UTSanDiego.com.
Unfortunately, Smith was passed on for an offensive-minded head coach and the Chargers would eventually hire former Broncos offensive coordinator instead.
Besides the Chargers, Smith interviewed with the Buffalo Bills and Philadelphia Eagles.
With the last remaining head coaching vacancies finally filled (Arizona and Jacksonville), what will happen to Lovie Smith this coming season?
According to a report from Marc Sessler of NFL.com,
the former Bears coach isn't expected to take a defensive coordinator job and, with another year remaining on his contract with Chicago, likely will wait until 2014 to jump back into the NFL
Smith is due the $5 million remaining on his contract according to CBSSports.com and seems to be set on the idea of taking time off while still getting paid.
He won three division titles and one NFC Championship during his nine year tenure in the Windy City, however, missing the playoffs five out of the last six seasons ultimately lead to his demise.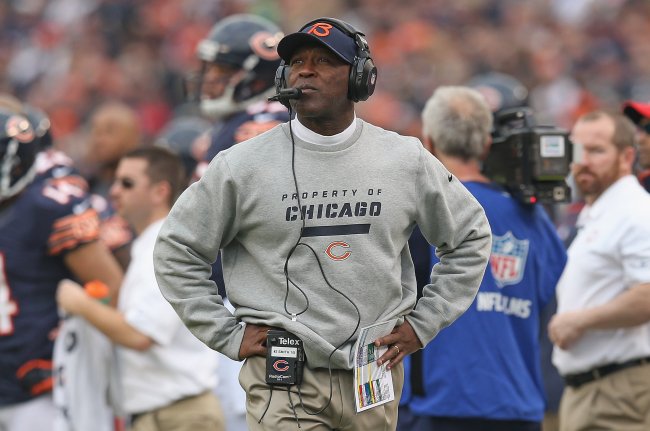 Jonathan Daniel/Getty Images
The Bears finished the 2012 season with a 10-6 record.
Smith is regarded as one of the best defensive minds in the game, however, his desire to be a head coach again may be his undoing.
Case in point, dismissed Chargers head coach Norv Turner taking the Cleveland Browns vacant offensive coordinator position.
It so happens that Turner will actually be working for one of his former assistant head coaches, Rob Chudzinski.
Granted there is nothing wrong with taking a year off and waiting for a head coaching vacancy to open in 2014. It might do him some good, but on the other hand it could backfire as well.
Should he decide not to take a sabbatical, I believe Smith could do great things with the Chargers defense. Granted, John Pagano has done a great job in his first season as defensive coordinator—having completely turned around a defense that was horrid in 2011.
Being out of the game for a year could leave you a step behind. The NFL is a rapidly changing environment and you need to keep pace to survive. Smith may never get his groove back after being gone for the entire 2013 season.