With the 2012 NCAA Division I college football season completed, college football fans can now look to the future with the new BCS playoff system now just two years away.
This new playoff system can potentially lead to the longest college football season ever.
The BCS commissioners released the dates and rotation of bowl games for the upcoming playoff system early Tuesday. Two national semifinal games will be played every New Year's Eve and New Year's day to determine the teams that will vie for a national championship.
The Rose Bowl and Sugar Bowl will be continued to be played on New Year's Day, even if they are scheduled to host a national semifinal. This is good, because you can't mess with tradition when it comes to those two bowl games.
As of right now, the Orange Bowl is the only other bowl game that is slated to host a national semifinal (2015) in the current rotation.
Other bowls considered to be in the running are the Chick-fil-A Bowl (Atlanta, Georgia), Cotton Bowl (Arlington, Texas) and Fiesta Bowl (Glendale, Arizona).
Each of the six bowl games will host the national semifinal once every three years.
The national championship game will always be played on a Monday and take place roughly seven to 10 days after the national semifinals. However the 2020 and 2023 National Championship games will be played almost two weeks after the semifinals.
A neutral site for the first BCS National Championship game under the new playoff system has yet to be decided, however a report from CBS 2 Los Angeles.com states that Cowboys Stadium is the likely front runner.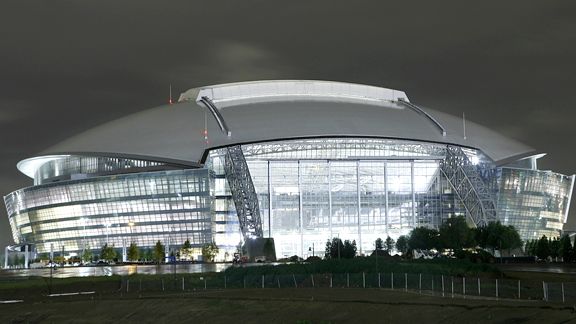 Each year a new neutral site will be determined to play the national championship, forgoing the current system in which one of the four BCS bowl games hosts the title game.
Now, here comes the really interesting part.
Who gets to play in these two national semifinals games?
Due to contractual obligations, not to mention long standing tradition, the Rose Bowl will continue to host the champions of the Big Ten and Pac-12 conferences and the Cotton Bowl will host teams from the Big 12 and SEC's Western Division. The only time this will deviate is when those bowl games will host the national semifinal.
A selection committee similar to the one used by NCAA Division I men's basketball, will be instituted to determine which teams will go to the playoffs and ultimately play for a national championship.
As of right now, the selection committee would have 15-18 members with at least one representative from each FBS-level conference and FBS independents. It would also include two or three "at-large" members according to a report from USAToday.com
Those "at-large" members could include retired sportswriters or journalists that covered college football in order to provide as much transparency as possible according to Executive Director of the Bowl Championship Series, Bill Hancock.
Hancock also stated that selection committee members would serve a three to five year term.
I have to give credit to the BCS and Bill Hancock for devising a new way to get the old nuances of how a national champion was determined behind them.
While I still believe a playoff system that includes more teams should have been considered, these are baby steps to possibility of that happening one day. Only time will tell.