MLB teams apparently are willing to sign high-dollar contracts for mediocre performances.
The Winter Meetings are a usual hotbed of deals, fake deals and rumors by the score. This year is no exception. Where will Josh Hamilton go? Could Zack Greinke really go the Dodgers?
That is just a sampling of the top of the pecking order. Oh yes, don't forget Michael Bourn, will he be left out in the cold?
Look at some of the deals that have been done, some at the meetings and some prior to that. Jonny Gomes (I like him) made a deal with the Red Sox for two years at $10 million. Wow!
That is after a season of .262/.377/.491 with 18 HR and 47 RBI. He was only making $1.75 million after he had a breakout year with the Reds, knocking in 86 runs in the only season in which he surpassed 500 plate appearances.
Am I losing my mind or are those mediocre numbers for a corner outfielder/designated hitter?
The "Flyin' Hawaiian" AKA Shane Victorino posted his worse season offensively batting only .255 with an OBP of just .321. Fear not! He signed on with the same Red Sox for three years at $39 million. That is a substantial raise over his $9.5 million in 2012.
Do you see the trend here? Players are being paid premium prices for average to subpar performances.
The Red Sox also signed catcher Mike Napoli after a vanilla season, of .227/.343/.469 hitting. His was the exact same deal as Victorino, three years at $39 million. His raise was almost identical to Victorino's.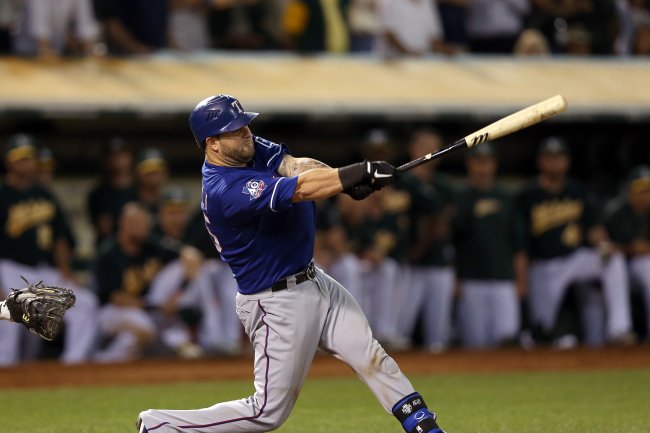 Ezra Shaw/Getty Images
It is expected that Napoli will start at first base for the Red Sox.
Maybe these salary increases could be considered "cost of living" raises. Whatever they are it makes me fondly remember seasons long ago.
In 1956 Mickey Mantle won the Triple Crown at age 25. He wanted the Yankees to double his salary from $32,500. GM George Weiss said he was too young to make that kind of money.
Mantle said that "he threatened to show my wife reports from private detectives he had gumshoe me and Billy Martin. He threatened to trade me to Cleveland for Herb Score and Rocky Colavito."
Hall of Fame member Ralph Kiner said that in 1952 after winning his seventh consecutive home run title, a major league record he was called into GM Branch Rickey's office. He was making $90,000 that year.
His average had spiraled down to .244 and Rickey told him he was cutting his salary to $65,000. When Kiner asked why, Rickey asked him what place the Pirates finished that year. When Kiner told him they finished last, he was told, "We can finish last without you."
It certainly shows how times have changed.