Remember when the Chiefs had that Indian chant? You know the one that began with "Ah" and ended the same way? Recently, that has changed to "Boo," and without end. That, more than anything else, expresses how the fans of my beloved team of 40 years feel today. And you know what?
It hurts.
It hurts that we all had such high expectations for this team.
It hurts to see such bad play and coaching on the field.
It hurts seeing a head coach who should only be a coordinator, a quarterback who was billed as a "savior" (but who needed to be saved), and a general manager whose choices in personnel and coaching may have set back this team for yet another "rebuilding stage," two words no Chief fans hoped they would ever hear again.
Look, we all make mistakes, only some people make more than others. Teams do too, but 43 years without a Super Bowl? That's one big whopper. I could go on and on, and we have heard it all before, and have witnessed mistakes again and again.
The big loser in all of this are the fans. We are the ones who pay the price, and in more ways than one.
We have three stooges at the QB position. The golden boy from Notre Dame, who spent more time at the beach than in the film room, receiving all that hype in college. Some fans believe in him. Romeo certainly does.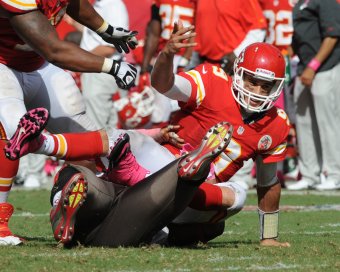 Al Messerschmidt/Getty Images
He's the one that drafted him
We have a former Iowa quarterback who has never been given a chance. There are usually reasons for this, and with a draft filled with quarterbacks who went in the early rounds, maybe there are reasons he lasted until the fifth. Deep passes that hang may be one.
Then we have Cassel.
I supported him for years, but was let down by his horrible play this season. I have to admit, I feel sorry for him. He never said he was a "franchise QB." Neither did the Chiefs. The NFL Network was responsible for that phrase. Either way, it may go down as Pioli's biggest mistake.
Moe, Larry and Curly. Actually, there was also a fourth stooge. He might be making his debut in 2013. Let's hope not.
Despite what reporters think, Pioli may be with this team longer than we expect. That depends on Clark Hunt, who, unlike his father, admits he doesn't know a thing about football. We have seen that play out before our very eyes
What's with Jamal Charles?
The Chiefs limited a healthy Charles to nine carries a game over the last few years, and now, coming off injury, he gets 30? Listen, it's not a good thing if you have to build your team around a guy who lacks durability. Maybe he's the only threat they have, but if they don't watch it, they'll run him into the ground. Nevertheless, he still may be the best running back in the league.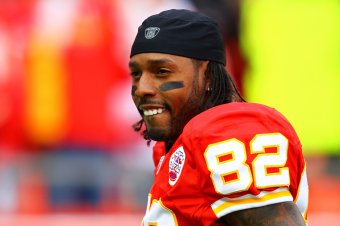 Dilip Vishwanat/Getty Images
Peyton Hillis, get back on the field already.
So Dwayne Bowe wants out?
Why?
He's making $9 million this year and $10 million in 2013 (if they tag him again). The greed in some athletes just reflects the greed in this country. No matter how much you make, it's never enough.
Don't worry, he'll leave after this season, and KC should get a third-round compensatory pick for him. Trade? Not likely. That would take common sense, and if there is one thing that Scott Pioli won't put up with, its common sense.
My unsung hero for 2012 is Ryan Lilja.
This guy should be in bed with a severe back injury, but he still takes the field every week and gives 100 percent. He will never get the credit he deserves. I think just now he finally may have.
Look for Brandon Albert to get the franchise tag next year. He deserves it, and don't think current management for a minute can actually avoid the tag and sign him. They have better things to spend their money on, like Eric Winston, the once-great-but-now-not-so great offensive tackle.
Speaking of offensive lineman, what's with the Chiefs coaching staff?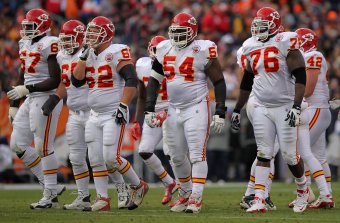 Doug Pensinger/Getty Images
Last season Haley had only eight coaches, and this year they have 16? Go figure. I was angry when they only started the year with seven offensive lineman. Seven, and the two backups are rookies? Of course they added another who they picked up from—you guessed it—the New England Patriots. Old habits die hard.
Brian Daboll. Please run more than five different plays. Thank you
If Chief fans hope Tony Gonzalez finally gets his ring, I'd love to see the same happen with Glenn Dorsey. How often do you ever see a player play out of position for years without a gripe? He is the kind of guy you root for. Someday, he'll make the Pro Bowl as a 3 technique, but not in Kansas City
Dontari Poe has shown me far is exactly what he showed in college.
Big body, quick feet and great effort. There is only one problem: A guy who weighs 350 pounds should always draw a double-team, and too many times he has been blocked by one guy. That's not what you want from a nose tackle.
The Chiefs really need a replacement for Jovan Belcher too.
Yes, he'll get a fair amount of tackles, but he really lacks big-play ability. Last year he had less big plays than any starting linebacker in the NFL. On the other hand, we have Justin Houston, who makes nothing but big plays. He and Tamba Hali may already be the best pass-rushing tandem in the game.
Yes, we have all learned from the mistakes of the Pioli regime, but the more important question to ask is what management has learned. And maybe, just maybe, Scott Pioli may be the biggest mistake of them all
This is dedicated to all those loyal fans of the Chiefs who are sick and tired of this broken record. We deserve better and for that reason alone, we have the right to boo. Its the only way we can be heard.