The Chicago Bears, coming off of a bye week, will take on the Detroit Lions who are fresh off a 26-23 overtime win against the Philadelphia Eagles this past Sunday.
The Lions made the playoffs last season after suffering through years of losing campaigns. But things appear to be heading backwards for Detroit as they aren't playing as well as they did in 2011. Which team will show up when the Bears host them this Monday night? Will it be the one that made the playoffs last year or the team that's been struggling this season?
Let's take a look at the Bears' chances of winning this game, what they have to do to win and what's in store for them.
When the Bears have the Ball
The Bears' offense has been slow to start games and will need a fast start against the Lions. Chicago should start off by running the football with Matt Forte and Michael Bush to allow for the passing game to open up and create some opportunities down the field. The Lions' rushing defense has been allowing 102 yards per game, which isn't bad, but look for Chicago to establish the run early in this one.
Quarterback Jay Cutler has been relying on Brandon Marshall to catch a lot of balls this season and he's going to throw a lot of passes Marshall's way in this game. Hopefully he will be able to connect with him and make some plays down the field.
Cutler won't have rookie receiver Alshon Jeffery in the mix this week (and for the next few weeks as he recovers from a broken hand), so he will have to utilize guys like Devin Hester, Earl Bennett (who himself is coming back from an injury) and Dane Sanzenbacher. Hopefully they will be up to the challenge.
Will the Bears win this game?
The Bears will face pass-rushers Kyle Vandenbosch and Ndamukong Suh, and this means that the pass protection must be on target. Cutler hasn't been sacked as often as he had been earlier in the year (over the past few games) and the Bears would like to keep him clean.
Perhaps keeping a running back or a tight end in to block would help. Tight end/fullback Evan Rodriguez will be back for this game and he might be able to help block the Lions' two best pass-rushers and give Cutler time to throw the ball.
When the Lions Have the Ball
Lion's quarterback Matthew Stafford hasn't been having the kind of year that he had last year and it is hoped that he will continue to struggle in this game against the Bears. Stafford had a great connection with wide receiver Calvin Johnson last year but that connection hasn't panned out as well as it did before. Stafford and Johnson aren't getting together as much as they have before and the Bears would like to keep it that way in this game.
Chicago's defensive front four have been able to generate pass pressure on their own for the most part this season, and will have to do the same against Stafford throughout this game. This can be done by forcing him to get rid of the ball earlier than he wants to which should cause mistakes that the Bears' secondary can take advantage of. The Bears rotate their linemen in order to keep them fresh so they have the best chance at getting to the quarterback on a regular basis.
The Lion's rushing attack hasn't been as productive this season as some had hoped, and the Bears shouldn't have any trouble shutting down it down. Look for linebackers Lance Briggs, Brian Urlacher and Nick Roach to have a big day keeping the run in check and forcing the Lions to pass the ball more often.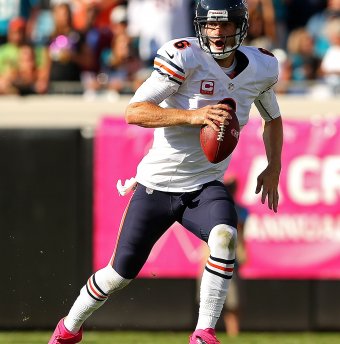 Mike Ehrmann/Getty Images
When it comes to the secondary, both Charles Tillman and Tim Jennings seem to be up to the task. Both are having success this season intercepting passes thanks to the pass rush, but they do have a tall task ahead of them defending Johnson. Tillman is likely to be the one who will be covering Johnson in this game, and he will have to do a good job making sure that Megatron doesn't catch a lot of passes.
The Final Word
The Bears have a lot to play for in this game. Coming into the game, they are in sole possession of the lead in the NFC North with the Vikings close behind. If the Bears can win this game, they will put some padding in between themselves and the Vikings and grab their first win within the division. So there is a lot at stake here.
Hopefully, the Bears don't come out flat in this game following their bye week and will have a faster start on offense. Chicago needs to pick up the pace scoring more points early to help keep the Lions from taking control of this game. If they can do that, then they have an excellent chance of winning.
The defense has been playing outstanding football so far this season, but faces a tough test with Stafford and Johnson. When the Lions' receivers are out running their routes, they need to be blanketed by the Bears' secondary which has done a good job in coverage this season.
Special teams may become a factor in this game since the Lions have faltered at times this season in special teams coverage. This might give Hester the opportunity he needs to break a long return and get into the end zone. Keep an eye on special teams in this game as it could be an important factor for a Bears' win.
Prediction
Chicago 28 Detroit 13