I want Miami Dolphins fans to remember how they felt the morning of April 14, 2010, when ESPN analyst Adam Schefter reported that the Dolphins had traded two second-round draft picks for Brandon Marshall.
Miami finally had its marquee franchise player, or so we thought.
Marshall never lived up to the hype surrounding his arrival in Miami. He was semi-productive (167 receptions, 2,228 yards, nine TDs), but he dropped far too many balls for a No. 1 receiver.
His head-scratching plays—running out of bounds with no one around him against the Jets on a Monday night, for example—did not help his cause.
The most glaring issue that surrounded Marshall, which ultimately led to his trade to Chicago, was his nettlesome behavior. Marshall's difficult reputation led many to believe that the new coaching staff did not want to work with the 6'4" 230-pound star, and his tenure in Miami came to an end.
It could be deja vu for the Dolphins.
Jason Cole of Yahoo! Sports tweeted Wednesday that Dwayne Bowe wants out of Kansas City "very badly." There are no official talks between Miami and the Chiefs as of now, as reported by Ben Volin of the Palm Beach Post. That has not, however, stopped rampant clamoring from finatics everywhere.
Should Miami trade for Dwayne Bowe?
The fanbase is thirsty for a big-name star to line up on the outside, and there is no denying that Ryan Tannehill could use a player like Bowe. He would be an immense upgrade and immediately be the No. 1 threat on the offense, but at what cost?
Bowe's trade demands are eerily similar to those of a young Brandon Marshall in Denver. Would Miami just be trading one toxic personality for another?
Following Matt Cassel's injury and Brady Quinn's poor play, Kansas City is in need of a QB, and Matt Moore would be an upgrade for the Chiefs.
He took over a left-for-dead franchise in the Dolphins (0-7) last year and helped lead them to six wins in their last nine games. He improved under Brian Daboll, who just so happens to be the current offensive coordinator for Kansas City.
Moore, however, will not be enough to bring Bowe to South Beach, and one of the Dolphins' high-end picks would have to be involved in any trade for him. Money could also be a concern with any deal, as Bowe would be a costly cap hit when his contract expires.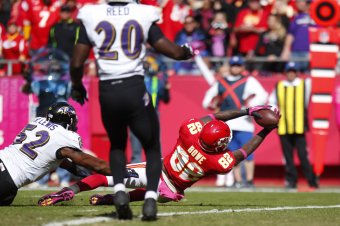 Kyle Rivas/Getty Images
A long-term deal or franchise tag would be necessary to ensure he is not simply a 10-game loan. With Jake Long's contract issues, is Miami willing to pay two big-name talents huge money?
With the plethora of young talent coming out of college for the 2013 draft, the Dolphins are better suited to sit back and wait. Miami has multiple picks in the first three rounds (five) and the opportunity to build a strong team around Tannehill.
The Steelers are one of the NFL's best-run organizations because they have been willing to get rid of their problematic talent. The Jets are not because they jump at the opportunity to claim them.
New York thought they stole Santonio Holmes from the Steelers for a fifth-round pick, but Holmes quitting on his team at the end of last year proved Pittsburgh right. Miami cannot make the same mistake.
The Dolphins are on the brink of something great. The camaraderie that exists in the locker room should not be tinkered with by throwing in a potential toxic personality strictly because of his skill set. One cannot sacrifice a bright future for short-term results.
Follow Eduardo on Twitter for more insight on a variety of sports topics. Follow @BR_Mendez