Remember the days of Carl Peterson? Some barely do. Despite being general manager of the Kansas City Chiefs for many years, he still seems like a distant memory to me.
I guess that's because these last four years under Scott Pioli seem like they've lasted forever.
People knock Peterson, and most GMs or players who reach a point of stagnation if they sit on the throne for to long. Maybe it was time for Peterson to go, but despite the horrible decision to have Herman Edwards take over as head coach, he really wasn't that bad.
Peterson was active in the community; he brought Dick Vermeil and aging veteran legends like Joe Montana and Marcus Allen to town.
He even listened to fans by signing Ty Law, who was hardly the "shutdown" corner fans thought he would be. Peterson signed him anyway, to the delight of the city. That was only for five days before the city was "brought down" again with the announcement of Willie Roaf's retirement.
And now fans have Scott Pioli, the clandestine, detached, and at times arrogant GM who thought he could turn the Chiefs into the New England Patriots, He hasn't.
Pioli's biggest blunder was the signing of Todd Haley, a signing delayed because the Arizona Cardinals were in the Super Bowl and talking to him was off-limits. Haley certainly had issues, which we know, but his firing was never fully explained and it should have been. We can guess, but that is as far as it goes. You see, you will never know anything as a fan under this regime, and there lies the problem.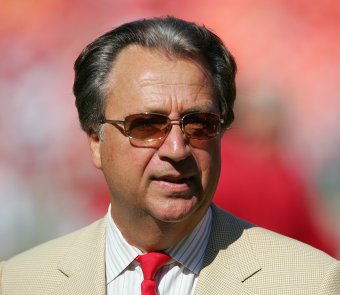 Doug Pensinger/Getty Images
I have several issues with Pioli, aside from the hiring of Haley. I always wondered why GM's like Pioli insist on dictating what goes on in the field. Should a GM insist on what kind of offense or defense a team runs? I mean, this isn't "Madden Football". Its up to the head coach isn't it? Do you ask a butcher about the meats you buy or the baker?
It didn't matter to him that their defense was not equipped to run the defense he wanted. A total of 6 players were forced to move from their "normal" positions, to fit a system they couldn't fit. That's arrogance.
And why? Because they had such a defense in New England? It worked there Scott, that doesn't mean you should assume it would work anywhere.
Matt Cassel was brought in, and billed as a Franchise QB when he actually was just a guy. And of course, they had to bring over a washed-up, once-great player in Mike Vrabel. If that wasn't enough, Pioli insisted that Tyson Jackson become the defensive anchor.Forget the fact that they could have kept that 4/3 with Glenn Dorsey as the anchor
Then there are his draft-day decisions. After having one of their greatest drafts under Peterson which netted Glenn Dorsey, Brandon Flowers, Jamal Charles and Brandon Carr, among others (in one draft mind you), Pioli followed by choosing Tyson Jackson, Alex McGee, and Donald Washington just one year later.
As a whole, his drafts have been weak ever since
Those "bugged" telephones that Haley talked about after getting the boot? Was it Haley's paranoia? Maybe.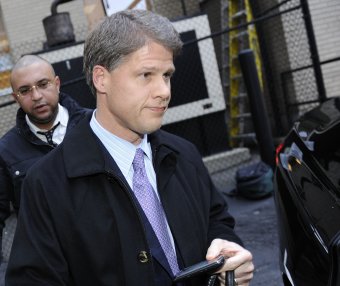 Jonathan Ernst/Getty Images
The hiring of Romeo as head coach, based on one game in 2011? God awful choice. I like Romeo, but as a defensive coordinator, not as a head coach. There are many out there, if you look, but Pioli must be a tyrant know matter who he selects. In other words, another "yes man" like Romeo, and THAT is the Chiefs biggest problem- who can co-exist with a tyrant unless its Bill Parcells.
Pioli has had other issues too, like "The right 53," which was about as vague as it gets. After one year of only drafting team leaders, he switched gears and drafted immature "man-children", and then justified it with a mass of rationalizations, disclosing that even he made mistakes when he was a kid.
This year, here we are at 1-5. Can they turn it around? Maybe, but most likely one more loss will doom this team. And the one win they do have was due to a field goal, in overtime, against a winless team. This is not what anyone of us expected when this season began
The big question now is not Matt Cassel or even Romeo Crennel. Both are on the "hot seat," but whether owner Clark Hunt decides to keep Pioli for the immediate future is the biggest issue and to me its not even an issue. Forget the players, it all starts at the top.
Scott Pioli promised the fans a playoff team in 4 years, maybe even a championship or Super Bowl, but that doesn't appear on the horizon. At this point, its one more blow to the fans who thought that this year would be different
Pioli recently was quoted as saying that mistakes were made but would not elaborate. Maybe that's because he knew that his hiring may have been the biggest mistake of all