Nearly one year ago, I wrote an article titled "Beating Auburn would start erasing doubts about Dabo Swinney and Clemson Football" on my personal blog. Clemson won that game, 38-24, in a game where Sammy Watkins said hello to the nation with 10 receptions for 155 yards and two TDs. The Tigers went on to defeat Florida State and Virginia Tech in the following weeks, and they sprinted to an 8-0 start. There where whispers of playing for a national title, but also whispers of when Clemson was going to pull a "Clemson."
You know, the inevitable game or two Clemson has every season where they inexplicably play terrible against a team they are favored to beat. Some feel that game was against Georgia Tech in a 31-17 loss in Atlanta. I don't think so, as Georgia Tech played nearly a perfect game to beat the Tigers.
I felt it was a 37-13 shellacking in Raleigh to the NC State Wolfpack. Honestly, it wasn't that close either. There was no shame in losing to a pretty good Wolfpack team, but Clemson, well, they pulled a Clemson. The Tigers barely competed.
After that there was a 34-13 loss to in-state rival South Carolina. The Tigers managed to play very well and beat Virginia Tech in the ACC Championship, but then the bottom fell out in humiliating fashion.
A 70-33 blowout, pounding, destruction—whatever you call it—at the hands of the West Virginia Mountaineers in the Orange Bowl. I know a lot of Clemson fans who've complained "let's stop talking about the Orange Bowl."
I disagree.
That game should be tattooed on the brain of every Clemson from QB Tajh Boyd to the water boy. It was an embarrassment of epic proportions. Clemson has recovered to get verbal commitments from some of the best players in the country for 2012, including the consensus No. 1 player in the nation, DE Robert Nkemdiche.
Yes, that's great. That's wonderful, but at the end of the day, it's the battles won in the fall not February that people remember. 2011 was a nice season with some big highlights, but the finish left a bad taste in everyone's mouth.
The good thing is as early as September 1st Clemson can put those memories to rest against the Auburn Tigers in a prime-time Saturday matchup. Beating anyone from the SEC not from the state of Mississippi will earn a measure of respect and credibility. That's Clemson's and Dabo Swinney's task, and again, like last year, it's against the Auburn Tigers.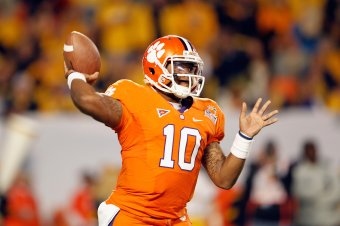 Mike Ehrmann/Getty Images
Sammy Watkins won't be available for the game due to his suspension. The Tigers will lean heavily on their other offensive stars—QB Tajh Boyd, RB Andre Ellington and WR DeAndre Hopkins. The offensive line is inexperienced outside of Dalton Freeman and Brandon Thomas, and that could be an issue.
They will face an Auburn team without RB Michael Dyer and offensive coordinator Gus Malzahn. Those Tigers want to prove some things, too. They want to prove that the Cam Newton 2010 national title year wasn't a one-year wonder. They'll have plenty of motivation.
Last year, Clemson had to beat Auburn at home to show the college football world Clemson was a force. They did, and they were. Now Clemson faces Auburn again with the opportunity to put the Orange Bowl behind them and let everyone know that even if 2011 had some bumps, the Clemson Tigers are truly a program on the rise. By the way, I'll be at the game to see if Clemson can do it.
Please follow the ACC on Twitter and become a fan of the ACC on Facebook.