One of the most asked questions in fantasy football—"Is that player worth the risk?"—is becoming more common every day. Why does there always have to be risk involved? Aren't there any "sure things" in the NFL anymore?
Of course there are, and while some are very obvious, there are always some that slip under everyone's radar as those owners try to get the next "big thing." Sometimes that next "big thing" just isn't.
Let's start from the top of the current MyFantasyLeague.com's PPR ADP and pick the top 25 players who are not only "worth the risk," but are guaranteed to provide the "biggest bang for your buck."
1. Arian Foster, Running Back, Houston, ADP 1
In the three years since becoming the starter, Foster has averaged 1,969 total yards, 58 receptions and 14.7 touchdowns. Even with missing three games in 2011, and the emergence of Ben Tate, Foster finished as the fourth best running back in PPR leagues.
In 2010 he was the top-scoring running back. He had 12 games with over 100 total yards, nine weeks with over 25 fantasy points and seven games with multiple touchdowns.
The average in his two seasons as a starter is over 2,000 total yards and 15 touchdowns. There is simply no reason to believe he won't do it again.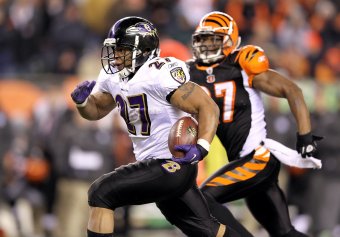 Andy Lyons/Getty Images
2. Ray Rice, Running Back, Baltimore, ADP 2
The only thing that keeps Rice out of the top spot is his touchdown inconsistency. He scored 12 in his first two years as a starter, but then had 12 in 2011 alone. Of course, most of that difference was because of the presence of Willis McGahee stealing touchdowns in 2009 and 2010.
Rice actually has a better yards-per-carry average, more receptions and reception yardage than Foster. If 2011 was an indicator of what we can expect from him in touchdowns going forward, he will top this chart in 2013.
3. LeSean McCoy, Running Back, Philadelphia, ADP 3
McCoy is coming off a career year—so far. He totaled 1,624 total yards, but it was his 20 touchdowns that put him over the top for fantasy owners. He had "only" scored nine times in 2010.
While his rushing touchdowns may come down slightly from the 17 he scored last year, there is no doubt that McCoy is the bell cow in this offense, and a healthy Mike Vick should only increase McCoy's chances of doing that. Vick "promises'' to play smart and stay healthy.
All three of the running backs listed above are certain to not only be safe picks, but also give any "lucky" owner who drafts them a "happy" feeling in their tummy.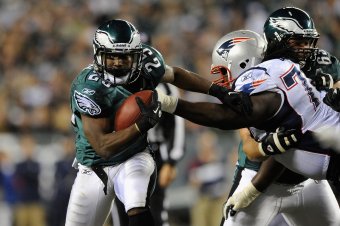 Patrick McDermott/Getty Images
4. Aaron Rodgers, Quarterback, Green Bay, ADP 4
Rodgers set career highs in 2011 with 4,643 passing yards, 45 touchdowns, 68.3 completion percentage and 122.5 quarterback rating; he also set a career low in interceptions with six.
His four-year starting averages of 4,259 yards, 32.8 touchdowns and only 9.3 interceptions have been good enough that he has yet to finish outside the Top 3 in most scoring systems each year. He finished first in both 2011 and 2009.
5. Calvin Johnson, Wide Receiver, Detroit, ADP 5
The Lions finally woke up from their 11-year slumber by finishing 10-6 and getting into the playoffs for the first time since 1999. It was no coincidence that this came at the same time that quarterback Matt Stafford stayed on the field for all 16 games.
Calvin was simply a beast last year. His 1,681 receiving yards and 16 touchdowns were both career highs and he had five games with two touchdowns, including the first four games.
But let's not forget that Calvin was a beast without Stafford too, only just slightly less "Megatronic." In two of the three previous seasons—they try not to talk about 2009 in Detroit circles—Johnson had over 1,100 yards and 12 touchdowns.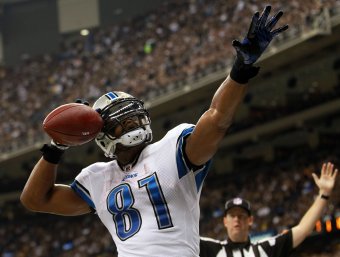 Ronald Martinez/Getty Images
With Round 1 in a tizzy because of all the injury concerns to the top running backs, Johnson will provide a "safe haven" to all owners who are fortunate to draft him.
6. Tom Brady, Quarterback, New England, ADP 6
Outside of 2008, when Brady was crushed in Week 1 and missed the rest of the season, he hasn't had less than 3,500 yards and 23 touchdowns since 2002. That's 10 very strong years in a row.
But those are his lows.
In 2011 he had a career high 5,235 passing yards and 39 touchdowns, and in his last four complete seasons he has averaged 4,584.8 yards, 38.3 touchdowns and 9.3 interceptions.
The addition of Brandon Lloyd can only help to increase the productivity of this already great offense and Brady has finished in the in the Top 3 in four out of the his last six years played.
Draft him knowing your return will be very strong.
7. Drew Brees, Quarterback, New Orleans, ADP 8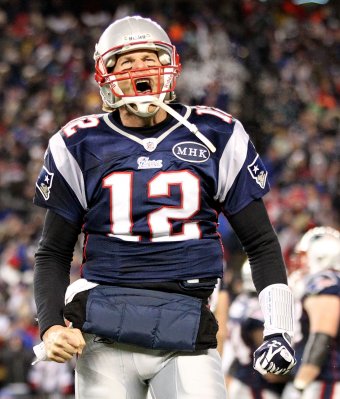 Jim Rogash/Getty Images
Brees is the epitome of consistency. He has only missed seven games since becoming a full-time starter in 2002, and only two games since 2004. Since 2006 he has never thrown for less than 4,388 yards or the 26 touchdowns he had that year.
His average season since 2006 reads like this: 4,732 yards, 33.5 touchdowns and 15.5 interceptions. Even if you use just his average of those six years in 2011, he still would've finished in the Top 7 at quarterback.
Even if you are not a fan of picking a QB this early, all three of the quarterbacks listed above, Rodgers, Brady and Brees, will all absolutely provide a very strong return on investment.
8. Matt Forte, Running Back, Chicago, ADP 10
Forte gave fantasy owners a scare this offseason when there was talk of a possible holdout. But they got his deal done and he arrived at training camp ready to roll as the main back, much to the chagrin of Michael Bush owners everywhere.
Forte is not a touchdown machine as most top backs tend to be, but in PPR leagues he is just gold. He has never caught less than 51 passes, and that includes 2011, when he missed the first four games he has ever missed.
His four-year average is 1,554.5 total yards, 55.8 receptions and 7.3 touchdowns. Those numbers would've made Forte the sixth-best running back in 2011.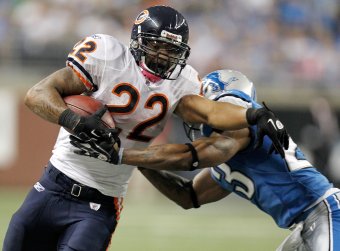 Gregory Shamus/Getty Images
He is an excellent pick at the end of the first, but don't be surprised if he moves nearer to the top five as we get closer to the season.
9. Jimmy Graham, Tight End, New Orleans, ADP 11
While many thought that Graham would be a breakout candidate last year, no one knew just how hard he would break out. His 99 receptions, 1,310 yards and 11 touchdowns were beyond the wildest expectations of even the most avid Saints' fans.
He averaged over 18 points a week in PPR leagues, including seven weeks over 20 points.
Going into 2012 there is no reason to think anything changes. He is still Brees' top target and will continue to be a dominant force at tight end. Pick him at the end of the first without a concern.
10. Larry Fitzgerald, Wide Receiver, Arizona, ADP 13
Even with a Kevin Kolb/John Skelton duo at quarterback last year, Larry managed to catch 80 balls for 1,411 yards and eight touchdowns. He finished the season as the seventh-ranked wide receiver.
Over the last five years he has averaged 92.6 receptions, 1,296 yards and 9.8 touchdowns. If he had just hit that average he would've been the sixth best wide receiver in 2011, but he finished seventh because he had a decrease in receptions and touchdowns. His touchdown totals have been down the past two years; hopefully that particular trend reverses itself in 2012. He did have the fourth-most receiving yards of any receiver.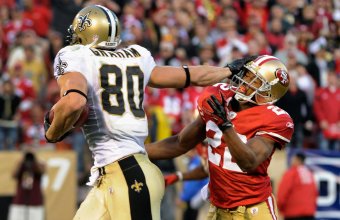 Thearon W. Henderson/Getty Images
But even with the dreaded two-quarterback combo, Fitzgerald is guaranteed to finish in the top 10 at wide receiver; he has done it every year since 2007.
11. Rob Gronkowski, Tight End, New England, ADP 15
Don't listen to the non-believers; they are programmed not to believe. Gronk is the real deal.
Gronk was only a part-timer in 2010, but he still managed to become the youngest rookie tight end to ever score three touchdowns in one game, and the first rookie tight end since the AFL-NFL merger to have 10 touchdowns for the season.
In 2011 he set records for all tight ends with 17 receiving touchdowns, most total touchdowns with 18, and most receiving yards with 1,327. Not only did he finish as the top scoring tight end, he was also in the top 12 of all scorers in most leagues.
Grab him knowing that you will get a Top 2 tight end, and he is an excellent pick at the end of the first or beginning of the second round.
12. Wes Welker, Wide Receiver, New England, ADP 17
Most are concerned that both Welker and Gronkowski will take a hit with the addition of Brandon Lloyd, and while his receptions and touchdowns may slip a little, there is no reason to think that he won't be a Top-10 producer again in 2012.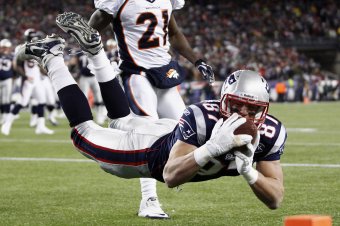 Mark L. Baer-US PRESSWIRE
He has been a Top-10 producer in every season since 2007, except in 2010, when he was coming back from knee surgery. Even in that season he managed to catch 86 balls for 848 yards and seven touchdowns. Remember that Welker was still very productive even when Randy Moss was playing his best football for the Pats.
Let others think that Lloyd will seriously cut into Welker's workload, while you grab him knowing that he will once again be a very solid every-week performer.
13. Julio Jones, Wide Receiver, Atlanta, ADP 21
To say that Julio Jones is the talk of Atlanta right now is probably putting it lightly. So far the list of people in Jones' corner includes Roddy White, ESPN's Pat Yasinskas, Jerry Rice and Matt Ryan. All have all predicted great things for Julio in 2012 and beyond.
It's hard not to buy into the hype after the solid season he had in 2011, even while missing four games. His totals were 54 receptions for 959 yards and eight touchdowns, but the last four games truly tell the story.
In those four games he had 20 receptions, 393 yards and six touchdowns.
Under the direction of new offensive coordinator Dirk Koetter, many expect the team to use Jones' explosiveness and throw the ball deep more often. If this turns out to be true, then Jones' numbers could be off the chart.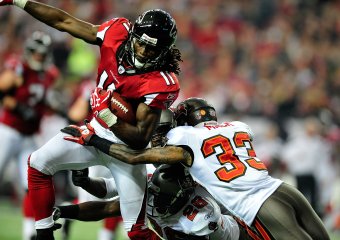 Grant Halverson/Getty Images
Draft him and expect big things—everyone else does.
14. Roddy White, Wide Receiver, Atlanta, ADP 27
While all the talk in Atlanta revolves around Jones, most people are giving up on White a little too early. There is no doubt that Jones will be the big play receiver and have some very good games, but White will still be quarterback Matt Ryan's security blanket when he needs to make a play.
White has been a very consistent player every year. In the five years since he became an every-down starter, White has produced over 1,150 yards and has had at least six touchdowns. Last year, even as Jones was bursting onto the scene, White had 100 receptions, 1,296 yards and eight touchdowns.
His average since becoming a full-time starter is 94.2 receptions, 1284.4 yards and 8.4 touchdowns. That average actually puts him at just over seven points less than he actually had in 2011. He has never finished outside the Top 10 since becoming the starter.
Expect him to take a little hit, but he will still finish as a Top 12 wide receiver and absolutely be worth this pick.
15. Brandon Marshall, Wide Receiver, Chicago, ADP 30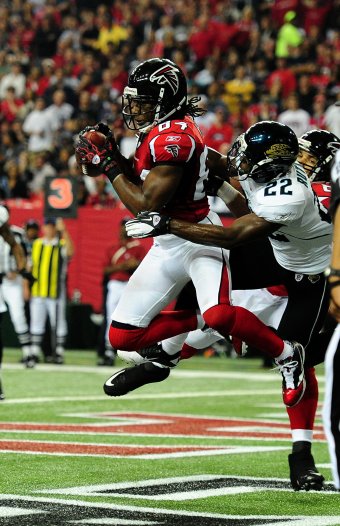 Scott Cunningham/Getty Images
Marshall saw a decrease in his receptions and touchdown totals for the two years he was in Miami, but now that he is back with Jay Cutler, those numbers should bounce back. When the two were together in Denver, in 2007 through 2009, Marshall averaged 102 receptions for 1,236.7 yards and 7.7 touchdowns. Those numbers would have made him the No. 8 wide receiver in 2011.
With no clear cut No. 2 wide receiver just yet, Marshall will once again become Cutler's go-to guy, and while he's no guarantee to score 10 touchdowns, he has a very good shot at reaching 100 receptions again.
He may have the reputation of doing stupid things off the field, but on the field he is a guarantee to produce enough at this draft spot to make him a solid choice in the middle of the third round.
16. Steven Jackson, Running Back, St. Louis, ADP 32
Jackson has been in the Top 12 at running back in PPR leagues in each of the last three years, and while he will never get back to the magical numbers he produced in 2006, he is a lock to finish in the Top 10 in 2012.
The addition of Jeff Fisher as head coach will certainly help the running game. In half of his 16 seasons as a head coach, his team finished in the Top 10 in rushing. Even with Jackson being 29, don't expect Fisher to take it easy on him.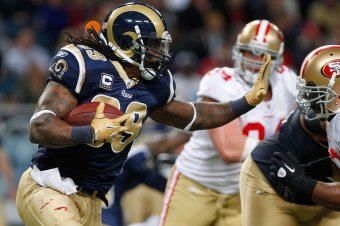 Whitney Curtis/Getty Images
Jackson has rushed for over 1,000 yards for seven straight seasons and has averaged just under 50 receptions and 444 yards receiving.
Jackson is a solid pick where he is being taken, and even at age 29, he has upside in a Fisher-led offense.
17. Hakeem Nicks, Wide Receiver, New York Giants, ADP 33
Hakeem Nicks has seen his ADP drop since he injured his foot and had to have surgery, but he has just been taken off the PUP list and will be able to start working with the team next week. Nicks still says that he will be ready for Week 1.
Even with the breakout of Victor Cruz, and with missing one week, Nicks still caught 75 passes for 1,169 yards and seven touchdowns. The touchdowns were down from 2010, but the yardage was increased.
He is currently being drafted after Victor Cruz, but expect that to turn around as soon as he gets some work in with the team. Cruz is a good receiver, but Nicks will still be Eli Manning's top target in 2012. Grab him at his current ADP and it will pay huge dividends.
18. Marques Colston, Wide Receiver, New Orleans, ADP 42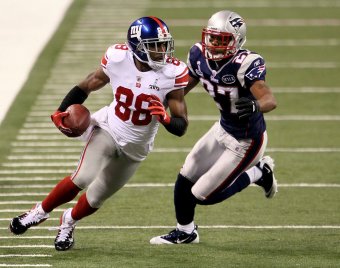 Jeff Gross/Getty Images
In five of his six seasons in the NFL Colston has reached at least 1,000 yards and seven touchdowns. The sixth season was 2008 when he missed five complete games and most of a sixth.
His average over those five years is 80.4 receptions for 1,095.8 yards and 8.6 touchdowns. Those numbers would've made him the 12th-best wide receiver in 2011. He actually finished 10th, even while missing two games.
He is currently being drafted as the 16th wide receiver off the board and is guaranteed to provide an excellent return on that investment.
19. Steve Smith, Wide Receiver, Carolina, ADP 43
After having his worst season in 2010 since his injury-plagued 2004 season, Steve Smith rebounded in a huge way in 2011—mostly due to the play of rookie quarterback Cam Newton.
He finished as the eighth-best wide receiver in 2011, but is currently being drafted as the 17th wide receiver off the board. There is simply no reason to think he falls off that far.
His 2011 season was his best since 2008. He finished 2011 with 79 receptions, 1,394 yards and seven touchdowns. He had six 100-yard games and scored over 15 points 10 times.
If we leave out his bad 2010 season, which can be mostly blamed on poor quarterback play, he has averaged at least 77.7 receptions, 1,254 yards and 7.8 touchdowns since 2005.
Otto Greule Jr/Getty Images
Draft him at this spot and absolutely get great value.
20. Brandon Lloyd, Wide Receiver, New England, ADP 54
Lloyd is falling into a perfect storm in New England. Not only is he back with Josh McDaniels, the guy credited most with Lloyd's breakout season in 2010, but he is also now in one of the best offenses in the league.
McDaniels is the one who created the game plans in St. Louis that turned Brandon Lloyd into a star in 2010. That season Lloyd caught 77 balls for 1,448 yards and 11 touchdowns. He finished as the secoond-best wide receiver that season and had 11 weeks with over 15 fantasy points, and seven weeks over 20 points.
Reports out of camp show that he looks like he has been playing with Tom Brady for years, instead of just months, and with McDaniels in the mix, expect Lloyd to have a year that strongly mirrors his 2010 season.
21. Eli Manning, Quarterback, New York Giants, ADP 58
Eli Manning is of course coming off a Super Bowl Championship season, but it was also his best statistical season yet. His 4,910 passing yards was an increase of over 58 yards more a game than he had in 2010, and that was while averaging only three more passing attempts per game.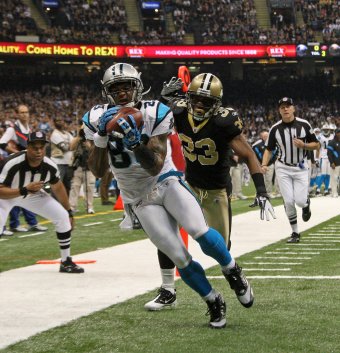 Scott Cunningham/Getty Images
The emergence of wide receivers Hakeem Nicks, over the last three years, and Victor Cruz last year, has certainly provided him with the weapons to get the job done.
Manning has absolutely stepped up his game and ended last season with eight game-winning drives and seven fourth-quarter comebacks. He actually has more game-winning drives than such notables as Drew Brees, Terry Bradshaw, Bart Starr, Roger Staubach and Tony Romo.
Manning is money at his current draft spot.
22. Matt Ryan, Quarterback, Atlanta, ADP 62
Matt Ryan has finished as the eighth-best quarterback in each of the last two seasons, and he just continues to improve his numbers almost every year. In 2011 he set career highs in passing yards (4,177), average yards per pass (7.4) and touchdowns (29).
With the emergence of Julio Jones, the already strong combo of Roddy White and tight end Tony Gonzalez, and the addition of Dirk Koetter as offensive coordinator, this offense is looking at big things in 2012.
With both White and Jones being in most Top-12 lists, it is hard not to think that Ryan could once again set new career highs in 2012.
If you don't want to take a top-tier quarterback in the very early rounds, Ryan is a great pickup as your starter in the sixth round, with the possibility of him moving up into the Top 5 with a strong year.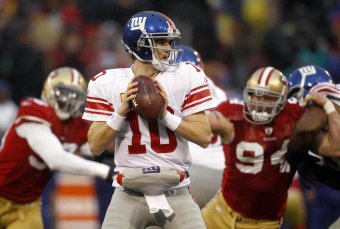 Jason O. Watson-US PRESSWIRE
23. Philip Rivers, Quarterback, San Diego, ADP 65
Last year was Rivers' worst season since 2007, and his 20 interceptions was a career high. There were rumors of a possible injury, although Rivers states that he definitely wasn't hurt. Rivers says there were many reasons the team struggled.
"We didn't get it done last year. It wasn't coaching," Rivers told CBS' Jim Rome. "We didn't get it done. We lose six games in a row. We throw 20 interceptions. We fumble a snap. I could go on and on about things we did that kept us out of the postseason. Norv and his staff are the right guy and staff for this job, now us players have to go get it done."
Even with the poor season—by Rivers' standards—he finished as the ninth-best quarterback in 2011. He had 4,625 passing yards, 27 touchdowns to go with the 20 interceptions. Out of the 20 interceptions, 17 of them came in the first 10 games. In the last six games he threw 12 touchdowns to only three interceptions.
NFL Films guru Greg Cosell says that Rivers will "rebound and have an outstanding year."
Draft him as the 10th quarterback off the board knowing that you are getting a bargain.
24. Reggie Wayne, Wide Receiver, Indianapolis, ADP 77
Al Bello/Getty Images
There is no doubt that Wayne took a big hit last year due to the play of the Colts' three-headed monster at quarterback. Curtis Painter, Dan Orlovsky and Kerry Collins did not strike fear in any opponents. The three did combine for over 3,200 yards passing, but only threw a total of 14 touchdowns.
This year Wayne will be working with a rookie, Andrew Luck, the first pick in this year's draft. According to ESPN's John Clayton, people shouldn't be modest when predicting numbers for the rookie, and new offensive coordinator, Bruce Arians, says that Luck could be crazy good.
Let's throw away Wayne's 2011 season for a second and look at Wayne's production since 2004. He has caught at least 77 passes in each season and has never failed to top 1,000 yards. In fact, in the last five years, 2006-2010, Wayne is averaging 96.6 receptions, 1,316.8 yards and 8.2 touchdowns, which would've made him the No. 7 wide receiver in 2011.
He is currently coming off the board as the 30th wide receiver drafted and is one of the best return investment players in any draft right now.
25. Tony Gonzalez, Tight End, Atlanta, ADP 95
Maybe this is Gonzalez's last year and maybe it's not, but either way, there are no signs of him slowing down until he does officially retire. He continues to be a strong option at tight end, but is not being drafted like it, as he is coming off the board as the 11th tight end taken.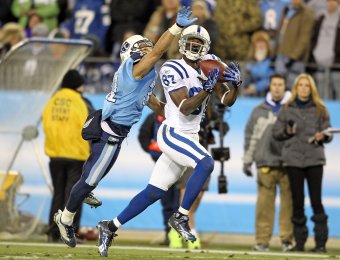 Andy Lyons/Getty Images
Gonzalez has never finished lower than the seventh-best scoring tight end since 1999. That's 13 years straight.
In 2011 Gonzalez finished third, after hauling in 80 passes for 875 yards and seven touchdowns. His average over the three years he has been in Atlanta is 77.7 catches, 799.3 yards and 6.3 touchdowns. Just those average numbers would've made him the seventh-best tight end in 2011.
As the 11th tight end off the board he represents great value and is one of the best values in any fantasy draft.
All of these players are guaranteed to perform at, or above, where they are currently being drafted, so take them knowing that you are building a team that will give you the "biggest bang for your buck."
Follow Jim Day on Twitter @Fantasytaz and visit his website Fantasytaz.com. He hosts the Twitter Roundtable podcast on BlogTalkRadio each Wednesday night at 8:00pm EST and will be appearing at the Fantasy Football Fest in Atlantic City on August 18th and 19th.