"There is no way I can take that player, he is too risky," is a refrain that is uttered in fantasy draft rooms everywhere these days. But how do you determine when the risk is worth it?
Is Maurice Jones-Drew truly a risky pick just because he is holding out? Will taking the risk on either Jamaal Charles or Adrian Peterson hurt your fantasy team or drive it to a championship?
Every team will try to balance out risky players with players that are fairly reliable just to hedge their bets, but how do you know which players are worth the risk? You watch, listen and read anything you can get your hands on to glean every little bit of information to make the most informed decision, but the risk is still there and it always will be. No player is ever a sure thing in fantasy football. Just look at Tom Brady in 2008.
Because there are no sure things, chances have to be taken. Here are five players that will be worth the risk.
Rob Gronkowski TE NE
Believe it or not, many consider Gronkowski to be a risky pick this year, especially since you have to take him with a late first-round or early second-round pick. Balderdash!
Gronkowski has scored 28 touchdowns in his two seasons, including 10 in his rookie season on only 42 receptions. Right now he is scoring a touchdown on every 4.9 receptions. Sure, it will be hard for him to maintain those numbers, but the fact of the matter is that Brady trusts him in the red zone and bringing in Brandon Lloyd won't change that.
Nick Laham/Getty Images
There is of course the problem with the ankle that made him an afterthought in the Super Bowl. Gronkowski has been cleared to practice and he reports that his ankle is feeling fine.
Let's take a look at some other top tight ends and where they compare to Gronkowski in touchdowns.
Jason Witten only has 41 touchdowns in nine seasons. Vernon Davis only has 35 after six seasons and Jermichael Finley only has 15 in four seasons.
Gronkowski is the real deal, people. While it will be tough for him to catch 17 touchdowns again, there is no reason to think he falls off the shelf as some are suggesting. There is simply more evidence of him being worth this pick then there is against it.
Fred Jackson RB BUF
There seems to be a lot of concern with Fred Jackson. Some are concerned that C.J. Spiller will take a lot of work from him; others are concerned about him coming back from an injury that cut his season short in 2011. Plus, of course, there is the fact that he is 31 years old.
Jackson was on his way to a career year when he got hurt in Week 11. At that point he had already amassed a total of 1,376 yards and six touchdowns. By the time he was injured he already set career highs in rushing touchdowns, receiving yardage and his 5.5 yards per carry was tied with DeMarco Murray as tops in the league for any runner with over 100 carries.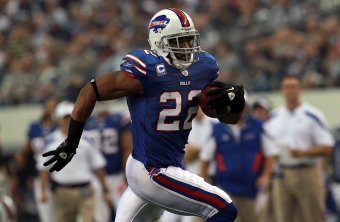 Ronald Martinez/Getty Images
There also is a lot of data about running backs losing their effectiveness after the age of 30, but Jackson (817 carries) has had less career carries then Ray Rice (959 carries), Marshawn Lynch (1,137 carries), Adrian Peterson (1,406 carries), and Chris Johnson (1,187 carries). None of them are over 26 years old.
Spiller absolutely did a good job at the end of the season once Jackson was hurt. In the final six games he had four games with over 100 yards combined and showed the explosiveness that the team expected from him when he was drafted in the first round in 2010.
There is a good chance that Spiller sees more carries after his decent finish in 2011, but Jackson is a bigger, stronger, between-the-tackles back that will continue to be the team's starter, at least for 2012.
If you're worried about the injury, Fred says that his "dumb broken bone" is 100 percent recovered.
And if that was not enough, Jackson also says he is a top five running back. That should seal the deal.
Roddy White WR ATL
If you listen to all the preseason talk, including from Roddy White himself, he will be used less in 2012. New offensive coordinator Dirk Koetter wants to diversify the offense and spread the ball around more. All great thoughts in theory, but when push comes to shove, who is quarterback Matt Ryan going to look for when he is under pressure or looking for that big first down? White.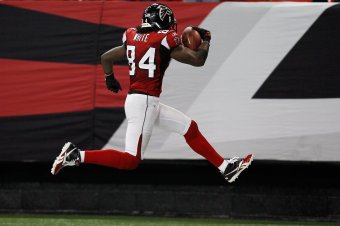 Kevin C. Cox/Getty Images
White led the league in third-down catches last year with 35 and 29 of those went for first downs. He has caught over 100 balls in each of the last two seasons and has five seasons in a row of over 1,000 yards. Let's add to that with the fact that he is only 30 years old and has never missed a game in his seven seasons, something Jones can't say after one season.
But okay, let's take the Falcons at their word and agree that White loses some targets to Jones. White did lead the league in targets the last two years, so he can afford to lose some. If we look back to the 2007-09 seasons we can see that he is still very productive when only catching around 85 balls. In all three of those seasons he topped 1,150 yards.
Let's take a look at Julio Jones' seven best games last year. They were Weeks 3, 4, 9, 14, 15, 16 and 17. In those seven games he recorded 40 receptions, 766 yards and eight touchdowns. In those same games, Roddy White compiled 51 receptions, 709 yards and three touchdowns.
It's obvious that Jones is the bigger threat to score a touchdown as the more explosive player, but White still averaged over 100 yards in each of those games.
Don't believe the hype, people. Draft White and don't even worry about it.
Willis McGahee RB DEN
McGahee is coming off his first 1,000 yard season since 2007 and he averaged 4.8 yards per carry to get there. Those are solid numbers, especially for a 30-year-old running back. Like Fred Jackson above, McGahee seems to have re-found his mojo at an age when most backs are falling backward.
Jim Rogash/Getty Images
He carried the ball 249 times for 1,199 yards and four touchdowns. The four touchdowns were more a consequence of the "Tebow" factor, since he had 17 in the previous two seasons in Baltimore.
John Clayton of ESPN reports that McGahee has come into camp bigger and badder. Lindsay H Jones, a beat writer for the Denver Post says that McGahee is clearly the No. 1 running back in camp.
With Peyton Manning in town, it can only help to open holes for McGahee as defenses will have to fear the passing prowess of Manning. Manning also has some good tools to work with in the passing game in young wide receivers Eric Decker and Demaryius Thomas, and two good pass-catching tight ends, Jacob Tamme and Joel Dreessen.
McGahee is currently being taken in the middle of the seventh round, as the 28th running back taken according to MyFantasyLeague.com's ADP. He finished 2011 as the 25th running back in point-per-reception leagues, even with Tebow stealing all his red-zone carries.
Look for his yards to come in close to what he had last year as the team tries to work in some of the younger backs, but expect his touchdown total to go up as the team doesn't really have any other running backs that will take goal line touches away from McGahee.
If you draft a QB, a tight end or both early on, McGahee makes a great catch later in the draft as a low-end RB 2 or RB 3.
Stevan Ridley RB NE
Ridley was a very brief shooting star in 2011 for the Patriots. He did rush for 441 yards on just 87, which was a 5.1 yards per carry average. Then the wheels came off when he fumbled twice late in the season, including one in the Denver playoff game. After those fumbles he was inactive the rest of the way.
Coming into 2012, Ridley knows the "ball can't be on the ground." He has taken it to heart, and so far has looked the best of all the backs in camp and hasn't fumbled once. Right now he is clearly the top back in camp as he can take the ball up the gut or to the outside with equal ease.
He won't catch a ton of passes, but with BenJarvus Green-Ellis and Joseph Addai both gone now, he will be counted on at the goal line. In the last three years, the Patriots have had a running back with at least nine touchdowns. Expect that trend to continue in 2012 with Ridley.
His current ADP in points-per-reception leagues is at the end of the seventh round, as the 31st running back off the board. If he can keep the ball off the ground, look for him to come very close to 1,000 yards and to be close to double digit touchdowns, which would put him very close to being in the top 20.
Even in non-PPR leagues, Ridley is coming off the board much later than he should. He is currently being taken in the mid-seventh round as the 26th back. Feel free to grab him as an RB 3 or even 4, but he could easily put up RB 2 numbers.
So when you draft one of these players and someone criticizes you, just smile knowingly and nod your head because you got it like that.
Follow Jim Day on Twitter @Fantasytaz and visit his website Fantasytaz.com. He hosts the Twitter Roundtable podcast on BlogTalkRadio each Wednesday night at 8:00pm EST and will be appearing at the Fantasy Football Fest in Atlantic City on August 18th and 19th.