On Monday, July 23, the Arizona Cardinals will be the first team to open training camp, and it's about to get real.
The battles will begin and fantasy owners will start to wake up from their hibernation, and they will be hungry: No, not for food, but for information, as much as possible. They will devour it in huge gulps and hope to digest it in such a way that it will get them ready for their drafts in late August.
The following is a preview of the top 50 fantasy players to help feed the hungry. There are a lot of interesting choices here and if there are any that you disagree with, feel free to post a comment in the section below.
1. Arian Foster RB, Houston (Current ADP 1.01)
He is simply the best all-around player in a zone-blocking system that is perfect for his talents. He was the top scoring running back in 2011 in points per game, and even with three missed games he finished as the fourth-ranked running back.
2. Ray Rice RB, Baltimore (Current ADP 1.03)
Rice is signed, happy and ready to show that 2011 was no fluke. Over 2,000 yards and 15 touchdowns put him as the top scoring back in 2011, but the 13 games with at least 20 fantasy points is my favorite part in a PPR league.
3. LeSean McCoy RB, Philadelphia (Current ADP 1.02)
McCoy is solidified on most boards as one of the top three backs, but he is the one that most concerns me. If Vick is healthy, you have to expect more rushing touchdowns from him, which will limit McCoy's chances. He won't repeat 17 rushing touchdowns in 2012.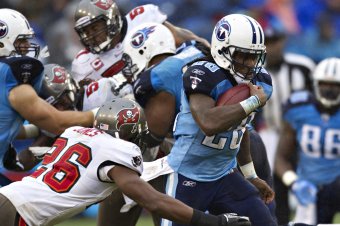 Wesley Hitt/Getty Images
4. Chris Johnson RB, Tennessee (Current ADP 1.07)
Even in a season where many think Johnson mailed it in, he still finished as the ninth-ranked running back. In six of the last nine weeks he had at least 15 fantasy points. No running back has had more yards or touchdowns in the four years since Johnson came into the league in 2008. Johnson still thinks he is the best back in the league and is determined to prove it after a "down" year.
5. Calvin Johnson WR, Detroit (Current ADP 1.04)
We always knew he was a stud, but with Stafford healthy all year, we finally got the chance to see what he could do with a good quarterback. Almost 100 receptions, just under 1,700 yards and 16 touchdowns, and there's no reason to believe he can't do it again.
6. Maurice Jones-Drew RB, Jacksonville (Current ADP 1.08)
Jones-Drew is getting shaky, but not due to wearing down as some assume, but because the chance of a protracted holdout definitely exists. If he does hold out, then he will start sliding down this list. Holdouts and fantasy production do not go hand in hand. If he does get in camp then he should easily produce at this level.
7. Rob Gronkowski TE, New England (Current ADP 1.12)
All we hear is that there is no way Gronkowski will duplicate the record-breaking numbers he had last year. Why not? He is the best at his position, especially in the red zone, has one of the best quarterbacks in the business and is in a high-powered offense. Gronk is a great choice from the middle of the first on.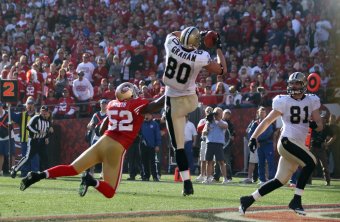 Jed Jacobsohn/Getty Images
8. Jimmy Graham TE, New Orleans (Current ADP 1.10)
There is no doubt that Graham is right there with Gronk. Graham is easily the No. 1 target of Drew Brees now, and while he is not the red zone threat Gronk is, he is a reception monster who should still score at least 10 touchdowns.
9. Ryan Mathews RB, San Diego (Current ADP 1.06)
Greg Cosell of NFL Films is one of the best talent evaluators in the business and he really likes Mathews' skill set. Cosell goes on to say the following; "I think he's quick. I think he's got short-area burst. I think he's got some speed. There's nothing about the way he runs that I don't like." But he also goes on to say that he wonders if he can do it for 16 games and if he has the mindset to be an every down back. Only time will tell.
10. Larry Fitzgerald WR, Arizona (Current ADP 2.02)
Fitzgerald continues to put up good numbers no matter who the Cardinals put behind center. Even with the subpar play of Kolb and Skelton in 2011, he managed 80 receptions, 1,411 yards and eight touchdowns. If the QB play improves even a little, he end up leading WRs in points again.
11. Matt Forte RB, Chicago (Current ADP 2.03)
Fantasy owners can finally be happy now that Forte has signed his new contract and will be in camp on time. It will give us a chance to see how far back he is from the knee sprain that ended his season in Week 13 last season. Some are worried that he will lose touches and goal line chances to Michael Bush, but that is much ado about nothing since Forte has never been a touchdown monster anyway.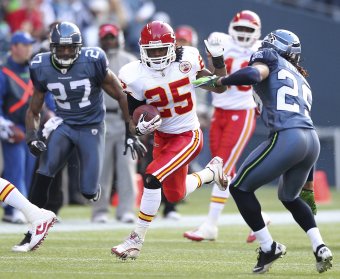 Otto Greule Jr/Getty Images
12. Jamaal Charles RB, Kansas City (Current ADP 3.01)
Either you believe he is ready to get back to pre-injury form or you don't; it is simply the only reason to doubt what he can do this year. Sure Hillis is there and will get plenty of work, but make no mistake, this offense will be run-heavy. Both of these guys should produce quality fantasy numbers, with Charles easily the more explosive of the two.
13. Trent Richardson RB, Cleveland (Current ADP 1.11)
Richardson moves right into the starting role with no competition for touches. Sure Cleveland's' offense is suspect, but Maurice Jones-Drew has shown that a good back on a bad team can still put up elite fantasy numbers. Richardson should see 300 touches in this offense and if his talent is as advertised, he could be a top 10 back in his first season.
14. DeMarco Murray RB, Dallas (Current ADP 2.06)
Murray is definitely the starter in Dallas heading into 2012, but fantasy owners have to be concerned that he only had five games with over 10 fantasy points as a rookie. Not by coincidence, but those were also the only games he got to tote the rock more than 20 times. If he can stay healthy he should finish as a top 10 back, with the chance to be much higher.
15. Andre Johnson WR, Houston (Current ADP 2.08)
Johnson has missed 12 games in the last two years, including nine last year, but he was able to return in the playoffs and prove that he can still get the job done. In Houston's two playoff games, Johnson had 24 targets, 13 receptions, 201 yards and one touchdown. He is still an elite talent and only 31 years old, so don't count him out just yet.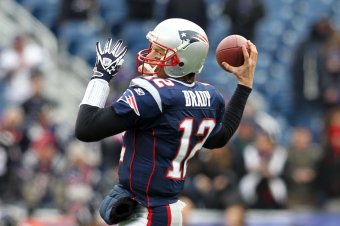 Jim Rogash/Getty Images
16. Tom Brady QB, New England (Current ADP 2.01)
Brady threw the ball more often in 2011 than in any season of his career. His 611 attempts were only bested by Drew Brees (657) and Matt Stafford (663), and Brees was the only QB to have more passing yards. The addition of Brandon Lloyd puts Brady over the top in 2012. He will be the top scoring QB this year.
17. Drew Brees QB, New Orleans (Current ADP 2.04)
Brees is signed and ready for camp, so what's not to like. He has averaged over 4,700 yards and 33 touchdowns for his last six seasons. Only three other quarterbacks bested that yardage average last year, none named Rodgers, and only four would've bested his average amount of touchdowns. There is no downside to Brees. He has only missed two games since 2004.
18. Darren McFadden RB, Oakland (Current ADP 1.09)
McFadden is an elite talent, but at this point in his career he is just not worth his current ADP. He's only had one elite season in his four-year career. His 2010 numbers of 1,664 total yards and 10 touchdowns is the only time he eclipsed either 1,000 yards or double-digit touchdowns. The worst part for fantasy owners is that there is no clear handcuff for McFadden this year which only makes him more risky. For comparison, McFadden has only 300 more rushing yards than Felix Jones and 400 more yards than Kevin Smith in the same amount of seasons.
19. Aaron Rodgers QB, Green Bay (Current ADP 1.05)
Rodgers improved across the board as fantasy QB in 2011. His 45 touchdowns was the first time in his career that he topped 30 touchdowns and as most stat geeks are fond of pontificating on, he is a prime example of a player due to regress back to his mean in touchdown passes. He could be the top passer, but he could also end up fifth with all the talent at the position this year. Don't follow the masses and pick any quarterback in the first round. There is no value there.
20. Wes Welker WR, New England (Current ADP 2.07)
Welker is still a PPR machine and has topped 110 receptions in four of his last five seasons. Last season he had 122 catches, 1,569 yards and nine touchdowns, with both the yards and touchdowns being the highest of his career. For reasons only Bill Belichick knows, they decided not to sign him to a long-term deal this year, which means this is a contract year for him. Expect him to play with a chip on his shoulder.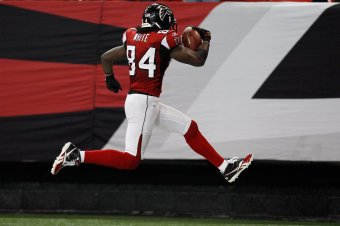 Kevin C. Cox/Getty Images
21. Roddy White WR, Atlanta (Current ADP 3.04)
All the talk this offseason is about Julio Jones and how new offensive coordinator Dirk Koetter's plans to make Jones the centerpiece of a new high-flying offense. But if they intend to pass more, why would Roddy take a big hit most are predicting? Expect Jones to take nice leap forward in his second year, but don't believe that White is going to fall of the map. He will still be Matt Ryan's go-to guy when Ryan is in trouble.
22. Adrian Peterson RB, Minnesota (Current ADP 2.12)
Peterson could have the most dramatic change on this list between now and September. If he is healthy, or even relatively close, he could shoot up, but if the knee doesn't hold up in training camp, then he will slide down dramatically. If drafting today, he is still worth the risk at the end of the second round. Just remember to grab Toby Gerhart too.
23. Hakeem Nicks WR, New York Giants (Current ADP 3.05)
It is hard to believe how many now consider Nicks the No. 2 receiver in New York, but that's simply not true. Nicks has had battles staying healthy, but there is no doubt he is the No. 1 option in NY. People see that he went from 11 touchdowns in 2010 to seven in 2011 and fear the sky is falling. But in four fewer receptions he actually gained 117 more yards in 2011. Look for him to get back to double-digits in touchdowns and once again prove who the top dog in NY is.
24. Steven Jackson RB, St. Louis (Current ADP 3.10)
Jackson has had over 1,400 total yards in five of his last six seasons, the last season he didn't, 2007, he only missed that mark by 127 yards. He is a big, rugged back and also an excellent receiver. New head coach Jeff Fisher likes to run the ball and Jackson will be the main beneficiary.
25. Matt Stafford QB, Detroit (Current ADP 2.11)
In 2011, Stafford finally stayed healthy and did what a lot of people thought he could and more. He was third in both passing yards (5,038), and touchdowns (41), and he finished as the No. 5 fantasy quarterback. In fact his 5,038 yards were the fifth most in NFL history. He had 10 weeks with over 20 fantasy points, including two monster weeks in Weeks 15 and 16, just in time for the fantasy playoffs. If he stays healthy he could easily end up as the top QB in 2012.
26. Darren Sproles RB, New Orleans (Current ADP 3.03)
Only four wide receivers had more receptions in 2011 than Sproles. His 86 receptions were 10 more than the second best running back, Ray Rice. Those receptions carried him all the way to the No. 5 fantasy RB. He only had three games with less than five receptions and only one game where he didn't score more than 10 points.
27. Brandon Marshall WR, Chicago (Current ADP 3.08)
Marshall has had three 100-catch seasons and two of them came with Jay Cutler at QB. He is reunited with Cutler this year and it is a good bet that he will approach, if not exceed, 100 catches again. His biggest competition for targets will most likely be Matt Forte until another receiver steps up. Grab Marshall in the third and enjoy the ride.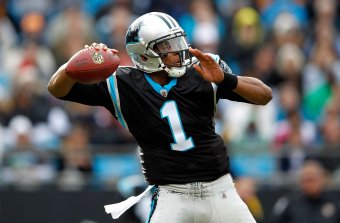 Streeter Lecka/Getty Images
28. Cam Newton QB, Carolina (Current ADP 2.05)
Never has a rookie quarterback had the season that Newton enjoyed in 2011. He set or tied 10 NFL records and won the NFL Rookie of the Year honors. He was also the first player to throw for 4,000 yards and run for 700 yards in a season. The best thing is that he knows he wasn't perfect and that he has things, like immaturity, to work on. That's a great attitude for any young player, but especially so for someone coming off the type of year he had.
29. Julio Jones WR, Atlanta (Current ADP 3.02)
Despite missing four games with injuries, Jones still had 54 receptions, 959 yards and eight touchdowns as a rookie. He is an explosive receiver that is excellent with the ball in his hands and should thrive in Dirk Koetter's new offense. If he can stay on the field it is hard to not see him as a top 10 receiver this year.
30. Victor Cruz WR, New York Giants (Current ADP 3.07)
Cruz is another player that exploded onto the scene last year. He led the league in yards per reception for any receiver with more than 50 receptions and finished third in receiving yards, behind Calvin Johnson and Wes Welker. He had seven games with over 100 yards, including five of the last seven games. He is an explosive player with big-play ability and will continue to be a huge part of the Giants' offense.
31. Brandon Lloyd WR, New England (Current ADP 5.09)
In 2010 Lloyd broke out with 77 receptions, 1,448 yards and 11 touchdowns. He did that with Kyle Orton and Tim Tebow at quarterback and Josh McDaniels as head coach. Now he is reunited with McDaniels, who's an offensive coordinator this time, and has an infinitely better quarterback. Yes, this team has a lot of weapons, but McDaniels will absolutely find ways to get Lloyd involved and productive. He is a steal at his current ADP.
32. Percy Harvin WR, Minnesota (Current ADP 4.03)
Harvin showed his versatility for Minnesota in 2011. Not only did he catch 87 balls for 967 yards and six touchdowns, but he also ran the ball 52 times for 345 yards and two more touchdowns. While he was targeted just over five times a game through the first eight, that number jumped to 9.6 in the remaining eight games. If Peterson is not ready to start the season we may see Harvin get more touches this year.
33. Steve Smith WR, Carolina (Current ADP 4.09)
There was probably no one happier in Carolina last year than Smith. After his numbers plummeted to 554 yards and two touchdowns in 2010, both career lows in any season with more than 10 catches, Newton jump-started the offense and Smith rebounded with 79 receptions, 1,394 yards and seven touchdowns. Greg Cosell of NFL Films thinks that Smith is the fourth-best receiver in the league—hard to argue with him.
34. Greg Jennings WR, Green Bay (Current ADP 3.06)
Jennings was on his way to another spectacular year when it was cut short by a knee sprain in Week 14. Despite missing almost four complete games, Jennings led the team in targets. He ended up with 67 receptions, 949 yards and nine touchdowns. Jordy Nelson may have had the bigger year, but Jennings is clearly still Aaron Rodgers' favorite target.
35. Fred Jackson RB, Buffalo (Current ADP 4.01)
Through the first nine weeks in 2011 Jackson was the No. 2 fantasy back, averaging just under 23 points a game. He broke his leg in Week 11 and was placed on Injured Reserve the next week. Even though he missed the last six games, he still ended up with almost 1,400 total yards and six touchdowns. He heads into 2012 healthy and still the starter, but will most likely lose some touches to C.J. Spiller.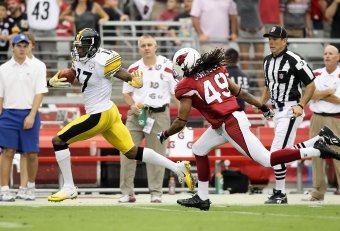 Christian Petersen/Getty Images
36. Mike Wallace WR, Pittsburgh (Current ADP 3.11)
Wallace was very productive early on in 2011. He ended the season with 72 receptions, 1,193 yards and eight touchdowns on 114 targets, but his numbers tailed off during the second half of the season. In the first 10 games he averaged 5.3 receptions and 92.2 yards, plus had six touchdowns. In the last six games he only averaged 3.16 receptions, 45 yards, and had only two touchdowns. He needs to sign a deal and get into camp to learn the new offense, but if he does, he could benefit greatly from playing for Todd Haley.
37. A.J. Green WR, Cincinnati (Current ADP 2.09)
Green had a great rookie season. He finished the season as the No. 17 wide receiver with 65 receptions, 1,057 yards and seven touchdowns, but like Wallace, his numbers tailed off in the second half of the season. After catching six touchdowns in the first 10 games, he only managed one the rest of the year. Hopefully it was just the rookie wall and not defenses learning to defend him better. He is too much of a playmaker to fall flat, but he will need some help from another receiver to take it to the next level this year.
38. Aaron Hernandez TE, New England (Current ADP 4.12)
Even though Hernandez missed two games early in the season, he still finished as the third-ranked tight end. He averaged eight targets a game and caught 79 passes for 910 yards and seven touchdowns. It will be interesting to see the effect that Lloyd has on Hernandez, but he is too good to let slide past his current ADP. Expect him to start getting taken earlier as the season gets closer.
39. Darrius Heyward-Bey WR, Oakland (Current ADP 9.11)
For the last seven weeks of 2011, Heyward-Bey was the 13th-ranked wide receiver. His game has really turned around and with a full offseason to work with Carson Palmer, he will take another major jump forward in 2012. Of course all of this hinges on what happens with his DUI arrest in April, but he has no history of trouble with the league, so a suspension is unlikely. Heyward-Bey is going to seriously out-perform his current ADP.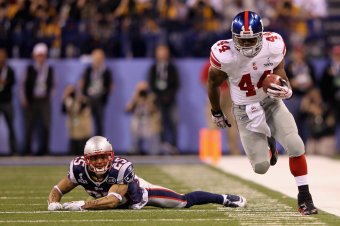 Jamie Squire/Getty Images
40. Ahmad Bradshaw RB, New York Giants (Current ADP 4.02)
The Giants definitely sent a signal to Bradshaw by drafting David Wilson in the first round of this year's draft. He needs to stay healthy and produce or else he could lose his job. The Giants were dead last in rushing last year and look to make a big push to improve in that area. If Bradshaw can stay healthy, he should get close to the 1,500 total yards he had in 2010.
41. Antonio Gates TE, San Diego (Current ADP 6.02)
2011 was the first time since his rookie season that Gates wasn't a top five tight end, but even though he missed three games, he still finished seventh. He actually ranked fourth in points per game. He has battled injuries the last two years, but head coach Norv Turner thinks that he is fully back to where the team wants him. If he can stay on the field, there is no way he will not be a top-five option again.
42. Miles Austin, WR, Dallas (Current ADP 4.07)
After two straight seasons of over 1,000 yards receiving, Austin fell all the way to 579 yards in 10 games. He missed six with hamstring injuries to both legs. He stated that he didn't think he was in the best condition last year, but said that he has been working harder this offseason and that the hamstrings feel fine. The Cowboys hope that is true, especially after the recent arrest of Dez Bryant. He should finish as a decent No. 2 option with upside if he stays healthy.
43. Marques Colston WR, New Orleans (Current ADP 4.06)
Colston may no longer be the No. 1 option for Brees but he is still a pretty consistent option. Over the last three years he has averaged 78 receptions, 1,079 yards and eight touchdowns. He is a solid addition as a No. 2 WR, but even better if you can get him as a No. 3.
44. Michael Turner RB, Atlanta (Current ADP 5.03)
After back-to-back 1,300 yard seasons, Turner is expected to have a lesser role in the offense this year. It makes sense. He is 30 years old and has had over 300 touches in three of the last four years. But even if his touches are reduced, he will continue to be the feature back at the goal line and when the team is ahead. He is still a decent No. 3 option.
45. Jeremy Maclin WR, Philadelphia (Current ADP 4.08)
Eagles' beat writer Jeff McLane writes that an Eagles coach did not hesitate to name Maclin as a player he thought would make his first Pro Bowl appearance in 2012. He was on his way in 2011 before he lost four games to injury. In the first eight games he had 44 receptions, 606 yards and four touchdowns. Look for him to top 1,000 yards for the first time in 2012.
46. Dwayne Bowe WR, Kansas City (Current ADP 5.04)
Bowe didn't get paid and Jason La Canfora would be surprised if Bowe returned to the Chiefs in 2013. He has not signed his tender yet and there are concerns about a protracted holdout. If that happens then he will fall off this list, but he will only hurt himself by not signing the tender. If he doesn't play well in 2012, hey may not get the pay raise he wants in 2013.
47. Steve Johnson WR, Buffalo (Current ADP 5.06)
Johnson is coming off two straight 1,000 yard seasons and continues to be heavily targeted by Ryan Fitzpatrick. In those two seasons he has been targeted a total of 263 times. He is coming off groin surgery but declared himself to be 90 percent back in June. If Fitzpatrick continues to grow as a QB, then Johnson is a solid No. 2 with a chance of breaking into the top 12.
48. Doug Martin RB, Tampa Bay (Current ADP 4.04)
There is no doubt that new head coach Greg Schiano will implement a run-heavy offense in Tampa Bay, and Martin was drafted to be the main guy. Martin is a very good all-around back—he has good pass-catching skills to go with excellent running ability. But the thing that may push him into the starting lineup is his ability to protect the QB. Tampa Bay running backs coach Earnest Byner says that Martin is as good as advertised at picking up a blitz, something that LeGarrette Blount failed at in 2011.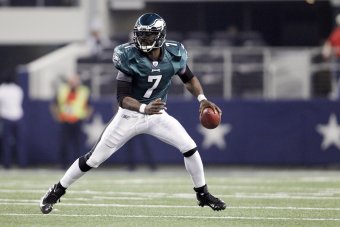 Tim Heitman-US PRESSWIRE
49. Mike Vick QB, Philadelphia (Current ADP 4.10)
Vick dropped from the second-ranked QB in 2010 to being the 11th-ranked QB in 2011, even though he missed three games in both seasons. He threw fewer touchdowns and more interceptions in 2011, but the biggest hit to fantasy owners was the fact that he went from nine rushing touchdowns in 2010 to just one in 2011. Vick will need to regain his rushing prowess if he wants to get back into the top five.
50. Eric Decker WR, Denver (Current ADP 6.05)
2011 was Decker's first season as a starter and he led all Broncos receivers with 44 receptions, 612 yards and eight touchdowns. Most of that damage was done in the first half of the season. His numbers fell off during the second half as Tebow ran more than he passed, or at least it seemed that way. Decker is a smart receiver who runs very good routes and will be the favorite target of Manning. Let others grab Demaryius Thomas earlier—Decker is the receiver that presents more value.
Follow Jim Day on Twitter @Fantasytaz and visit his website Fantasytaz.com. He hosts the Twitter Roundtable podcast on BlogTalkRadio each Wednesday night at 8:00pm EST and will be appearing at the Fantasy Football Fest in Atlantic City on August 18th and 19th.