The running back position has continually dominated the fantasy football world. It has proved to be one of the most valuable positions on your fantasy roster—if not the most important.
We have seen running backs like LaDainian Tomlinson, Adrian Peterson and Chris Johnson completely carry their fantasy owners to a titles, despite having a team that wasn't all that impressive.
Granted, some might make an argument that the quarterback position is more important in the NFL's current pass-heavy league, but it's a double-edged sword. You could certainly say that running backs are more valuable due to the fact that there aren't too many running backs that get the majority of the carries or even get as many carries as running backs did five years ago.
With that being said, let's take a look at the top 10 fantasy running backs entering 2012.
(Note: The fantasy stats used are based on standard scoring.)
10. DeMarco Murray, Dallas Cowboys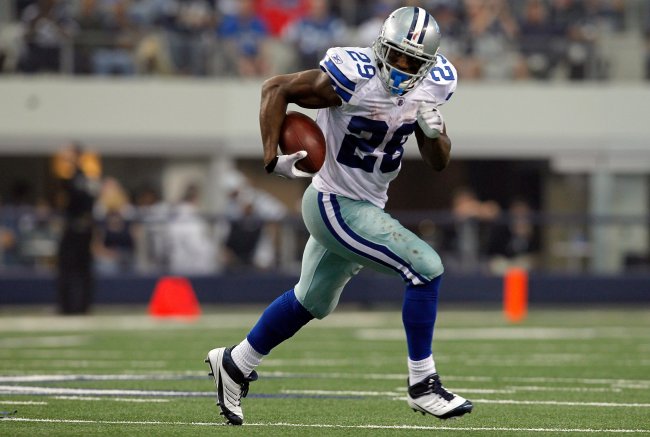 Tom Pennington/Getty Images
I truly believe that DeMarco Murray can continue his dominance from 2011.
Murray jumped onto the scene this past season, running for a stellar 897 yards in just 13 games while punching in two touchdowns and averaging a phenomenal 5.5 yards per carry.
I would assume that Murray will be getting the bulk of the carries with the Dallas Cowboys, as he definitely outplayed Felix Jones.
Heading into 2012, I could see Murray easily racking up 1,300-plus rushing yards while coming close to 10 rushing touchdowns and being a top fantasy running back option.
9. Darren McFadden, Oakland Raiders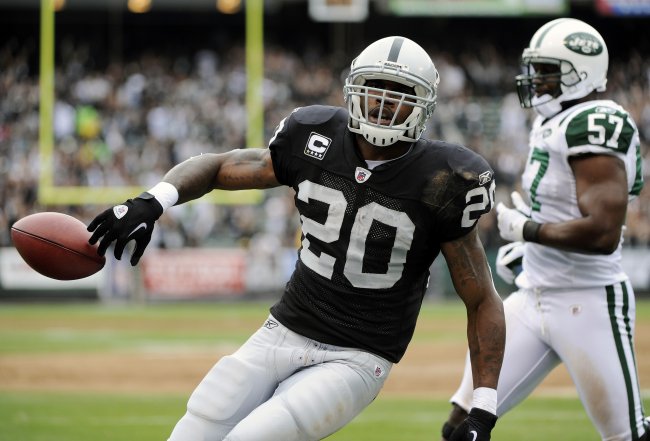 Thearon W. Henderson/Getty Images
As long as Darren McFadden can stay healthy, he can be one of the most productive options at the running back position.
2011 was yet another injury-plagued season for Run DMC, but he still managed to produce in the seven weeks that he was available.
McFadden finished with an average of 15.3 points per week, but simply failed to finish the season healthy.
If we had faith in McFadden to stay healthy throughout an entire 16-game season, then he'd be ranked much higher than he is right now.
8. Ryan Mathews, San Diego Chargers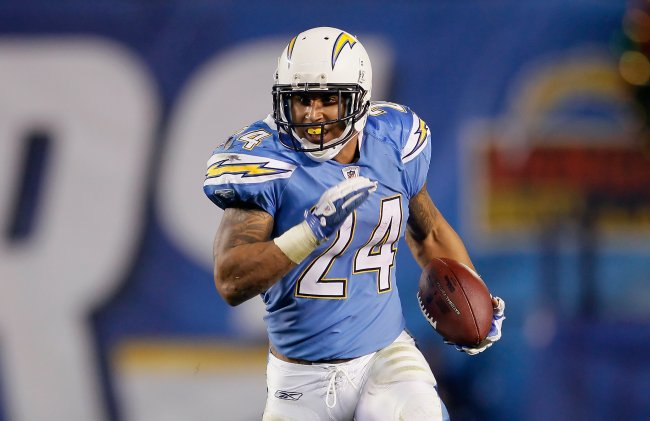 Jeff Gross/Getty Images
As long as Ryan Mathews can continue his development as an NFL running back and find a way to stay healthy, then he'll be quite the option for fantasy football in 2012.
In 14 games this past season with the San Diego Chargers, Mathews produced solid numbers, running for 1,091 yards and six touchdowns while reeling in 50 passes for 455 yards and scoring a total of six touchdowns.
With Mike Tolbert now a member of the Carolina Panthers, I see Mathews getting more chances on the goal line, which should result in around 10 total touchdowns in 2012.
7. Chris Johnson, Tennessee Titans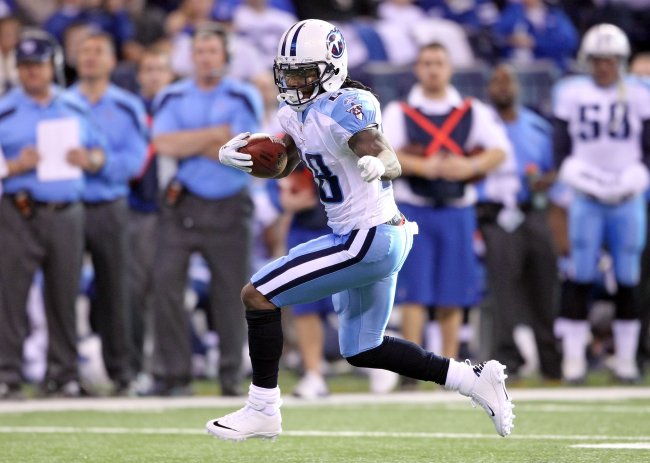 Andy Lyons/Getty Images
Chris Johnson is no longer CJ2K. He was arguably a bust in 2011.
Johnson ran for just 1,047 yards in 16 games for the Tennessee Titans, scoring four rushing touchdowns while recording 57 receptions for 418 receiving yards.
2011 was definitely a down year for Johnson and hopefully he can bounce back and show why he was once known as CJ2K.
6. Maurice Jones-Drew, Jacksonville Jaguars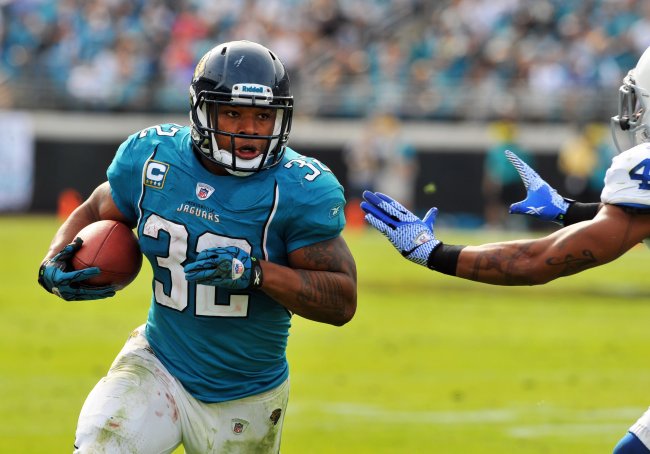 Al Messerschmidt/Getty Images
Take a look at the Jacksonville Jaguars roster—there's little-to-no talent on the offensive side of the ball aside from Maurice Jones-Drew.
With that being said, all of the offensive production that Jacksonville will be getting in 2012 will likely be coming out of MJD.
However, there is one concern with Jones-Drew—his playing status, as there have been reports of him holding out deep into training camp for a new contract.
5. Marshawn Lynch, Seattle Seahawks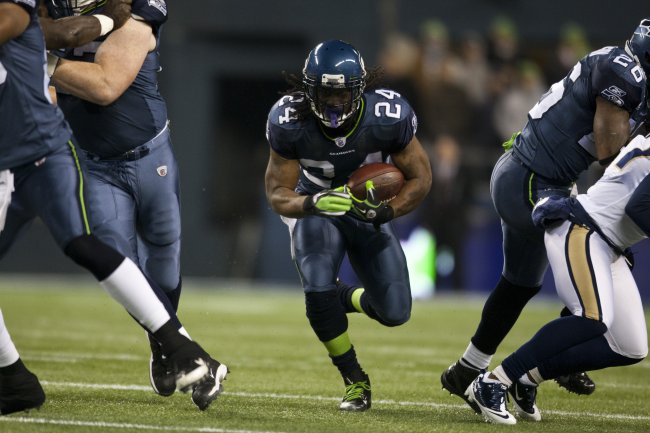 Jay Drowns/Getty Images
Marshawn Lynch is probably one of the most underrated running backs in the NFL—if not the most underrated.
Lynch had a solid season in 2011 for the Seattle Seahawks, running for 1,416 yards from scrimmage while scoring a total of 13 touchdowns.
Entering 2012, I project Lynch with 1,300-plus rushing yards and at least 10 touchdowns for the Seahawks.
4. Matt Forte, Chicago Bears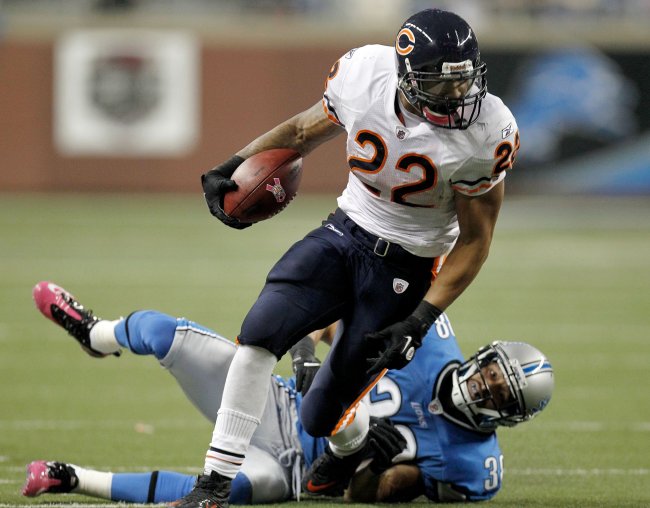 Gregory Shamus/Getty Images
Now that Matt Forte is under contract with the Chicago Bears, fantasy owners will have no problem investing one of their top picks on him.
Forte proved to be an elite option for fantasy football in 2011, running for 997 yards and three touchdowns and catching 52 passes for 490 yards and one touchdown. He did sprain his MCL and missed the final four games of the season.
Forte averaged 14.4 points per game in 2011 and I figure fantasy owners should be able to rely on that average heading into this season.
3. Ray Rice, Baltimore Ravens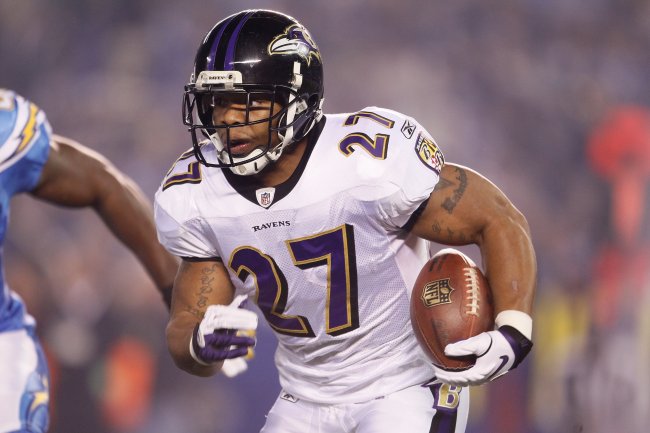 Jeff Gross/Getty Images
There's no question that Ray Rice is one of the NFL's top running backs as well as one of the top fantasy options.
Rice has always offered solid production for rushing yards, but he has consistently gotten better at being a threat in the passing game. He caught 76 passes for 704 yards and three touchdowns in 2011.
Rice is definitely the Baltimore Ravens' best offensive player and has been the team's top player for production.
2. LeSean McCoy, Philadelphia Eagles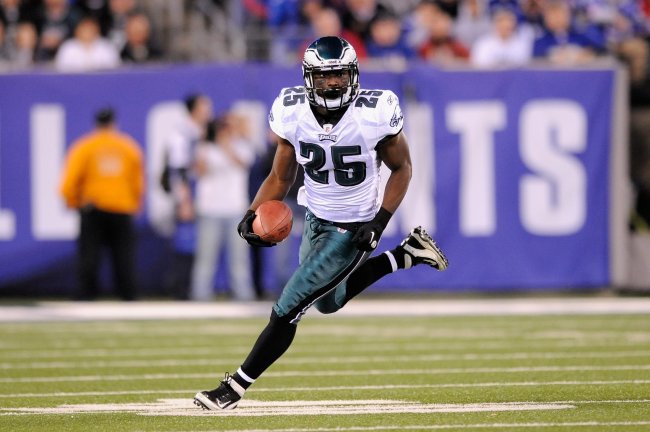 Patrick McDermott/Getty Images
As of right now, there is no one better at being a dual-threat running back than LeSean McCoy.
McCoy had a stellar 2011 campaign, averaging an incredible 17.5 points per week. That doesn't take into account how valuable he would be in a points-per-reception league.
There's no question that McCoy is a solid running back, but he's just as danger as a receiver, seeing an average of four targets per game.
Heading into 2012, I'm expecting 1,300 rushing yards, 18 total touchdowns and 50 receptions for 350 yards.
1. Arian Foster, Houston Texans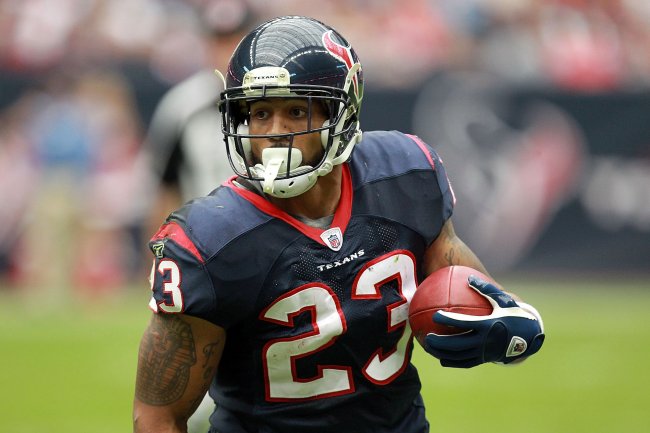 Ronald Martinez/Getty Images
With Adrian Peterson recovering from a torn ACL and MCL, that makes Arian Foster the most dominant running back in the NFL. There is no one playing the running back position as well as Foster has been over the past few seasons.
Foster comes into 2012 with an average of 1,420 rushing yards in each of the last two seasons while scoring a combined 30 touchdowns—you simply cannot get much better than that.
Foster should have another monster season this season with the Houston Texans. I project him running for 1,500 rushing yards, 17 total touchdowns while snagging 50 passes for 550 yards.
If you have the first pick in your fantasy draft, you should definitely think about using it on Arian Foster.
Any questions about this article? Send them via Twitter!
Be sure to check out Tony Santorsa's blogs: PatriotsPlus and Lazlo's Closet.