While there's no doubt in Dwight Howard's mind about where he does and doesn't wish to play in 2013, there remains much speculation about where that will actually be. Howard has demanded a trade from the Orlando Magic, but the circumstances of his situation make that a near impossibility.
The six-time All-Star had one team, and one team only, on his mind, the Brooklyn Nets.
"There's only one team on my list and if I don't get traded there, I'll play the season out and explore my free agency after that," Howard said in comments reported by SI.com.
He's taken a principled, if not childish stand, in order to get what he wants, but he's severely handicapped the Magic's ability to get a deal done. By nearly promising to refuse an extension from any other franchise, Howard has practically ensured his return to Orlando for the 2013 season.
The Nets engaged in a full court press, but failed to reach a deal in time, suspending their pursuit of the 6'11" superstar.
"We've moved on. It just got to a point where we couldn't keep going back and forth with Orlando," a Nets source told ESPNNewYork.com's Ian O'Connor. "They had about 14 days to do something and didn't. We just had to move on, and we felt that way this morning."
With Howard's intent widely known and understood, one would have to question the logic of any team, like the Houston Rockets, who are still interested in trading for him.
Acquisition costs for one of the best players in the league are guaranteed to be astronomical, no matter how much that player wants out. If Howard truly wants to leave Orlando, he'll have to expand his list of acceptable destinations.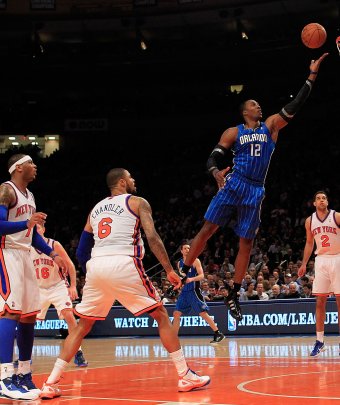 Chris Trotman/Getty Images
Howard's behavior has put the Magic in a lose-lose situation.
It would be down right silly for a team to mortgage their future to bring Howard in for just one season and even crazier for the Magic to allow him to walk free.
Orlando certainly wouldn't want to lose a player of Howard's caliber to unrestricted free agency without receiving any compensation, but they also won't engage in a bargain basement auction just to rid themselves of the issue.
Howard is said to carry a positive opinion of Michael Malone and it's possible that the Magic could try and woo him back long-term with that addition or one similar. Still, the relationship between the two sides is far from rosy, as noted by Ric Bucher of ESPN.com.
After several months of trying to trade Dwight Howard, Orlando Magic general manager Rob Hennigan called the All-Star center Wednesday night to see if he'd reconsider giving Hennigan and the Magic's new regime a chance to keep Howard in Orlando, a source close to Howard said.
The message apparently fell on deaf ears.
"I already heard that from the other guy on the phone," said Howard referencing team President Alex Martins, according to the source.
This stay-or-go saga has been in full effect for months now, and only time will tell which option Howard and Orlando actually choose. One thing's for certain though, they've got themselves quite the mess to work out, whether Howard returns or not.