One of my favorite things in fantasy football is drafting and My Fantasy League offers free best-ball leagues for anyone to start up and play in. In case you're not familiar with best-ball leagues, it just means that the only thing that you have to do is draft. There are no waivers, trades or setting up lineups. Just draft and follow all season long. The system will take your best scoring starters each week automatically.
They are excellent practice for getting ready for the season, but I found a second use for them: They were an excellent tool for trying different draft strategies and for monitoring player value changes over time.
Last year I started over 150 of them between February and September and drafted in every single one. The great thing is that each draft has a solid group of owners and you don't have to worry about computer-picked teams, as with most mock draft sites.
From time to time during the year I put together a group of fantasy experts to join together for a draft and this year Draftmaster 50 is the first of those.
Here is a list of the experts involved:
Mike Clay (@MikeClayNFL): Pro Football Focus
Sigmund Bloom (@SigmundBloom): FootballGuys
Josh Moore (@4for4_Josh): 4for4
Marc Caviglia (@BrunoBoys): Bruno Boys
Paul Greco (@PaulGreco): FantasyPros911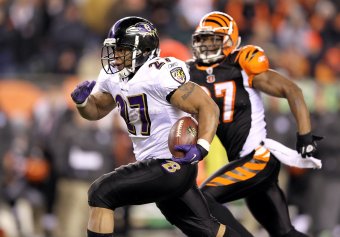 Andy Lyons/Getty Images
Greg Kellogg (@komments): Fantasy Sharks Radio
Chris Wesseling (@ChrisWesseling): Rotoworld
Adam Ronis (@AdamRonis): RotoExperts
William Del Pilar (@wdelpilar): Former Owner KFFL & 2011 Pro Football Weekly writer
Matt Schauf (@mschauf63): DraftSharks
John Sarmento (@rumfordjohnny): 2mugsFF
This draft uses PPR scoring with 24 roster spots and the following starting lineup: 1 QB, 2 RB, 3 WR, 1 TE, 2 Flx (RB, WR, TE), K, Def.
You can follow the draft here.
For this article we will review Rounds 1-5.
Round 1
1.01 @ChrisWesseling: Arian Foster HOU RB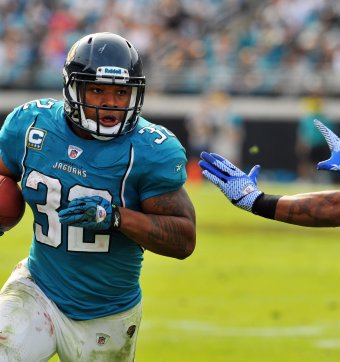 Al Messerschmidt/Getty Images
1.02 @Fantasytaz: Ray Rice BAL RB
1.03 @SigmundBloom: LeSean McCoy PHI RB
1.04 @RumfordJohnny: Ryan Mathews SD RB
1.05 @PaulGreco: Calvin Johnson DET WR
1.06 @wdelpilar: Maurice Jones-Drew JAC RB
1.07 @AdamRonis: Chris Johnson TEN RB
1.08 @komments: Darren McFadden OAK RB
1.09 @BrunoBoys: Larry Fitzgerald ARI WR
1.10 @MikeClayNFL: Trent Richardson CLE RB
1.11 @4for4_Josh: Aaron Rodgers GB QB
1.12 @mschauf63: Jimmy Graham NO TE
Round Makeup: One quarterback, eight running backs, two wide receivers and one tight end.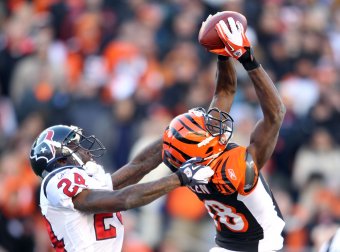 Andy Lyons/Getty Images
Round Analysis: The only real surprise in this round is Trent Richardson coming off the board. Richardson's current ADP is 2.06, so it's likely that Mike could have gotten him with his next pick. Some risk with both Maurice Jones-Drew and Ray Rice due to the possibility of them holding out. Jason La Canfora breaks these talks down nicely here.
Best Value Pick: Jimmy Graham. Love grabbing one of the two top TEs at the end of the first. Sure, there is a lot of TE value to be had late, but Graham and Gronkowski have separated themselves from the rest of the pack.
Riskiest Pick: Darren McFadden easily. McFadden is an elite talent, but has a hard time staying on the field.
Safest Pick: LeSean McCoy. The reason he is the safest pick is simple; the first three picks are set in stone for most fantasy experts, although the order may change, so when picking third you have the luxury of taking whichever one of the three is still available with no thinking involved.
Round 2
2.01 @mschauf63: Matt Forte CHI RB
2.02 @4for4_Josh: Rob Gronkowski NE TE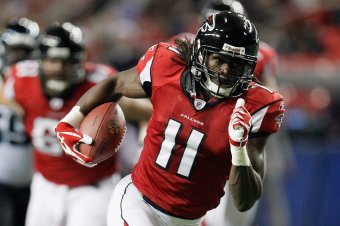 Kevin C. Cox/Getty Images
2.03 @MikeClayNFL: Jamaal Charles KC RB
2.04 @BrunoBoys: DeMarco Murray DAL RB
2.05 @komments: Wes Welker NE WR
2.06 @AdamRonis: Marshawn Lynch SEA RB
2.07 @wdelpilar: Andre Johnson HOU WR
2.08 @PaulGreco: A.J. Green CIN WR
2.09 @RumfordJohnny: Adrian Peterson MIN RB
2.10 @SigmundBloom: Darren Sproles NO RB
2.11 @Fantasytaz: Steven Jackson STL RB
2.12 @ChrisWesseling: Julio Jones ATL WR
Round Makeup: Seven running backs, four wide receivers and one tight end.
Draft Makeup: One quarterback, 15 running backs, six wide receivers and two tight ends.
Round Analysis: Starting to see some risks taken in this round. Both Jamaal Charles and Adrian Peterson are both coming off major knee injuries and we don't really know if they will be ready for Week 1. Matt Forte is another that is currently holding out with the prospects of his signing before the July 16th deadline looking bleak according to La Canfora in the link above.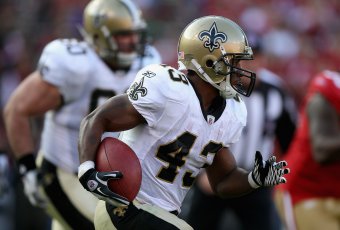 Jed Jacobsohn/Getty Images
Both Sproles and Steven Jackson were reaches in this round, but some of that comes from knowing your opponents. Several of these experts are huge proponents of going RB heavy early and if you don't jump in the mix you could easily end up with C.J. Spiller as your starter.
Best Value Pick: Rob Gronkowski. Anytime you get a first-round pick in Round 2 it is a good thing.
Riskiest Pick: Jamaal Charles/Adrian Peterson. Both are coming off serious knee injuries and are not 100 percent yet. Minnesota coach Leslie Frazier expects the team to go slowly with Peterson to start the season.
The last we heard about Charles was that he was sure he would be medically cleared on June 18th, but I have been unable to find any updates to that. It may not be a good sign.
Safest Pick: Darren Sproles. The combination of excellent receiving skills and big-play ability will make Sproles a safe bet every single week. In 2011 he only had one week with less than 10 points in this scoring system.
Round 3
3.01 @ChrisWesseling: Michael Vick PHI QB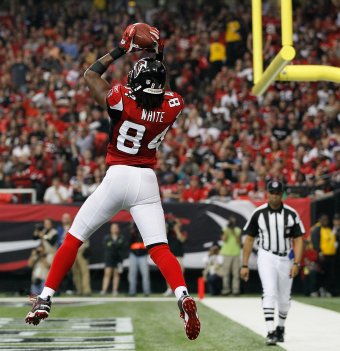 Kevin C. Cox/Getty Images
3.02 @Fantasytaz: Hakeem Nicks NYG WR
3.03 @SigmundBloom: Roddy White ATL WR
3.04 @RumfordJohnny: Dez Bryant DAL WR
3.05 @PaulGreco: Drew Brees NO QB
3.06 @wdelpilar: Fred Jackson BUF RB
3.07 @AdamRonis: Greg Jennings GB WR
3.08 @komments: Doug Martin TB RB
3.09 @BrunoBoys: Victor Cruz NYG WR
3.10 @MikeClayNFL: Percy Harvin MIN WR
3.11 @4for4_Josh: Ahmad Bradshaw NYG RB
3.12 @mschauf63: Austin Miles DAL WR
Round Makeup: Two quarterbacks, three running backs and seven wide receivers.
Draft Makeup: Three quarterbacks, 18 running backs, 13 wide receivers and two tight ends.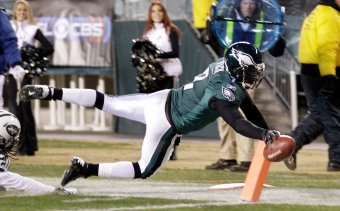 Rob Carr/Getty Images
Round Analysis: It's obvious that Chris expects a big year from Vick. He current ADP has him coming off the board as the sixth quarterback taken, but Chris grabs him as the No. 2 off the board.
Both Dez Bryant and Miles Austin come off the board this round. It will be interesting this season to see which one of these two takes the lead role in Dallas.
Greg Kellogg had a big reach on Doug Martin as his current ADP is 5.03 and there is still no guarantee that he will be the every-down back that fantasy owners expect him to be.
Best Pick: Drew Brees at 3.05. His current ADP is 2.03. This could easily change if Brees holds out for a long period.
Riskiest Pick: It has to be Martin. Not only grabbing him two rounds before his ADP, but also with the fact that we have seen many highly touted rookie running backs fail in their first season, most notably Mark Ingram in 2011.
Safest Pick: Roddy White at 3.03. White has never missed a game in his career and talk of him losing a ton of targets is just early season coach speak. White has too much chemistry with Matt Ryan to fall off the map as many are predicting.
Round 4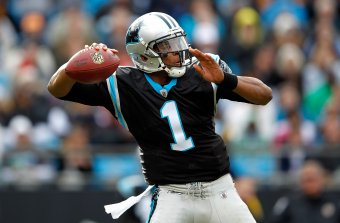 Streeter Lecka/Getty Images
4.01 @mscauf63: Mike Wallace PIT WR
4.02 @4for4_Josh: Reggie Bush MIA RB
4.03 @MikeClayNFL: Cam Newton CAR QB
4.04 @BrunoBoys: Tom Brady NE QB
4.05 @komments: Brandon Marshall MIA WR
4.06 @AdamRonis: Jeremy Maclin PHI WR
4.07 @wdelpilar: Matthew Stafford DET QB
4.08 @PaulGreco: Frank Gore SF RB
4.09 @RumfordJohnny: Steve Smith CAR WR
4.10 @SigmundBloom: Jordy Nelson GB WR
4.11 @Fantasytaz: Brandon Lloyd NE WR
4.12 @ChrisWesseling: Dwayne Bowe KC WR
Round Makeup: Three quarterbacks, two running backs and seven wide receivers.
Draft Makeup: Six quarterbacks, 20 running backs, 20 wide receivers and two tight ends.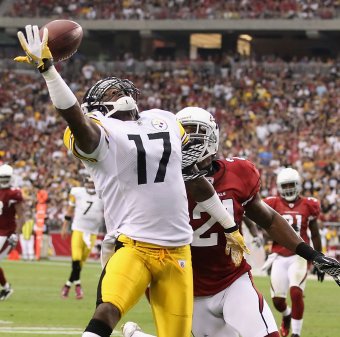 Christian Petersen/Getty Images
Round Analysis: Three quarterbacks come off in this round. It's nice to see some sanity in this draft, because most drafts have the top five quarterbacks coming off the board by the end of Round 2. There just isn't any reason to invest that heavily with the depth at the position this year.
Best Pick: Tom Brady. He currently has an ADP of 2.02, but unlike most drafts most of these owners understand that taking a QB in the first three rounds is not a solid strategy due to the depth of the position.
Solid Reach: Brandon Lloyd. He has an ADP of 6.03, but unfortunately when you draft with a bunch of smart drafters some risks have to be taken. Fortunately I don't consider Lloyd much of a risk as the 19th receiver off the board. I currently have him in my top 12.
Riskiest Pick: Not a lot of risk in this bunch, but Wallace presents the biggest risk because of his current holdout.
Safest Pick: Tom Brady. The addition of Lloyd just gives Brady one more toy to play with. He could easily finish as the top QB in 2012.
Round 5
5.01 @ChrisWesseling: Demaryius Thomas DEN WR
Thearon W. Henderson/Getty Images
5.02 @Fantasytaz: Michael Turner ATL RB
5.03 @SigmundBloom: Kenny Britt TEN WR
5.04 @RumfordJohnny: Eli Manning NYG QB
5.05 @PaulGreco: Shonn Greene NYJ RB
5.06 @wdelpilar: Isaac Redman PIT RB
5.07 @AdamRonis: Steve Johnson BUF WR
5.08 @komments: Roy Helu WAS RB
5.09 @BrunoBoys: Jahvid Best DET RB
5.10 @MikeClayNFL: Marques Colston NO WR
5.11 @4for4_Josh: Antonio Brown PIT WR
5.12 @mschauf63: Eric Decker DEN WR
Round Makeup: One quarterback, five running backs and six wide receivers.
Draft Makeup: Seven quarterbacks, 25 running backs, 26 wide receivers and two tight ends.
Round Analysis: Running backs continue to come off the board early. Best, Redman and Greene all have seventh-round ADPs, but come off the board here two rounds earlier.
Both Denver starting wide receivers come off the board in this round and will both produce, as long as Peyton Manning can stay on the field.
Britt comes off the board a full round later than his current ADP. It will be a solid value if he can stay on the field, but he has missed 17 games in the last two years.
Best Pick: Eric Decker. Decker should have the biggest upside of the Denver receivers because Peyton loves to work with receivers he can count on to be where he expects them to be, and so far Thomas has not shown he will be that player.
Riskiest Pick: Kenny Britt, Jahvid Best and Roy Helu are all risks in this round. Britt and Best are coming off injury-ridden seasons and Helu is no guarantee to start.
Safest Pick: Marques Colston. He was the 10th-ranked receiver in 2011 despite missing two games. He was taken here as the 24th receiver off the board.
You can find Rounds 5-10 here.
Follow Jim Day on Twitter @Fantasytaz and visit his website Fantasytaz.com. He also hosts the Twitter Roundtable podcast on BlogTalkRadio each Wednesday night at 8:00pm EST.