As tweeted by Adrian Wojnarowski of Yahoo! Sports, restricted free-agent Jeremy Lin has reportedly agreed to a four-year, $28.8 million contract with the Houston Rockets.
The same Houston Rockets who just traded Kyle Lowry to the Toronto Raptors for a first-round pick (via the Houston Chronicle).
The same Houston Rockets that balked at an offer by Goran Dragic's people, breaking down negotiations and driving him into the arms of the suddenly relevant Phoenix Suns (also from the Houston Chronicle).
Lowry had an assist-to-turnover ratio of 17.8 percent, while Lin's was 21.4.
According to Jared Zwerling's article on ESPN New York, six GMs were asked which player they would choose to be their starter now and for the future, and all of them picked Dragic.
Does that confuse you?
I'll admit, I'm with you on that. But I'm also a realist. I know that Daryl Morey's job is not to look at the team through my fanatical glasses. His job is to:
Put a championship team on the floor.
Put an interesting team on the floor that will put butts in the seats.
Morey's experiments with Yao Ming and Tracy McGrady failed due to injuries.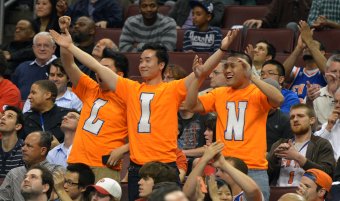 Drew Hallowell/Getty Images
His reeling in of the Spanish giant Pau Gasol was unethically rescinded by commissioner David Stern.
He has been shooed away by Dwight Howard.
He got Marc Gasol to sign an offer sheet.
He spoke with Chris Bosh at the first available moment of free agency in 2010.
Morey's a hustler, baby. He has done his best to accomplish the first point outlines.
Now he shifts his focus to his second-most important task . That's where Jeremy Lin comes in.
You remember Linsanity, right? Well so does Morey. He probably remembers how similar it was to Yao Ming Mania.
Consider that during Yao's rookie season, total attendance for 2002-2003 jumped by almost 100,000 over the previous year (per databaseBasketball.com).
Yao was a worldwide phenomenon.
And he put butts in the seats.
Getting back to Linsanity, there are several reasons that same popularity can translate successfully to the Houston market:
The trendsetting city of New York has already established Lin as a major star worthy of their attention.
He is a confessed Christian, which will go over like gangbusters in the conservative state of Texas.
He was on the Rockets' roster just before his explosion in New York, so Lin's signing can be seen as reclaiming a great player we let get away.
The Asian community of Houston wants Lin there. They will support him as one of their own, just like they rallied around the talented Yao Ming.
Still confused?
Morey isn't.
His track record suggests that he has never lost a deal. All appearances to the contrary, I have to believe he hasn't lost this one either.