Lets face it. When a team carries 80 players into training camp, and only 53 make the final cut, there are always guys who are riding the fence between playing on Sunday afternoons or waiting on customers at Home Depot.
What I find interesting is that each player has a story to tell, and that is what makes each player and their situations quite unique
I will address eight players here that I find fascinating for a myriad of reasons. It is a make or break season for one and all.
All were highly touted at one point in their career, but as we approach the 2012 season, who knows where these players might end up. Below are the eight I find most interesting
Terrance Copper: Wide Receiver
Over the years, Copper has gone from obscurity to being a productive WR.
Undrafted out of East Carolina, Copper has had enough fortitude and talent to survive eight years in the NFL. At one point in his career, Copper started for the Carolina Panthers. Since then he has become a journeyman.
These days, Copper's meal ticket has been playing special teams. When looking at the Chiefs' roster, Copper's only chance of making this team will be in that role. He is one of the few players over 30 on this roster, and with many undrafted rookies waiting in the wings, he may be on the outside looking in.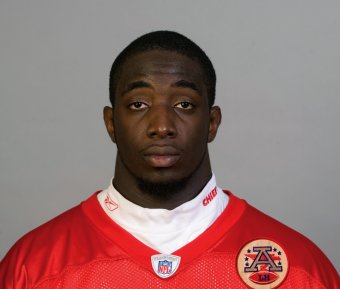 Handout/Getty Images
Jake O'Connell: Tight End
While versatility is a trait Scott Pioli cherishes, one has to wonder about this guy. With Tony Moeaki and Kevin Boss being their primary tight ends, and Steve Maneri's new role is as a No. 3 blocking tight end (at 290 lbs), who can also play offensive tackle, just where does O'Connell fit?
It's highly unlikely to be at fullback, when one considers that the Chiefs may go into this season without one. With either Shane Bannon or Taylor Gentry filling that role, his only chance of making the team is as insurance for the often injured Moeaki.
Brandon Bair: Defensive End
Bair will most likely continue to be groomed as a five technique. The problem is that Bair is no more developed now than when he first came into the league as a 276-pound defensive end.
As a player, he has all the intangibles required, but he needs to fill out his 6'6 frame and get up into the 300-pound range. He hasn't.
He also plays with no power nor does he have the strength to occupy blocks. A once great player during his days at Oregon, he may be one more example of a guy who doesn't fit the defense.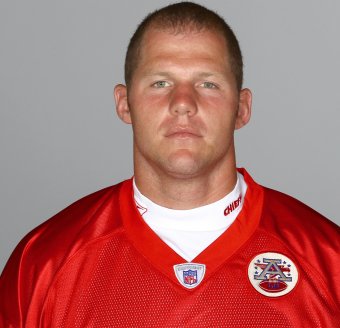 Handout/Getty Images
He will also turn 28 this season; a little old for developing.
Jerrell Powe: Nose Tackle
Although it is unlikely Powe won't make this roster, one has to wonder about his lack of production last year.
In 2009, Powe played at 365 pounds at Mississippi and was so dominant, many scouts felt he could have been a first-round pick. He had one problem though, he lacked balance.
He dropped his weight down to 300 in 2010 but became such a non-factor that he lasted until round six of the 2011 draft.
The Chiefs will have him play at 335 and he just might give Dontari Poe a run for his money, especially if he can learn the playbook, which he struggled with last season. The same goes for Poe
Gabe Miller: Outside Linebacker
I didn't expect much from Gabe Miller last year. I don't expect much from him this year either. Yes, it was a year of transition for him to move from a college defensive end to an NFL outside linebacker, but one has to wonder if the pass rush ability the Chiefs projected will ever come to fruition.
Rob Carr/Getty Images
He seemed like a reach when he was drafted in the middle rounds, and he played with players at Oregon State who demanded much more attention. He often had a clear lane to the Quarterback (because DT Stephen Paea was often triple teamed) It will be interesting to see if his special teams ability is enough to keep him employed.
Cameron Sheffield: Outside Linebacker
Sheffield and Miller have a lot in common. They were both fifth-round picks, they both played with their hands in the dirt in college, and their meal ticket in the NFL was their potential as pass-rushers.
Sheffield has played more snaps, and was more touted than Miller was. The problem is that Sheffield never developed and was absolutely awful as an open-field tackler. Both he and Miller may be battling each other for a reserve spot at outside linebacker. They may also consider another veteran.
Jalil Brown: Cornerback
Good news and bad news on this guy. The good news is that he played very well on special teams last year. The bad news is he really struggled playing his position.
He is too mechanical and rigid in his movements, gets beat over the top, bites on double moves, and is a drag down tackler.
He was considered the highest-rated CB when the Chiefs drafted him, but that doesn't say much. If he wasn't so good jamming receivers at the line, one wonders if he might be better off at Strong Safety.
Donald Washington: Safety
This player not only failed as a cornerback but as a safety too. He ranked among the worst tacklers in the NFL last season.
The third player drafted by Pioli in the 2009 draft, there was every reason to believe he would be a solid No. 2 cornerback. He has speed, loose hips, and graduated from a school best known for producing great corners.
He was ranked by Pro Football Weekly as the sixth-best corner in the draft, ranking higher than players such as Lardarius Webb and Jerraud Powers.
In summary, the good news is that each of these players will probably not be integral parts of this team and there is always hope for improvement
Then again, I'm sure Office Depot is hiring.