Every fantasy owner goes into drafts with a decent idea of players they like and dislike, even if they say they don't. It is just natural.
But sometimes, being predisposed to taking certain players can harm a team's draft. In fact, many fantasy owners go down in flames every year with this thinking.
Keeping abreast of team and coaching changes goes a long way to being able to move past this, but understanding that it is happening is the first step to not fall into this trap. Many fantasy owners draft based on name recognition or what the player did in the past. Don't be that owner.
While that works for the stud type of player most often, it is much harder as you get deeper into the player pool. Every year, there are players that come out of nowhere to surprise the fantasy world, and 2012 will be no different. Read on to see which wide receivers will surprise this year.
The quarterback and running back rankings have already been released, so today the wide receiver rankings are ready. Please comment below with any thoughts on this list.
1. Calvin Johnson (DET)
Johnson will be No. 1 on most rankings this year after exploding last year. It was no coincidence that Stafford stayed healthy, too. For the first time, Stafford and Johnson managed to play a complete season together, and the results were what was expected from these two.
Stafford threw for over 5,000 yards and 40 touchdowns, and Johnson finished as the clear-cut No. 1 receiver. All of that was done with a running back corps that was decimated by injuries. If the running game improves at all expect Stafford and Johnson to continue to get better. Johnson is still only 26 years old.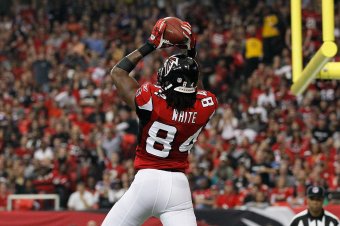 Kevin C. Cox/Getty Images
Forget the fact that he just got paid and is on the Madden cover; Johnson will once again rule all wide receivers in 2012.
2. Roddy White (ATL)
All the talk out of Atlanta is that Julio Jones is the second coming and White will see decreased chances in 2012. Then they say that this offense is going to open up the passing game under new offensive coordinator Dirk Koetter.
If they are going to throw more, why does White have to take a hit? Most pundits have White falling off a cliff.
White had 179 targets in each of the last two years, so even if he takes a slight hit in targets, his numbers may represent more of what we saw from him in 2008-2009. In those two seasons, he averaged over 86 receptions, 1260 yards and nine touchdowns.
White will not even fall that far. Jones has to show he can stay healthy, and Ryan will continue to know where his go-to guy is at all times. Ryan locks onto White whenever he needs a clutch play, and while I do like Jones (see below), White will still be the top receiver in Atlanta this year.
Also, White has yet to miss a game to injury in his seven years in the league—already can't say that about Jones.
3. Larry Fitzgerald (ARI)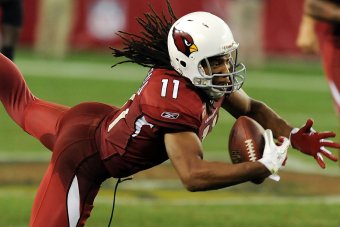 Norm Hall/Getty Images
Fitzgerald is easily a guy who could put up a huge fight with Calvin Johnson for that No. 1 spot, if not for the play of his quarterbacks. Last year's newcomer Kevin Kolb certainly did not live up to his billing. He only managed to start eight games because of injury, and even in those games, he just had a hard time getting the ball consistently into Fitzgerald's hands.
With Kolb, Fitzgerald only managed two 100-yard games and two touchdowns. With second-year quarterback John Skelton, Fitzgerald managed four 100-yard games and six touchdowns. Kolb just had a hard time putting the ball into tight places and letting his receiver go get it, something Skelton was not afraid to do.
Both Kolb and Skelton are fighting it out in minicamp and will continue to fight it out into the preseason, but for Fitzgerald to end in this No. 3 spot, he will need Skelton to win that competition.
4. A.J. Green (CIN)
Green had a great rookie season, especially when you consider that he had a rookie throwing to him. He had 65 receptions, 1,057 yards and seven touchdowns on 115 targets in 15 games. His rookie season was better than either Calvin Johnson's or Larry Fitzgerald's, and he did it with no offseason.
Green is an explosive, big-play receiver whose 11 receptions of over 35 yards led the league and was the most by a rookie since Randy Moss had 14 in 1998. He was definitely Dalton's go-to guy, as 44 of his 65 receptions came when the team was within seven points of their opponents. That was 10th among all wide receivers.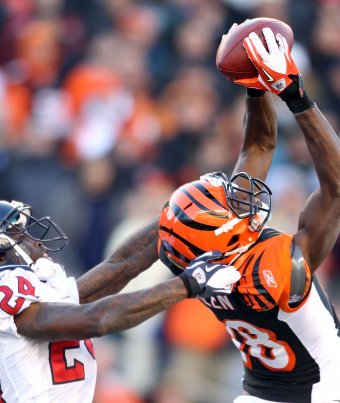 Andy Lyons/Getty Images
This offseason, he plans to work with Larry Fitzgerald, and other young wide receivers that have done this in the past have benefited greatly from it. Look for him to continue to grow as a receiver.
Green will definitely be considered elite when drafts are taken place in 2013, but be the first to realize it and grab him now.
5. Hakeem Nicks (NYG)
Many are down on Nicks because of the broken foot he suffered in May, but he has sworn that he will be back and ready by Week 1. At this point we need to believe him, because he has come back from injury quickly before. Injuries are definitely his greatest concern, because when he is on the field he easily takes over games.
For an example, just look at what he did for the Giants in the playoffs last year: 28 receptions, 444 yards and four touchdowns in their four games, including a seven-catch, 165-yard, two-touchdown performance against the Packers.
There is no doubt he is the No. 1 receiver on this team and will be looking to prove it in 2012.
6. Julio Jones (ATL)
Jones is definitely one of the most talked-about wide receivers heading into 2012. Another rookie who had to come in with no offseason, Jones proved that he was up to the task. While he was inconsistent at the beginning of the year, he truly came on at the end.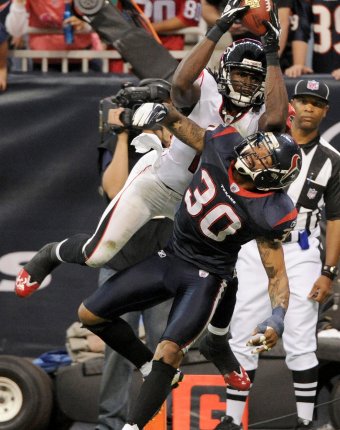 Thomas B. Shea/Getty Images
In his last four games, he averaged five receptions, 98 yards and a touchdown. In each game, he had over 20 fantasy points in PPR leagues.
If he can stay on the field and start this year the way he finished last year, this ranking will be spot on, but he will need to stay healthy to do it. The opportunity will certainly be there.
7. Andre Johnson (HOU)
So much of the talk in this column has been about injuries, and Andre Johnson is another that fuels that discussion, especially after missing nine games last year. He had issues with both hamstrings and had arthroscopic knee surgery in the offseason. So far, he has not worked with the team at all this offseason, but he is expected to be ready for training camp.
There is no doubt that when healthy, Johnson is easily one of the top receivers in the league. Johnson has played three full seasons since Gary Kubiak took over as head coach in 2006 and in each of those seasons, he has topped 100 receptions and in two of those seasons he was over 1,500 yards.
If he and quarterback Matt Schaub can stay healthy he will be right up there with the top three, but at this point it is hard to put him that high.
8. Victor Cruz (NYG)
Cruz exploded on the scene in 2011 with 82 receptions, 1,536 yards and nine touchdowns, all without even being involved in the first two weeks. He crushed the Giants' single-season record for receiving yards and finished second to Calvin Johnson in plays over 40 yards with nine.
Some are concerned that Cruz is a one-year wonder, but that won't be the case. He is an explosive player who will catch everything thrown at him and can take anything to the house. His 99-yard touchdown against the Jets on Christmas Eve totally turned the Giants' season around. It also turned the Jets' season around, albeit in a different direction.
He finished 2011 as the No. 4 fantasy wide receiver in PPR leagues, and there is nothing to indicate he won't do it again. Have faith.
9. Brandon Lloyd (NE)
There is no wide receiver on the planet that is as happy as Lloyd is this year. Not only does he get to work with offensive coordinator Josh McDaniels again, but he also gets to play with one of the best quarterbacks in the game. McDaniels is the offensive coordinator that helped Lloyd break out in 2010 while with the Broncos.
He joins a team that has some excellent weapons for Brady to use and will have to fight for time, but that shouldn't be an issue. Look for the Patriots to continue to be a huge force through the air, and there should be more than enough passes to keep everyone happy.
Lloyd gives Brady an explosive down-the-field receiver with big-play ability, something the team hasn't had since Randy Moss left. Definitely something that Chad Ochocinco wasn't last year. Lloyd presents excellent value in drafts right now.
10. Wes Welker (NE)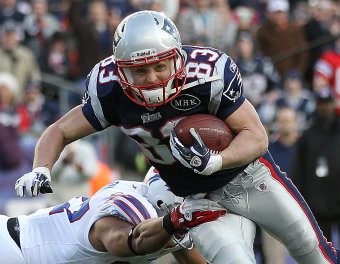 Jim Rogash/Getty Images
If he can just stop getting tackled by security guards and wait until the other players do it, there should be no reason why Welker can't have another great season, just maybe not as good as 2011.
He finished last year as the No. 2-ranked wide receiver in PPR leagues, only behind Calvin Johnson with 122 receptions, 1,569 yards and nine touchdowns.
It's the number of touchdowns that are concerning for 2012. With Lloyd in the mix, Welker could see a dip in his touchdowns. Nine is the most he has ever had. In the other three seasons where he caught over 100 passes, he only averaged five touchdowns a season.
That outcome is more likely in 2012, but he will still be over 100 receptions when the year is done.
11. Brandon Marshall (CHI)
While Brandon Lloyd might be the happiest receiver, Jay Cutler is the happiest quarterback. Getting Marshall back will be huge for the combo this year. In the two years the two worked together in Denver back in 2007 and 2008, Marshall had 206 receptions, 2,590 yards and 13 touchdowns and was a monster in PPR leagues.
Fast forward to Chicago 2012, and Marshall is looking at a receiver corps that still has no clue who will do what and a quarterback that needs someone to throw to. Marshall is an excellent possession receiver and has a good history with Cutler, so expect him to be back on top once again.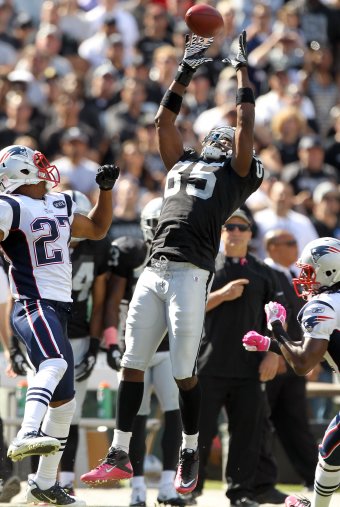 Ezra Shaw/Getty Images
12. Darrius Heyward-Bey (OAK)
Most people reading this are already calling me a nut and saying I have no idea what I am talking about, but go right ahead and watch this one play out.
Heyward-Bey was not a favorite when he came out. He tried to catch too many balls with his body, and the only reason the Raiders drafted him so high was simply pure speed.
In 2011, the light finally seemed to come on for him. He obviously worked hard in the offseason to learn how to catch, because in 2011 you did not see the ball reach his body often. The change was ridiculous. He had finally turned into a true NFL wide receiver.
But unfortunately for him, fantasy football players have long memories and only remember how poor he looked in 2010 and will discard anything else. He is simply written off by most people and not part of the conversation. Big mistake.
For the last seven weeks of 2011 Heyward-Bey was the No. 13-ranked wide receiver as he and Palmer started to click. In those games, DHB had 37 receptions, 541 yards and three touchdowns. With a full offseason to work with Palmer, expect those numbers to jump.
Denarius Moore is getting more press, but it will be Heyward-Bey as the top receiver in Oakland come the end of the season.
Please comment below if there are any disagreements or questions. Discussions are the name of the game at this time of year, and the more these players are discussed and evaluated, the more draft day domination will become a consistent thing.
Please follow Jim Day on Twitter @Fantasytaz and visit his website Fantasytaz.com.