As the knockout stage begins at UEFA Euro 2012, Greece will be trying to replicate its magic from 2004 if it has any hope of defeating mighty Germany.
In the eight matches the teams have played in their history, Germany has never lost, winning five and drawing three. After breaking through the "Group of Death" in commanding fashion, Germany would be foolish to underestimate its opponent this late in the tournament.
Still, Greece will need a miracle if it plans on winning.
Here are some stories to watch moving forward.
Can Greece contain Germany's offense?
German attacker Mario Gomez has been fantastic in Euro 2012, notching three goals in three matches.
Flanked by adept passers Mesut Ozil and Bastian Schweinsteiger, Germany's offense has been an efficient machine.
Greece's coach, Fernando Santos, came up with an effective game plan to slow down Russia, but how will the team's defense fare against Germany?
Simply, Die Mannschaft is just stacked.
Outside of Ozil, Schweinsteiger and Gomez, Germany can also rely on Lukas Podolski and Lars Bender, as well as a potent bench.
Can Greece upset Germany?
Look for Germany to complete its passes early and come up with some nice schemes to pick apart Greece's overeager defense.
WIthout Giorgos Karagounis, who steps up for Greece?
Greek leader Giorgos Karagounis will not play in Friday's match against Germany because of a yellow card he received for diving late against Russia, his second of the tournament thus far.
While fans and critics can debate whether Karagounis deserved the yellow card, it will be on Greece to rally around its fallen star and pick up the broken pieces.
It has yet to happen in soccer, but Greece needs something akin to a Ewing Theory moment in order to knock out Germany.
Georgios Samaras finally came to play against Russia, and he will need an equally dominant performance if Greece has any chance of beating Germany tomorrow.
Vasilis Torosidis will have to come to play. He had some big games for Greece in the World Cup in 2010, and now, he will need to bear some of the load against Die Mannschaft.
Whether it is Samaras, Torosidis, Sotiris Ninis, Georgios Fotakis or someone else, Greece will need big contributions to put the pressure on Manuel Neuer and Germany's defense.
Can Germany dominate the game on both sides of the ball?
Die Mannschaft's ability to dominate possession and take the ball away from Greece will be crucial if it hopes to put the game away early.
The favorites have always had a hyper-efficient passing offense, and not much should change on Friday.
Look for Mats Hummels to come up big and stymie Greece's attack. The poised Neuer will anchor the defense and should find help all day from his back line.
Germany will play solid team defense and keep the ball with its primary playmakers like Ozil and Schweinsteiger. Clever passing will have Greece gasping for air down the stretch as its players try to keep up with Germany's offense.
Scoring early and wearing down the Greeks will be crucial for Germany on Friday.
What is the over-under for European financial jokes and allusions during the match?
This one is a little bit tongue in cheek, but Germany vs. Greece has all the political undertones to make this the most compelling match off the field.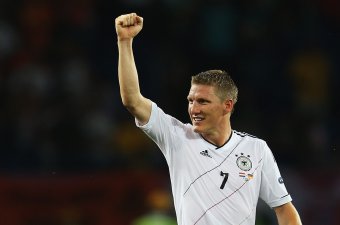 Joern Pollex/Getty Images
Greece's financial woes have been well-chronicled over the years, while Angela Merkel's sentiments have been equally well-broadcasted.
The media will feast on this subtext, relishing that Merkel is expected to be in attendance on Friday.
The over-under here has to be incredible, as commentators around the globe will reference it consistently.
Prediction
All jokes aside, Germany will be too much for Greece. Even if the Greeks had Karagounis, they would still be a long shot to upset Die Mannschaft.
Germany goes up early and never looks back, winning, 2-0.