With fantasy drafts already starting to come together, especially in dynasty leagues, putting together early rankings can help fantasy owners make those hard decisions. Keep in mind that these rankings do not indicate current ADP (average draft position), but where these players will finish the season in fantasy scoring.
There are definitely some risky calls here, but playing safe is not my style. Feel free to comment if you disagree with these rankings; that is most of the fun with fantasy football—the discussions.
1. Ray Rice (BAL)
Rice finished as the top PPR scoring running back in 2011, and there still doesn't seem to be anything barring his way from achieving that again, especially if Foster misses any time.
Of the top three, he has easily been the most consistent since joining the league. In his three seasons, he has averaged just over 1,300 yards rushing, 650 yards receiving and 70 receptions. Plus, he is the only one of the three who hasn't missed a single game.
The big change in 2011 was the increased chances inside the 5-yard line, and he responded with 12 rushing touchdowns.
2. Arian Foster (HOU)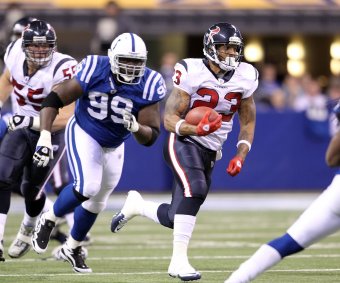 Andy Lyons/Getty Images
Foster scored the most points per game for running backs in 2011 and even though he missed three games, he still finished as the No. 4 rusher in PPR leagues. His 1,800 total yards and 12 TDs in 13 games is never a bad thing. Houston's zone-blocking scheme is perfect for him and with both Matt Schaub and Andre Johnson looking healthy, it could only open more holes for Foster to allow him the chance to re-take the top spot.
3. LeSean McCoy (PHI)
McCoy really took control of the Eagles' offense in 2011 when he rambled for 20 touchdowns. His stats did drop in numbers of receptions, receiving yards and rushing yards per carry, but he more than made up for that with more rushing attempts and an explosiveness that just ripped defenses apart.
More troubling may be head coach Andy Reid suggesting that he will lessen McCoy's workload in 2012.
4. Maurice Jones-Drew (JAC)
In 2011, MJD was not supposed to be a top back. After missing the last two games of 2010 with a chronic bone-on-bone knee issue, he had surgery in the offseason and was expected to be limited early in the season until he could build it back up.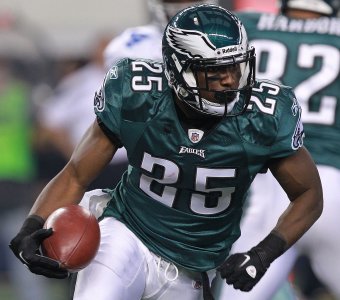 Ronald Martinez/Getty Images
All he did in 2011 was run away with the rushing title and have 240 more yards than his nearest competitor (Ray Rice). Plus, he did it with one of the league's worst passing offenses.
MJD is only 27 and doesn't look to be ready to slow down yet.
5. Chris Johnson (TEN)
Chris Johnson started off 2011 under a contract holdout and as we have seen numerous times in the past, once a player holds out, they never seem to be able to perform up to their previous standards.
That was definitely the case with Johnson in 2011, and he never seemed to get it going. After posting 20 100-yard games in 2009 and 2010 combined, Johnson managed only four in 2011. The team has upgraded the offensive line and Johnson is happy and looking in much better shape. Look for him to challenge for the rushing title again.
6. Adrian Peterson (MIN)
This pick and the Jamaal Charles pick below are both very risky because both players are coming back from major knee surgery. That being said, Peterson has always been a physical beast and news out of camp is that he beat Percy Harvin in a race up a hill—twice.
Running in a straight line is one thing, but being able to push off the knee as he fights to get up a hill quickly is definitely another. Don't be surprised when he is on the field in Week 1 and looking as powerful as ever. It is hard to bet against him.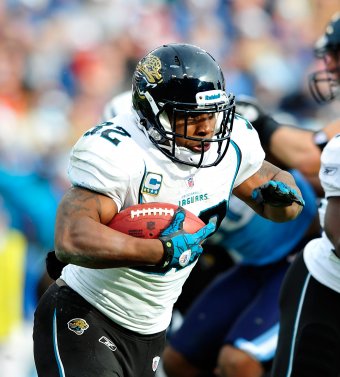 Grant Halverson/Getty Images
7. Trent Richardson (CLE)
Richardson is the only rookie on this list because he landed in a great situation. Cleveland is looking for an every-down back and appears to have found him in Richardson.
He is considered the best back in this draft class by a wide margin and will get every chance to carry the rock as one of the few workhorse backs left in the league. Peyton Hillis had over 1,600 total yards and 13 touchdowns in this offense in 2010, and Richardson has a much more complete skill set than Hillis.
8. Jamaal Charles (KC)
Charles is coming off a torn ACL he suffered in Week 2 of last season, but he already claims to be 80 percent back and that he'll be ready for training camp.
As mentioned above, this is a risky pick, but if Charles can get back to being the explosive runner he was in 2010 when he was a Pro Bowler with over 1,900 total yards, then he will be a steal at his current ADP.
He will also get a chance to work with new offensive coordinator Brian Daboll. Daboll was the OC that helped Reggie Bush produce his first 1,000-yard season last year.
9. Ryan Mathews (SD)
Many have Mathews much higher. According to Michael Gehlken of UTSanDiego.com, Mathews is the favorite to be the every-down back. He will need to stay healthy, though, as he has missed multiple games in his two seasons. But if he can stay on the field, he could easily land as a top-three back in this offense.
He averaged almost five yards a carry on 222 carries last year and added 50 receptions. If he sees another 50-75 carries, he could easily lead the NFL in rushing.
10. Matt Forte (CHI)
Forte is a tough player to place right now. He missed the last four games of 2011 with a sprained right MCL but still finished as the ninth-rated RB in PPR leagues.
This year he has not been participating with the team because of a contract struggle that threatens to get ugly. If he holds out into the preseason, he will fall off this top 12 list, but if he can get signed and in camp soon, then there is no reason to think he can't pick up where he left off.
The addition of Marshall at WR will only help open holes for Forte.
11. Darren Sproles (NO)
Talk about a player taking the fantasy world by storm. Sproles did exactly that in 2011. He ended up as the No. 3 scoring RB in PPR leagues after catching an amazing 86 passes. He also ended the season with four touchdowns in his last five games.
There is some chance that second-year RB Mark Ingram may take some of his work away, but Brees knows what he has in Sproles now and won't let up. Expect Sproles to be a big part of the passing game again in 2012.
12. Marshawn Lynch (SEA)
Lynch really came on strong at the end of 2011. He had six 100-yard games and 11 touchdowns in his last nine games, and not against poor defenses, either. In that string, he faced Baltimore, San Francisco and Philadelphia, all of which were 100-yard games.
The kicker here is that he got a big contract in the offseason and because of his history, there is some concern that he won't work as hard now that his wallet is so huge. If he can get past that and works hard, he could easily finish as a top-five back.
Next week we will cover the wide receivers and tight ends.
Make sure to check back for them and if you want to read more of my articles, please check out my site www.FantasyTaz.com or follow me on Twitter @Fantasytaz.