When you draft with no plan, you have a bad team.
When you have a bad team, you have Chad Ochocinco as your No. 1 wide receiver.
When you have Ochocinco as your No. 1 wide receiver, you end up in last place.
When you end up in last place, you have to dress up like a chicken for next year's draft.
Don't dress up like a chicken for next year's draft!
Being successful in fantasy football on a consistent basis is not something that comes easily; pre-draft work must be done, including personal rankings and plenty of mock drafts. Preparedness is key. Not pencil and eraser prepared, but with knowledge and strategy already in hand.
This article is going to present some oft-used strategies for drafting. None of the strategies is incorrect, but every owner must find which works better for them over time. Each has upside and pitfalls that must be taken into account when deciding which to use.
Let's start with one of the most popular; The Stud Running Back Theory.
The Basics: The Stud RB theory is all about player scarcity. Most fantasy leagues start an average of one quarterback, two running backs, three wide receivers and one tight end. For this article, we will not cover kickers or defenses.
Based on the starting lineup listed above, a 12-team fantasy league will need 12 starting quarterbacks, 24 running backs, 36 wide receivers and 12 tight ends. When looking at the 32 NFL teams, we know that there are 32 starting quarterbacks, 32 running backs, 64 wide receivers and 32 tight ends in base offenses.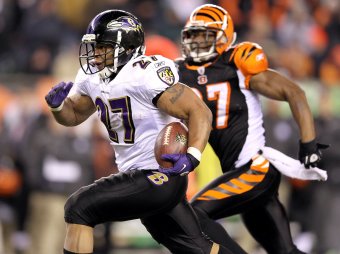 Andy Lyons/Getty Images
This is where the scarcity of the starting running backs starts to become evident. When 67 percent of all NFL starting running backs are needed to start in a fantasy league, there is not a lot of room for error. To compare, wide receivers are the next most used, and fantasy leagues only account for 50 percent of those NFL starters.
This strategy is always started with at least two running backs that have every chance to be in the top 12 of their position. The idea being that by grabbing two running backs first, the chance of getting two workhorse backs increases dramatically.
The Upside: If the correct running backs are chosen to start a team's draft, this position will consistently outperform most other teams. In 2011, teams using this strategy could have chosen Ray Rice, Arian Foster or LeSean McCoy in the first round and then come back with Steven Jackson or Ryan Mathews in the second. This team would have had two of the top 10 running backs in fantasy scoring and well on their way to a championship.
The Downside: If that same team had picked Jamaal Charles in the first round and then Darren McFadden in the second, that team would have a great chance at the No. 1 pick in the 2012 draft. Both Charles and McFadden had season-ending injuries very early in 2011, and this is the huge risk associated with this strategy. Running backs take the biggest pounding of all the fantasy relevant players, and injuries are a common occurrence. For some players, it's more common than others.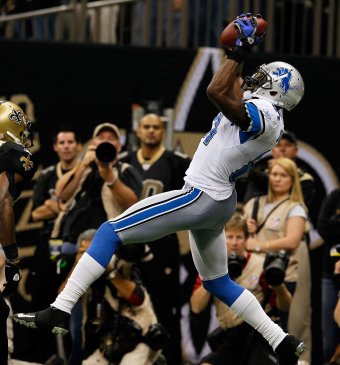 Kevin C. Cox/Getty Images
Next up is The Stud Wide Receiver Theory.
The Basics: The same exact thought as the running back strategy listed above; except with wide receivers. I know, Captain Obvious, right?
When owners found themselves at the middle or end of Round 1, the stud running backs that were still available had issues. Either they were a known injury risk, were holding out for a better contract or were just eating too many Doritos before the season. Whatever the reason, the danger was considered too great.
Owners started to realize that the running backs weren't worth the risk and that the correct strategy would be to go after two stud wide receivers and lock down that position. As with any strategy, injury is always a concern, but with more possible choices because of the number of available wide receivers, the risk is slightly lower.
The Upside: With the injury risk being lower, the chances of hitting on the two studs is greater.
The Downside: By starting the draft off with two wide receivers, the choices for starting running backs will be much thinner. Because so many NFL teams are now using some form of running back by committee approach, the few workhorse backs left in the NFL will be long gone at this point in the draft. That doesn't mean that there are no good backs left; just that the playing time of the remaining backs will be less than those taken earlier in most instances.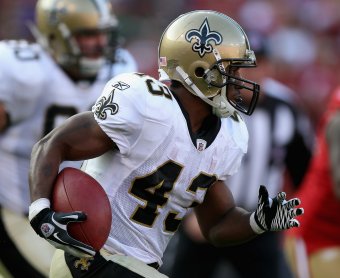 Jed Jacobsohn/Getty Images
Now let's look at the Tier Draft Strategy.
The Basics: The Tier strategy is to take each position by itself and then rank each player at that position. Once the rankings are finished, the players that represent the same or close to the same fantasy value are tiered together. The basic idea is that once players of the same value are grouped together, value will start to show itself in the draft.
The first tier is always your super elite players like an Aaron Rodgers or Tom Brady at quarterback. Once the players are chosen that comprise the super elite, that is tier one. Continue to tier two, which should comprise more players that are considered fantasy starters. By tier three or four, depending on position, the players should now be players that are considered No. 2 fantasy starters at that position. Continue through the complete player rankings at that position.
The top tiers will always be fewer players than the lower tiers, but to be successful with this strategy, it is important to be objective when evaluating the players. Don't discount a player because they play on a hated rival or the fact that they have a ponytail. Be objective.
The object in using this strategy is to make sure that the drafted team has a No. 1 starter at every position using the players remaining in each tier as a guide. If a tier is almost depleted and a player from that level is needed, then it becomes apparent that this is where the next draft pick must come from.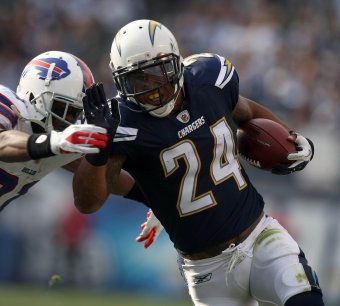 Donald Miralle/Getty Images
The Upside: If done correctly, this will lead to a very balanced team with strong starters at each position.
The Downside: By looking at each position separately, it is sometimes tough to decide if a top-tier wide receiver is more important than a second-tier running back. Making the incorrect call at a certain time could result in losing a tier at another position, especially if the draft picks are at either end of the draft.
The last one to look at in this article is Value-Based Drafting.
The Basics: As the name states, this strategy is looking for value with every draft pick. The way to do that is to assign each player a fantasy value. To get that value, projections must be done for all players. The fantasy value is derived from each player's projections for the season compared to the projections of every other player at that position. Make sure to take each league's scoring system into account when doing projections.
If a fantasy league requires two starting running backs and it is a 12-team league, then the top 24 running backs projected fantasy points are averaged together to create a baseline. The baseline is then subtracted from each player's projected fantasy points. If the result is positive, then that player represents value relative to the average of the fantasy starters at that position.
Which Draft Strategy is your favorite?
Once this is done for all players at each position, every player now has a value relative to every other player and is easily ranked using this value.
The Upside: When using this method, every player has a value, and the rankings now include all positions. This makes it much easier to identify whether it is smart to take a No. 1 wide receiver or a No. 2 running back. If done correctly, then every pick should have a positive value and will leave that team with a very strong roster compared to every other team.
The Downside: Since it is totally contingent on projections it is very easy to get off track if the projections used do not become reality once the season starts.
These are all very simplified explanations of these strategies just to give an overview of different ways to approach the same draft. There are other strategies that are used and new ones are coming along all the time as more people jump on the fantasy bandwagon.
To discover which one works the best, it is always smart to practice using them as often as possible. Do as many mock drafts or Draftmaster leagues early in the offseason to refine the methodology, and all this work will make each draft a much simpler task.
Remember; don't dress up like a chicken for next year's draft!