Manny Pacquiao watched helplessly as his WBO Welterweight title was torn away from him by ringside judges—as opposed to opponent Tim Bradley—in the most controversial decision in scorecard history.
Harold Lederman, the telecast's scorecard expert, had scored the fight a shutout through the first 10 rounds—with no one even considering the possibility of a close decision, let alone a split one.
Before the fight even began, however, Lederman warned the audience about C.J. Ross—citing sketchy cards in her history as a judge. Unsurprisingly, she was one of the two culprits who inexplicably awarded the fight to Tim Bradley.
The conspiracy theories only magnify from there, as Bill Simmons responded to a very interesting tweet about the betting activity late in the process. Buckle your seatbelts sports fans, because a 30 for 30 should be coming out on this story within the next year.
#future30for30 RT @haralabob: Late money on this boxing match, Pac was -432 at 2pm it closed -397 at pinny. Lots of late money on Bradley.

— Bill Simmons (@sportsguy33) June 10, 2012
Boxing did not need this. A sport already being tortured by the meteoric rise of the MMA in recent years, it was barely hanging on by the tiniest and most frayed of threads.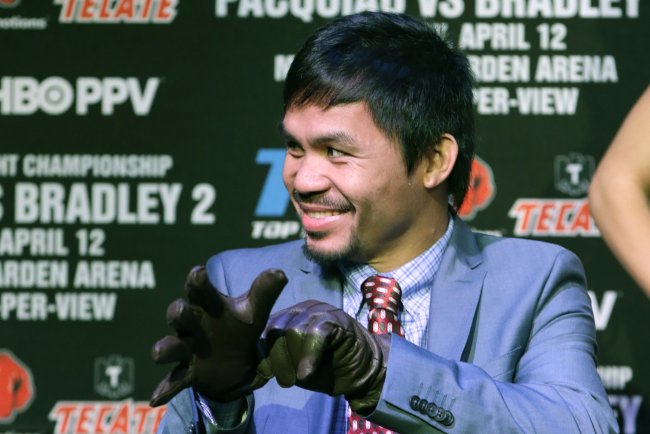 Kathy Willens/Associated Press
This Tim Bradley decision will ultimately be looked back on as the day that boxing ceased to exist as a respected competition among some of the world's most conditioned/intense athletes.
The general boxing landscape just transitioned from bad to worse, with many outraged fans comparing it more to the WWE than a "real" sport. The integrity and respect lost throughout the shocking post-fight events is something boxing will not be able to overcome.
Who wants to see Manny Pacquiao take on Floyd Mayweather if we are suspecting the winner has already been decided before touching gloves (especially without Stone Cold Steve Austin as guest referee)?
Boxing just became the worst of both worlds; a potentially crooked sport masquerading as one of the most authentic. What is more genuine than a one-on-one, winner-take-all battle? Nowhere to run and hide and no teammates to pick up the slack on a bad night—just the best man claiming all the glory.
Manny Pacquiao just became the poster boy of the sport he almost single-handedly helped tread water, but for far different reasons than his talent and professionalism deserve. This time, "Pacman's" dejected face is the symbol of what's horribly broken in a flawed and mismanaged business.
Pacquiao is the real champion. He is the best pound-for-pound fighter of his generation and no one can take that away from him—even C.J. Ross and Duane Ford.
But none of that matters now. Nothing but the admission that neither judge ever learned addition in elementary school can justify the final scorecard tallies, unless you truly believe that the fix was in tonight.
Do You Believe That The Judges Fixed The Fight?
As someone that generally refuses to believe these things happen as often as we fear, I find it difficult to grab a pitchfork and a torch at every controversy. That said, something smells rancid in Las Vegas tonight and an investigation needs to be formally introduced to the process.
A six-foot hole has been not-so-subtly dug at 1 p.m. EDT, and a coffin is quickly being lowered into the ground with the sport of boxing inside of it.
Pay your last respects, because the spectacle many of us knew and loved is about to die.