[To adjust the music, please scroll to the bottom of the page.]
With the off-season ahead of us, and the agony of the "competitive" Pro Bowl upon us, let us take a moment to look ahead to the '09 season that we can hardly wait for and wonder... and continue wondering for the next six months until we have to endure the preseason. Now that 2008 is in the books, who's going off the boards first come Draft time for Fantasy leagues?


1. Adrain Peterson - Min
Okay, so the guy smeared his hands in butter before every game to lead the league with nine fumbles. He also proved he had legs that overcame that to lead the league in another category, total rushing yards; with 1,760. Tack on 10 TD's and proof that Adrian Peterson can survive a 16 game season. AND is only in his second year of the league, he will only have better output in the future.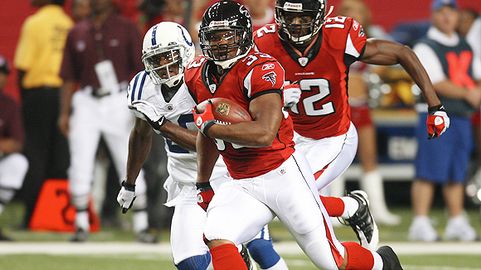 2. Michael Turner - Atl
If there was such thing as Pick 1A, Turner would defiantly be it. He was second this season in rushing with 1699 yards and second in touchdowns with 17. After his exodus from San Diego and the shadow of LaDanian Tomlinson, he got fixated into a run-happy team and proved to the league that Turner is for real.
3. DeAngelo Williams - Car
Williams was strong down the stretch and ended with 1515 rushing yards (3rd in the league) and first in the league with 18 touchdowns. Many may take Williams number one. Williams defiantly made a case.
4. Brian Westbrook - Phi 5. Thomas Jones - NYJ 6. Clinton Portis - Was
Westbrook proved a lot in '08 regardless of his injury plagued season. In his 14 games of action (many of them not 100 percent), he accumulated 936 yards and nine touchdowns. Even through the fiasco with McNabb, Westbrook was still consistent and solid.
Thomas Jones was able to finally get a bit more recognition this past season. Whether that was because of Brett Favre or not is up for dispute, but Jones certainly put up the numbers with 1487 rushing yards (fifth in NFL) and 13 touchdowns (fifth in NFL).
Clinton Portis had the makings of leading the league in yards and maybe touchdowns as well, but fell short due to injury. With over 1,000 yards by Week 8, he defiantly had a shot at a 2,000 yard season. Due to his performance down the stretch though, he wasn't the same as he was right out of the gates. Portis finished the season fourth in the league with 1487 yards and nine trips to pay dirt.
7. Steve Slaton - Hou
After a sensational rookie season no one really saw coming, Steve Slaton came in and helped the Texans reach their first .500 season. Slaton racked up 1,282 yards, sixth in the league. He also ran in for nine scores.
8. Matt Forte - Chi
Another great rookie breaking the top ten is "the second coming of Walter Payton" Matt Forte. And as his last name implies, he defiantly made some noise in '08 with 1,238 rushing yards (seventh in NFL), eight rushing scores, 477 receiving yards (the most by any running back to break 1,000 yards this season) and 4 receiving touchdowns. With Bernard Berrian leaving for Minnesota, Forte picked up the slack and helped the Bears stay in contention for the NFC North title right up through Week 17. Forte could easily go earlier in some leagues.
9. Larry Fitzgerald - Ari
The ball-boy from Minnesota has come a long way from practicing pitch and catch with Cris Carter on Vikings' sidelines to catching 62-yard touchdowns in the Super Bowl. Fitz had a stellar season with Cards tied for the most touchdown receptions in the league with 12 and second in the league with 1,431 behind Houston receiving star, Andre Johnson. Larry ain't done either. He probably won't go too much higher, but he defiantly won't be falling much farther come Draft day.
10. Chris Johnson - Ten
Rookie number three. Chris Johnson amassed 1,228 yards (eighth in NFL) in his rookie year with the Titans. He introduced amazing speed to compliment LenDale White in end zone and third-down situations. Chris also found the end zone nine times.
Please comment below on what you agree/disagree with and why you might choose differently.