On Saturday evening, it became official. Although more than a month of speculation had suggested that Mario Manningham's departure was impending, the finality of his signing with San Francisco means that the Giants are officially on watch for his replacement.
It may not be often that the third man on the depth chart requires "replacing." But just like a trio of defensive ends served as the necessary catalyst for a world championship in 2007, a three-headed receiving corps provided the upper hand in '12.
So if Jerry Reese is hell bent on nurturing homegrown talent, why would he allow a proven formula to dismantle? Wouldn't a dangerous receiving group consisting of players who had only been Giants be exactly what Reese should invest in?
Ideally, yes. Were we discussing the Yankees infield or a formidable Mets batting order, then the key contributors would need to be retained.
But this isn't Major League Baseball. There are monetary restrictions in play that go far beyond the theoretical thickness of John Mara's wallet.
The equalizer, the salary cap, is the pane of glass between prisoner and visitor. If you can enjoy the talents of young players during the length of their first contract, than you can enjoy championship caliber depth. But when it is time for the payoff, be prepared to start over.
Manningham was a key cog, a great variable that forced defenses to make an impossible decision. Who do you leave open? Do you let Victor Cruz run a slant over the middle? Do you let Hakeem Nicks cut in on a hook against a single corner? Or do you let Manningham haul in a well-placed ball along the sidelines on a post route?
But at day's end, Manningham was the third and theoretically most replaceable receiver. Yet, thanks to the reality of free agency, he became the most expensive as of last Tuesday.
The Giant simply could not find a way to pay him—not because it wasn't possible, but because it would set a dangerous precedent. Hakeem Nicks is currently playing under his initial rookie contract. It is a deal that is befitting of a first-round selection. He will be in line for a big payday from either the Giants or someone else next spring (barring injury).
While Nicks is not necessarily in line for a raise because of the respectable size of his deal, Cruz is not in the same boat.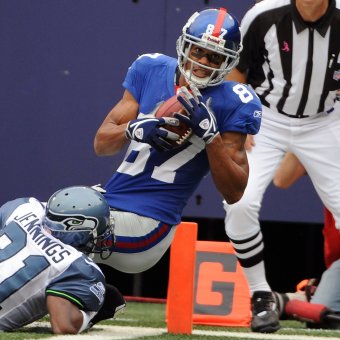 Al Bello/Getty Images
Cruz, who now owns the record for most receiving yards in a season by a Giant (1,536) is scheduled to make only $490,000 in 2012. It would not be surprising to see Cruz eventually offered a restructured and perhaps longer deal once free agency and the draft are behind the Giants.
Following Calvin Johnson's monster deal from last week, which guarantees him $60 million, the bar will be raised for Reese and the front office when the time comes to lock up his top two aerial weapons. The Giants had no choice but to look for an affordable option to place in the third receiving spot.
Domenik Hixon's return is admittedly not one, that I saw coming. For a player whose primary assets are his agility and speed, back-to-back torn ACLs (in the same knee) could easily spell the end of a career. Now, with only a $650,000 one-year contract, he could be the bargain bin answer to the Giants' problem.
This would not be the first time that Hixon had an opportunity to be one of Reese's diamonds in the rough.
Brought in midseason in 2007, Hixon was primarily a kick returner. After an excessive celebration penalty on Randy Moss during the regular season's finale/Super Bowl preview, Hixon returned the ensuing shortened kickoff for an immediate score.
Now that it's official, who should replace Manningham?
In 2008, Hixon stepped in as a starter opposite Amani Toomer during Plaxico Burress's initial one-game suspension in October. Against a lowly Seahawks defense, he gave the fans exactly what they wanted. He notched four receptions for 102 yards and a TD.
But will Hixon return healthy? And if he does, is he the answer at the third receiver? Could his presence allow Cruz and Nicks to replicate their production from 2011?
Obviously, his durability is an issue. The earlier game I mentioned against the Seahawks? He left that one in the first half with a concussion. His first ACL tear? He sustained simply by getting his cleat stuck in the Metlife Stadium turf. Last year's tear? It happened in Week 2.
But Hixon, perhaps to a lesser extent than his counterpart Cruz, has a knack for the memorable play. His lone TD reception in '11 (the vey same play in which he re-injured his knee) was a circus like bobble that ended in him resting with the ball between his hands seven yards deep in the end zone.
When healthy, he has impressive agility and a definitive second burst of speed when he can find open space.
Despite spending the majority of the season as a reserve, Hixon hauled in 43 receptions in 2008 for a total of 596 yards.
My main concern, however, isn't what Hixon brings to the table; it's what he might not.
It wasn't Manningham's hands that made him so memorable. Outside of an acrobatic watch in Dallas during Week 2 of the '09 season, it was his feet that made him so memorable.
Like the man he replaced, Toomer, Manningham had the ability to drag his feet along the narrowest of sideline margins. It was that tightrope sideline ability that likely propelled him just out of the Giants' reach in free agency, due to his iconic catch in double coverage near the Patriots bench in Super Bowl 46.
It was that rare knack that made the former Wolverine more than just an open receiver if Cruz and Nicks were blanketed. It made him someone worth covering in his own right.
Hixon will not earn that respect from defenders and coordinators at the start. He will not be a third weapon in his own right until he can prove his effectiveness.
Behind Hixon, are two other in-house options. Jerrel Jernigan will be entering his second year as a pro after basically taking up space in '11.
Another diminutive receiver, Jernigan came on toward the end of the campaign as a returner. He has impressive speed and as is now standard operating procedure for post first round Giants rookies, he will likely see a steep increase in playing time during his second season.
If he truly is to follow in Manningham's footsteps, then perhaps he can duplicate his predecessor's sophomore success. After recording just four receptions as a rookie, Manningham was thrust into a starting role in 2009 and produced 57 catches for 822 yards and five TDs.
Behind Jernigan is Ramses Barden. Perhaps the ideal replacement in theory, Barden would bring a unique element to the top tier of the receiving corps. At 6'6", Barden was drafted in 2009 to provide a Burress-like red zone target.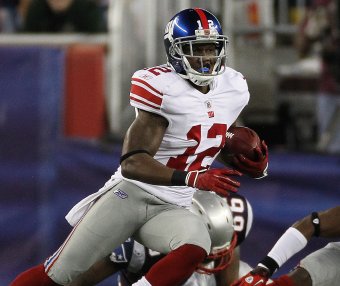 Jim Rogash/Getty Images
He has since been a disappointment. During the rare times that he has been healthy, he has failed to consistently contribute. He was a healthy scratch throughout the entirety of the playoff run. Training camp will be his last chance to make the Giants roster.
When all is said and done, I don't see another name being brought in via free agency. However, I do expect another receiver to be tabbed during the middle rounds of the draft. Before said receiver gets an opportunity, Hixon and second-year Jernigan will have to blow their opportunity.
A healthy Hixon is my favorite to start the season as the No. 3. Jernigan is my favorite to get the return duties. Hopefully, his speed will allow that underachieving facet of the Giants game plan to finally produce some advantageous field position.
Should Hixon be lost to injury or otherwise fail to impress, I would not be surprised to see a currently underwhelming Jernigan step up and make some eye-opening plays.