Dallas Cowboys owner Jerry Jones made a lot of noise during the Senior Bowl and NFL Combine about big moves this free agency, so far all Big D has to show for it is potentially signing their replacement to Jon Kitna at backup quarterback.
Mar 19: Jason La Canfora of NFL.com is reporting that the Cowboys have released OL Kyle Kosier.
Mar 16: Todd Archer of ESPNDallas.com reports the Cowboys will release guard Kyle Kosier. The move has not been made official yet.
Adam Schefter is reporting that the Cowboys have signed WR Kevin Ogletree to a 1 year deal.
Adam Schefter of ESPN is reporting the Cowboys have signed G Nate Livings to a 5 year, $19 million dollar contract with $6.2 million dollars guaranteed.
Mar 15: ProFootballTalk is reporting the Cowboys have agreed to a contract with LB Dan Connor.
Calvin Watkins of ESPN Dallas is reporting the Cowboys have signed former Jets S Brodney Pool.
Mar 14: Report: ESPN's Adam Schefter is reporting via his Twitter that the Jaguars have signed now former Cowboys' wide receiver Laurent Robinson to a five-year, $32.5 million deal.
ESPN's Adam Schefter is also reporting via his Twitter that the Cowboys have signed Brandon Carr to a 5 year contract worth $50.1 million dollars
According to the ESPN Transaction tracker, the Cowboys have signed OL Mackenzy Bernadeau to a four-year deal.
ESPN's Adam Schefter is reporting via his Twitter that the Cowboys have come to a three-year agreement with quarterback Kyle Orton.
Mar 13: ESPN is reporting the Cowboys have re-worked Orlando Scandrick and Doug Free's contracts to save the team $8.56 million dollars.
ESPN is also reporting that the Cowboys have cut CB Terence Newman and K David Buehler while former Dallas WR Laurent Robinson and TE Martellus Bennett have scheduled meetings with the Jacksonville Jaguars and New York Giants respectively.
News has also broke via Dallascowboys.com writer Josh Ellis that America's team will be courting former Kansas City Chiefs cornerback Brandon Carr at the the house that Jerry built tonight.
Despite comments made by Dallas Cowboys owner Jerry Jones during the Senior Bowl a few months back, his team has not been active in free agency up to this point.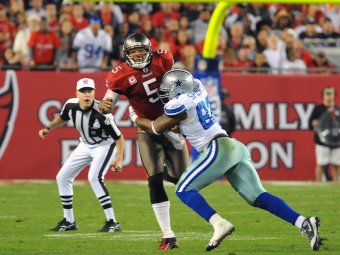 Al Messerschmidt/Getty Images
For the first time in a long while, the Cowboys have some wiggle room to make a splash in this year's free agent pool, but all they've done thus far is use their franchise tag on linebacker Anthony Spencer.
That doesn't mean there hasn't been mumblings coming out of Valley Ranch, but so far, that's all Dallas' fans have had to read about.
Signings
As I mentioned, the only signing so far is Spencer via the franchise tag, but Dallas has to be disappointed by other moves in the cornerback market.
The Kansas City Chiefs signed one-time Cowboys free agent target Stanford Routt last month. The Atlanta Falcons decided to use their franchise tag on corner Brent Grimes, leaving Dallas with two less options to look at in this offseason's free agent pool.

Rumors
Update ESPN's Adam Schefter reported via his Twitter that the Giants signed TE Martellus Bennett to a one-year $2.5 million contract.
Not that many 'Boys fans will be upset to hear this, but former tight end Martellus Bennett isn't interested in re-signing with Dallas. The 2008 draft pick told the Fort Worth Star Telegram that he feels "like a 60-catch-plus guy on a team, so I want to be in a system where I could do [that]."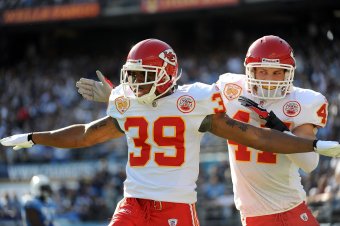 Harry How/Getty Images
On a more exciting note, ESPN Dallas has reported that America's Team is in hot pursuit of former Titan Cortland Finnegan and former Chief Brandon Carr. Both are the best options in a less-than-stellar pool of corners, and Dallas would be wise to sign at least one of the two.
Update: ESPN's Adam Schefter is reporting via his Twitter that the Buccaneers have agreed to a deal with former Saints guard Carl Nicks.
The other name dancing in the heads of 'Boys fans is guard Carl Nicks, formerly of the New Orleans Saints. Nicks has stated he wants to be the highest paid guard in the league, so he will eat up lots of cap space if he comes to Valley Ranch.
There has been no official word from the Cowboys about pursuing the former Saint, but Nicks told Yardbarker that he thinks his time in the Big Easy is over.
Storylines
From the financial side of things, Both the Cowboys and Redskins have been penalized by the NFL for front-loading player contracts during the uncapped 2010 season. Dallas will lose $5 million dollars worth of cap space both this offseason as well as next year.
The Cowboys have made murmurs that they will fight the ruling, issuing a press release stating:
"The Dallas Cowboys were in compliance with all league salary cap rules during the uncapped year. We look forward to the start of the free agency period where the commitment to improving our team remains unchanged."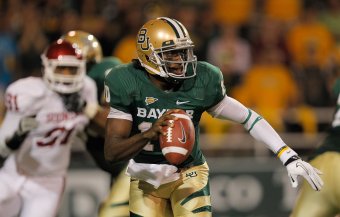 Sarah Glenn/Getty Images
Perhaps the biggest Cowboys player-related news as of late is the fact that archrival Washington will soon be the proud employer of Baylor's Robert Griffin III. Dan Snyder's team just unloaded three first-round picks and a second-rounder to move into the No. 2 spot in the draft, with all signs pointing to a new quarterback in the nation's capital in 2012.
This means that Dallas will be playing against this year's Heisman Trophy winner for years to come, and head coach Jason Garrett and his staff better get to work on neutralizing the explosive talent that is RG3.