OK, I'm officially on the Peyton Manning bandwagon. Although I have been very vocal about using caution when signing anyone with a record of neck injuries, I decided it's worth the risk. I do emphasize the word "risk". Of course, any contract offered might use up the Chief's total cap space and effect the future signing of other free agents needed to fill key holes. Although I have to admit, I would be very nervous every time some 330 pound Nose Tackle shoved his elbow into that neck.
If you hold that image for a minute longer, it is quite upsetting, in the wake of the New Orleans "bounty hunting" scandal. $1500 for getting a player carted off the field? How much do you get for breaking the neck of maybe the greatest player in football history? New Orleans should not only lose their first round draft pick. How about their entire draft? Look, I'm a tough football guy too, but you have to draw the line somewhere. Think about a guy spending in next 50 years of his life in a wheelchair? Manning, and the team that signs him, are taking a big enough risk as it is. Bounty hunting is the last thing that Peyton needs.
Well, its interesting that in many discussions, people have brought up the possibility of Chief's eventually moving Brandon Albert to guard. The question is does that diminish his value? Albert will be a free agent next year. The irony here is that if they choose to franchise him next year, they would have to pay him offensive tackle money which is a significantly higher than the money teams pay for tagging a guard.
Frankly, now that Albert has developed into a very good tackle why move him? I will say one thing, the more I see him play, the more he reminds me of a young Willie Roaf. Yes I know, Roaf was huge and pulverized anyone in his path, but that was the Roaf we saw in Kansas City. When he first came into the league, what made him special was his speed and ability to pull. When Albert played at Virginia, all he did was pull and crushed guys on the second level. He has more power when on the move than blocking in line. Albert would have been a perfect fit for Dick Vermeil's Offense back in the day.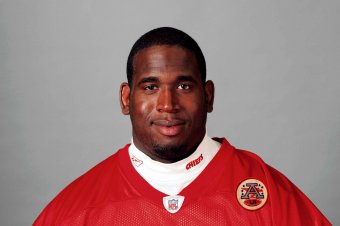 Handout/Getty Images
Speaking about the offensive line, boy is Todd Haley going to be in for a shock here in Pittsburgh. Haley carried only eight offensive lineman last year in Kansas City. The Steelers last year carried twelve. They're a team that have always believed in the concept of "The more offensive lineman the better". There is one big difference though. Haley is no longer head coach.
I think Haley will have real problems here in Pittsburgh. He needs to be kept on a short leash. If Bill Cowher was head coach, he would put Haley in his place, but Mike Tomlin is more of the quiet type. I think it would be wise if Haley wakes up every morning reminding himself that he is no longer a Head Coach. Old habits die hard, and after 4 years of being the top dog in Kansas City, he better watch his step. Yelling better be kept to a minimum. As far as he and Big Ben? Lets just say that fireworks, in this city, won't be exclusive on only the 4th of July.
Poor Glen Dorsey will most likely be on the move after this season. Can they sign him to a long term deal? Do fans want them to? Dorsey's dream is to play for a team who can return him to his most natural position, as a three technique. It's also where he could make the most money. I always loved Dorsey ever since he came into the league. I would hate to lose him.
With Jamaal Charles hopefully coming back healthy this season, it's more important than ever to get a big back for him to split time with. We know, even when healthy, they only gave him nine carries a game. The problem is that many of the top running backs in this year's draft are only 5'9, including Trent Richardson. I like Doug Martin of Boise State, but scouts are alarmed about how he shies away from contact when picking up the blitz. If that Quarterback is Peyton Manning? Well................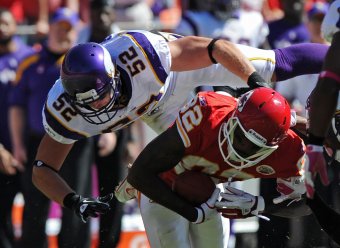 Peter Aiken/Getty Images
I was shocked today when I picked up the annual Draft Digest and saw them choose Brandon Weeden as Kansas City's second round pick in their NFL mock draft. They do express concern about Weeden's lack of mobility and poise under pressure. What concerns me is this guy will be a 29 year old rookie. Players that old don't usually get drafted unless they are "special". Weeden isn't.
So, what is the deal with Dwayne Bowe anyway? I am very happy he was named the team's franchise player, even though it will cost them $9.5 million. They had no choice but to overpay. I disagree with those who were hoping for Carr. Losing Bowe would be too big a loss. Would they let Bowe go after the season? If he disagreed with any kind of extension now, what makes them think they can resign him next year? Maybe if he has a bad year it might help, but who is rooting for that to happen?
Should the Chiefs trade up for a Quarterback? Well consider the following. Romeo Crennel gave up two first round picks and a second to get Brady Quinn. Jacksonville gave up their second rounder, just to move up a few slots to take Blaine Gabbert. Baltimore gave up two first rounders and a second to get Kyle Boller. Of course, none of those QB have RG3's potential. Its still something to consider.
I was very happy with the contribution Steve Breaston made last year. He came into the league known for his return skills, but has evolved into a very underated receiver. The most impressive thing about him were his hands. He dropped only two passes last season. While on the subject of hands, most people don't realize that although Bowe had a down year numbers wise, his drops decreased from fifteen in 2010 to just five in 2011. However, at least one of them cost them a win.
How about those Chargers? Yes, those darling favorites by "experts" to win the AFC West every year? Not only did they choke last year, but this year they lose; Vincent Jackson (pro bowler), Antonio Garay (pro bowler), Kris Deilman (pro bowler), Marcus McNeil (pro bowler), Luis Castillo (starter), Mike Tolbert (semi starter) and the list goes on. Throw in Antonio Gates' chronic foot problems and Malcolm Floyd's propensity to not play unless 100% and they've got some major issues. My prediction? 6-10 without breaking a sweat. Its also further proof that a great QB can't solve all your problems which San Diego fans are about to find out.
Looking at this year's list of free agents, good luck finding a starting right tackle. Maybe the Chief's should focus on offensive guard. Carl Nicks, Ben Grubbs, and Evan Mathis never looked so enticing. If Pioli is smart, he'll grab one and take Riley Reiff or Jonathan Martin in the first round of this year's draft. With the Chief's stretch zone blocking scheme, either would be a good pick. Reiff got the thumbs up by Pioli's good friend Kirk Ferentz, and to call Martin smart is the understatement of the year. He will be the first player in Stanford history to graduate with honors as a 4th generational African American family member in the shool's history. You can't get much smarter than that, Scott.
Since most people feel Dontari Pope will not be available with the #11 pick, their top priority is grabbing a Nose Tackle in free agency, and they better. There are more than enough to go around including Aubrayo Franklin, Antonio Garay, Sione Pouha, Paul Soliai, and Red Bryant. Garay is the best Nose Tackle in the league and Pouha is outstanding against the run, Franklin played great NT before they switched to a 4/3 and Bryant came out of nowhere and was unstopable last year, playing at 350, but my bet is on Soliai. Why? Because Daboll can vouch for his character.
Poor Jevon Belcher. Second on the team in tackles, but still gets no respect. With the money they save with the release of the useless Demario Williams, I bet they bring him back. Curtis Lofton and Stephen Tulloch sound appealing as well, but you can forget about NFL draft prospect Vontaze Burfict of Arizona State. I wouldn't be surprised if he's not even on Kansas City's board come draft day. Big hitter, but lousy tackler who misses too many in the open field. I might also add that rarely does a linebacker run a 5.1 forty and still get drafted. Rumor has it KC likes Bobby Wagner of Utah State. I'm sure they like Luke Kuechly a lot more, Pioli's poster child for everything he dreams of and more.
But what am I saying? How can we afford those guys with all our money riding on Peyton Manning and Reggie Wayne?
Don't hold your collective breath. With the Jets and Dolphins in hot pursuit, it may not be easy.