Tonight's Strikeforce undercard, broadcast for free on Showtime Extreme, was a rousing success from a fan's perspective and reinforces my admiration for the organization as a whole.
The fighters, announcers, referees and unsung heroes, matchmakers, have developed a product that even the most casual MMA fan can tune into and enjoy.
Ryan Couture's accelerated development was evident in an all-around dismantling of Conor Heun.
Forever burdened with the unattainable expectations of his lineage, his striking game was an excellent display of footwork, feints and crisply thrown blows, while his ground game was a nonstop showing of technically advanced defense with some respectable submission attempts thrown in to thwart the highly regarded Heun's attempts to impose his will.
He will never be a knockout artist, but he is turning into a legitimately good MMA artist.
Pat "Bam Bam" Healy brought his relentless desire into a match with the undefeated Caros Fodor.
Fodor has all the tools to be special and displayed very accurate striking early on, but Healy's bigger frame and nonstop forward drive was too much for Fodor to handle.
Bam Bam got his reward with a arm triangle choke to submit his opponent and maybe put himself on the fringe of the lightweight title picture.
The Battle of Ohio introduced MMA fans to a newcomer in native Brandon Saling. Saling has a background that Frank Shamrock likened to "Rocky" in his prefight hype for its lack of refined professional training and mediocre record which included an incredible 13 fights in a year's span. He took the fight on short notice against Strikeforce veteran striker Roger Bowling.
The two came out striking and Saling showed he has a right hand to be reckoned with by holding his own on his feet with the refined veteran, even buckling Roger's knees.
He showed a ton of potential with a natural affinity for the basics but succumbed to Bowling's experience after being twice put in the crucifix position for which he had no answers as the blows rained down.
Many veterans would have tapped, but Saling displayed a great chin and with that right hand and decent hips, he definitely attracted the attention of veteran trainers who can mold him into a fighter to keep an eye on.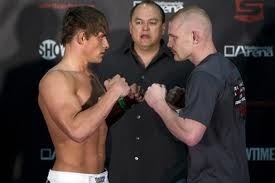 As good as the men's bouts were, they were blown away by the brawl former champion Sarah Kaufman and Alexis Davis engaged in. Kaufman's striking ability is universally respected and many felt Davis would try to take the game to the canvas to counteract it. What ensued was a gift to everybody who viewed it.
From the first blow landed, a barnburner ensued that never waned until the final buzzer. Kaufman and Davis came out striking, with Davis immediately controlling Sarah's head and landing a series of nice right hands.
Kaufman shook it off and showed off her technical skills, delivering one-two combinations with head movement as expected and really was relentless.
However, Alexis stood in the pocket and traded with her showing very nice hand speed and unbelievable improvement in her stand-up game. Back and forth, no holds barred, the fighters blasted away at each other with with primal desire.
Kaufman opened up a nasty cut above the left eye of her foe with precision shots and the plasma flowed freely but rather than discourage Davis, it seemed to inspire her to respond in kind.
Davis incorporated wicked elbows in the exchanges in an obvious attempt return the damage and sure enough, one hit its mark, bloodying the forehead of her opponent with a significant gash above her left eye.
Streaming blood between the two of them, they continued their nonstop assaults throughout Round 2 as the crowd roared its approval.
Kaufman's technique and power showed as she repeatedly landed the cleaner, harder blows but it never dissuaded Alexis from trying to match her blow for blow.
Finally, in the final round Davis scored a takedown and dominated the striker with her better skill set and put a ground and pound on the former champion that just was wickedly inspired.
Kaufman's iron resolve helped her survive until the final buzzer and when the judges came back with the decision in her favor, it reaffirmed her status as one of the best women cage fighters in the sport.
The action was first rate, nonstop and thoroughly invigorating. Hands and blood flying with no hesitation or backing down, it quite simply was fantastic. Strikeforce has developed a product that easily rivals the UFC and is a first-class viewing experience.