Sunday's 84th Academy Awards will mark eight years since a sports-related movie took home Best Picture honors—when Million Dollar Baby won in 2004.
Over the years, sports movies have been overlooked by the Academy. Of all 485 movies that have been nominated for best picture, only 15 have been sports-related movies—and of those 15, only three have won.
The three fortunate flicks that won over the Academy in the Best Picture category were Million Dollar Baby (2004), Rocky (1976) and Chariots of Fire (1981).
Last year, David O. Russell's The Fighter earned seven nominations—including Best Picture—but went home with only two awards for Best Supporting Actor and Actress.
This year, Bennett Miller's Moneyball has six Oscar nominations, and is the 16th sports-related movie to be nominated for Best Picture. Surprisingly, it is only the third baseball movie to be nominated for Best Picture. The other two were The Pride of the Yankees (1942) and Field of Dreams (1989).
But has Moneyball gained enough steam to defy the odds and captivate the Academy?
Unfortunately, Moneyball will be competing against eight other superb films for Best Picture honors including The Artist, The Descendants and The Tree of Life.
Moneyball's Brad Pitt and Jonah Hill are also nominated for Best Actor and Best Supporting Actor, respectively. And the movie also earned nominations for Film Editing, Sound Mixing, and Adapted Screenplay.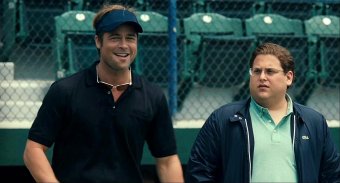 While these additional nominations will undoubtedly strengthen Moneyball's case for Best Picture, taking home the ultimate honor on Sunday will still be a long shot.
The movie was good, but not entirely factual, as Hollywood tends to do with true stories. Oakland A's fans and reporters were quick to point out the flaws of the production.
Amid the gripes that baseball fans had about the movie, the critics of Rottentomatoes.com give it their stamp of approval. Moneyball currently boasts a 94 percent rating, with an 87 percent viewer rating. But its approval rating still trails The Artist (97 percent).
Tune in Sunday at 5:30pm Pacific Time on ABC to see how Moneyball fares with six nominations in the 84th Academy Awards.
Updated 2/27/12
Moneyball struck out at the Oscars and went home empty-handed. The Artist prevailed in the Best Picture category, finishing the night with five Oscars in hand.