So you want to watch WWE's third annual Elimination Chamber pay-per-view event live tonight from the Bradley Center in Milwaukee?
The easiest, most traditional way is to order the pay-per view through your cable company for about $45 in standard definition and $55 for high-def. WWE.com has a very clear explanation of how to do it.
There's ordering info for AT&T, BrightHouse, Interactive Optimum, Charter Communications, Comcast/Xfinity, Cox Communications, DirecTV, DISH Network, Insight Digital Cable, Mediacom, Time Warner Cable and Verizon FIOS.
Of course, you can also watch the entire event live online at WWE.com.
You first have to purchase the event—and obviously be logged into the video player at www.wwe.com/ppv from within their storefront. Once you've bought the event and completely logged in, you should see the Play Now button for the event.
Per WWE.com's instructions:
"You have 30 days to begin watching the Pay-Per-View after you have purchased it. Once you've started to watch the Pay-Per-View, you have 24 hours to finish watching the Pay-Per-View. You can watch the Pay-Per-View as many times as you want within this 24-hour period."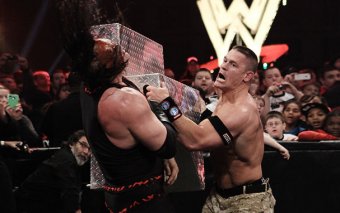 WWE.com also has a terrific feature that allows you to search for nearby Blast Areas, or local bars and restaurants that will be showing the PPV.
You'll probably have to pay some kind of cover charge to get in, but it won't be nearly as much as ordering the PPV at home.
You'll also have to pay for whatever pizza, wings, burgers, fries and adult beverages you consume while you're there—but what better place to watch the madness of WWE than in a loud, crowded bar with loads of other wrasslin' fans?
Of course, there are other options, too, like trying to stream the PPV for free on your computer. And sure, sure, there are plenty of sketchy sites out there that offer "free live streaming" of pay-per-view events like this—but can you trust them?
Some seem mildly reliable, but you never know what you're getting yourself (or your computer) into.
The quality can be really crummy and there are often viruses, malware or pop-ups that will ruin your experience.
Just a warning for you other cheapskates (like me) out there.
I love a great deal like the next guy, but this is an event I need to see for real. I don't want to tempt fate with one of these sites.