The San Francisco 49ers put on a show over the 2011 season and followed it with a strong playoff run against not one, but two very difficult opponents.
If not for a heart-breaking overtime loss to the eventual world champion New York (New Jersey) Giants, they could very easily be wearing new jewelry soon.
Much credit must go to the NFL's Coach of the Year Jim Harbaugh, but the architect and chief builder of the team must not be forgotten in the wake of last year's thrilling turnaround season.
Harbaugh did take a 6-10 team and turn them into a 13-3 beast. And he did so as a rookie NFL head coach with no real functional offseason to speak of. Jim brought Alex Smith, who even I had at point given up on, out from under the bus. Jim dusted Alex off and showed him how to finally play the game with a chip on his shoulder.
As advertised, Jim Harbaugh and the 49ers "just found ways to win."
But many other aspects of the team that culminated in success have been results of Mike Singletary's vision of a smash-mouth, pound-the-rock, take-no prisoners bully.
"As iron sharpens iron, one man sharpens another"
Singletary (with the help of Trent Baalke, Scott McCloughan, and even Mike Nolan) forged a steel framed 4x4. Samurai Mike (and company) designed a monster truck of work ethic, injected their souls with the love of competition and taught them to strive for a mental and physical toughness the likes of which many players never knew they had in them.
Coach Singletary preached accountability and unity as well.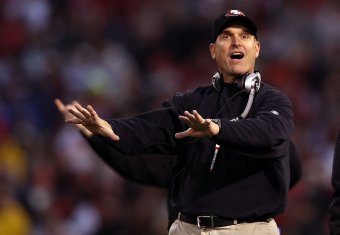 Ezra Shaw/Getty Images
They became a unified team of high-strength components rather than individuals simply trying to make each other look bad. Vernon Davis is still the poster boy for this shift to a team mentality.
The machine they became seemed to have a brutal potential at times, and it played the game bluntly.
But this high-powered tank of a vehicle proved difficult to handle, and far too often, crashed and burned or rolled over in critical situations.
On certain occasions, a simple run could be called, and the machine would be smashed directly into an immovable wall, damaging some of its most important parts in the process.
Rather than risk totaling the vehicle, Jed York and Trent Baalke gave Jim Harbaugh the keys.
Just as Mike Singletary's 49ers had found ways to lose and underachieve, Harbaugh's staff delivered the right blend of tactics at crucial times and found ways to win.
They still pounded the rock with Frank Gore and a big, young and growing offensive line; but they did so in a slightly more subtle manner.
Players didn't just simply do their jobs, they did multiple jobs. For instance: even though many narrow-visioned fans made a scapegoat of him at the season's bitter end against New York, smaller receiver Kyle Williams (drafted under Singletary) threw a block at Saints defensive tackle a week earlier, which sprang Joe Staley downfield to block against a DB. Alex Smith was able to speed waltz into the end zone as a result.
There is no doubt that Jim Harbaugh is the man to steer this vessel. Singletary couldn't have dreamed up the intricacies of this play. He was a mono-a-mono tactician, with never any real element of surprise in his arsenal. He dared to run plays the opposition knew were coming, believing that if his machine was built true, they could still not be stopped.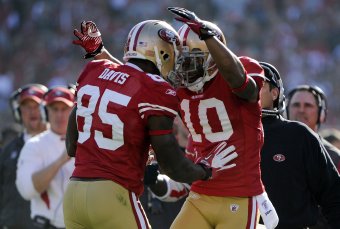 Thearon W. Henderson/Getty Images
But they were stopped plenty.
Harbaugh brought a poker player mentality to the sideline. Various levels of unpredictability highlighted his playbook, and even though it was a far more complex and detailed scheme, the 49ers pounded the rock all season—and to far greater success than they had with Singletary at the helm.
When it's all said an done, however, and many of the classless bandwagon jumpers—a side effect of success for which the Faithful must apologize for to opposing fans who were assaulted—and when the angry mob has put out their torches and thrown down their pitchforks, and Kyle Williams is exonerated for trying too hard to play through a concussion in a critical game, look to Harbaugh's faulty play-calling to help explain the 49ers losing their ticket to the dance.
There was the razzle-dazzle reverse that was too risky a play to call on a muddy field. And moreover, there was the fourth-quarter, three-and-out on consecutive pass attempts while the 49ers had the lead late.
Now, no one is saying creativity has been a bad thing at any part of the year, but in those instances, we should remember the machine's designer, a caveman engineer named Mike Singletary, who—in those instances—would not have forgotten to pound the rock.