It wasn't long ago that a few writers had brought up the possibility of Kansas City being a possible new destination for Peyton Manning. I was basically against the idea, but the more I thought about it, the more I thought that Manning could help the Chiefs—in more ways than one.
Maybe an interesting twist of an old assumption.
We all have been following the soap opera going on in Indianapolis. It was reported today by ESPN that doctors have finally cleared Manning, giving him the "thumbs up" for full contact practices. For Manning, you might say that this is the "good news"
The bad news is that Peyton Manning has no future with the Indianapolis Colts. To take it a step further, he may have no future at all.
It reminds me of an old blues song which states "If it wasn't for bad luck, I wouldn't have no luck at all"
The Colts will have a new sheriff in town and his name is Andrew Luck. To make a long story short, "Luck" is not only what the Colts need, but what their former future Hall Fame Quarterback will also need, and plenty of it. That's what happens when you're 36 and trying to recover from a broken neck.
Yes, there is no doubt that Andrew Luck's name will be called first on NFL Draft Day and guess who picks in that spot?
Trade down, I don't think so. Not with this kid, and the Colts certainly know a good Quarterback when they see one. In fact, make that a great Quarterback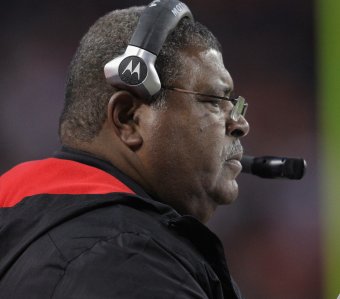 Doug Pensinger/Getty Images
There is no doubt that Luck is NFL-ready, and can easily step in and start as a rookie from day one. Coming from a pro style offense in college certainly helps.Having the brains to even get into that Ivy league school makes a statement as well.
That presents a problem. The Colts will have two Quarterbacks now, both with fat contracts and both with every intention of starting. One has got to go and it must be the old guy. Sad but true.
The Colts have said they will wait until the last minute before making any decision on whether to keep or cut Manning but my question is why? Is one more month going to cure his problem? Ask Pittsburgh Penguin star Center Sidney Crosby. He might provide you with better insight.
Manning will be released in the next month.
The big question then becomes what NFL team will pay that much money for a player, who at 36, is on the downside of a once great career, not to mention is considered by most as a huge medical risk? It is a risk that most teams won't take—that is,unless that team is the Kansas City Chiefs.
The Chiefs need a franchise quarterback to have any shot at winning a Super Bowl, but this is where the twist comes into play. The Chiefs are the only team that also needs a new offensive coordinator. Can Manning do both? In my mind there's no doubt, and that is why its something that all parties should consider.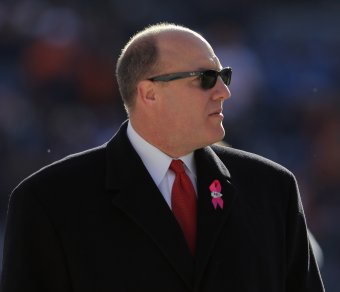 Doug Pensinger/Getty Images
Let's face it, the Chiefs are frugal. By having Romeo Crennel as both head coach and defensive coordinator, they save themselves a lot of money. If Manning is capable of being their starting quarterback as well as their offensive coordinator, they may save themselves even more.
You pay for a head coach and a quarterback and you get an offensive and defensive coordinator for free.
But there is a lot more fantasy here than meets the eye.
First of all, Manning has been quoted as saying that if the Colts cut him, he would probably retire rather than end his career with another team. Of course, that's how he feels now, but he can always change his mind
Secondly, there is the time factor. Can the Chiefs wait another month before naming a new offensive coordinator? They could, but most likely they won't
Finally, can Manning even play anymore? MDs have said that his three neck surgeries have damaged a nerve in his arm that has sapped most of his arm's strength. There is always the possibility that he may regenerate that strength in due time, but its more likely that he might not. In private workouts it has been noticed that the velocity on his passes lack zip.
The point here, is that by combining his roles as both an OC as well as a starting QB, if it does turn out that his playing days are over, he can still coach, and with most teams already having existing offensive coordinators, that is what gives Kansas City the edge.
So is this a gamble worth taking? If the Chiefs can work out a contract that would help protect their back end should he not be able to play but only coach, it might
On the other hand, even if he can play, he may not play anywhere near the level that he's used to. Some people may point out a Joe Montana comparison when discussing Manning but remember, Montana was healthy when he came to Kansas City.
Then of course, there is Manning himself. Does he really want to take that risk of living the rest of his life in a wheelchair should he take one blow to the neck too many? It might be different if he was young, poor and had no Super Bowl ring, but he is old, he is rich, and has that ring on his finger as we speak.
All in all, if I were the Chiefs, the answer would have to be no. Unless he retires and makes it known that he is interested in a role as an offensive coordinator, the risk is too great.