Sunday's 12-9 victory for Team Chara over Team Alfredsson in the 59th NHL All-Star Game marked yet another high-scoring offensive clinic. Marian Gaborik recorded a hat trick for Team Chara, while Daniel Alfredsson netted two goals of his own.
But all this talk about scoring overshadows perhaps the most important player on the ice (in any real NHL game)—the goaltender. It seems that the goaltenders get the short end of the stick when it comes to displaying their talent during the All-Star Game.
Team Chara got the best of Team Alfredsson goaltender Brian Elliot—who gave up six goals on 19 shots in the third period.
With the omission of hitting—and therefore defense—in the All-Star Game, there wasn't much Elliot could have done to control his fate.
In the third period, Team Chara scored four goals on four consecutive shots. Zdeno Chara scored a goal 16 seconds after Marian Hossa pirouetted in to sneak a top-shelf back-hander past Elliot. And shortly after that, Corey Perry and Joffrey Lupul scored just two minutes apart to put Team Chara up 12-9.
Entertaining? Yes. Fun for the goaltender? No.
Unless you're Tim Thomas.
Somehow Thomas has managed to win four consecutive All-Star games—and is the only goaltender in history to have done it.
Since 2000, the NHL All-Star Game has averaged nearly 20 goals per game. That's plenty of happy forwards, but a handful of overworked goaltenders. In Sunday's contest, each netminder gave up three goals in their respective period, with the exception of Elliot's six-goal third period.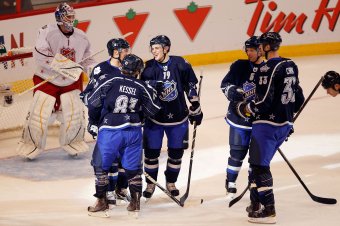 Gregory Shamus/Getty Images
Should the NHL address this discrepancy and make the All-Star Game more like a real game?
Allow checking in the All-Star Game and re-introduce defense?
No, because then players will get concussions in a meaningless game. But then again, players take that risk every time they play in a real game. The All-Star Game shouldn't be an exception. Hopefully something will be done in the future to incorporate defense without putting the players at too much risk of injury.
But at the end of the day, by current rules, the All-Star Game is an entertaining, fan-selected and friendly contest amongst the league's most talented players. Fun is the theme and abundant scoring is guaranteed.
Perhaps the NHL's top goaltenders will just have to put on a happy face and withstand one day of minor demoralization—their egos can handle it.