Breathtaking. Marvelous. Amazing. Edge-of-the-seat stuff.
These adjectives are perfect descriptions of one of the best clashes between Barcelona and Real Madrid in recent history. While previous Clasicos have been marred by cynical play from both teams, tonight's match served to remind everyone just why football fans mark Clasicos on their calendar when the season's fixture list is announced.
Real Madrid came into the match hoping to overturn a 2-1 deficit from their home defeat in the first leg. Jose Mourinho knew his team had to score at least two goals to have any chance of going through, and his team selection reflected this attacking mentality.
Mesut Ozil, Gonzalo Higuain, Cristiano Ronaldo and Kaka all started for Real Madrid. Surprisingly, Karim Benzema was relegated to the bench—a move that raised eyebrows and proved to be costly for Real Madrid, as we will see shortly. Barcelona played the same lineup that won 2-1 at the Santiago Bernabeu.
Both teams were at each other's throats from the outset. Higuain almost got Real Madrid a ridiculously early lead in the 11th second, but he skewed Dani Alves' backpass wide when one-on-one with Jose Pinto. Higuain was the villain again just five minutes later, when he failed to score from a great cross from Kaka.
Real Madrid continued to trouble and harry Barcelona. Indeed, they looked like the home side themselves. Barcelona were unable to put together the strings of passes that they are accustomed to doing, with Real Madrid winning the midfield battles in a decisive manner and feeding their attackers with deliberation.
Mesut Ozil showed a moment of individual brilliance in the 25th minute when his 30-yard shot cannoned out off the underside of the crossbar. Real Madrid's performance till the 40th minute left many wondering just why they weren't in the lead.
However, Lionel Messi took the match by the scruff off its neck with a beautiful run, which culminated in a chipped pass over the inattentive Pepe. Pedro came in completely unmarked from the left, and Casillas did not even see the point of attempting to save the resulting shot.
For all of Real Madrid's dominance, they went another goal down just a few minutes later.
Dani Alves rushed in from the right of the area and unleashed a fearsome one-touch strike that flew into the angle of the goal. Barcelona went into the half-time break with a slightly undeserved 2-0 lead.
People could have been forgiven for thinking it was all over at this point. With Barcelona now holding a 4-1 lead on aggregate, including two away goals, it seemed unlikely that Real Madrid would be able to threaten the Catalans in the second half. They needed to score three goals, after all, which was patently impossible to do at the Camp Nou.
They were almost proven grossly wrong.
In a fashion not seen in the Clasicos that preceded this one, Real Madrid took the second half by the scruff of its neck. Wave upon wave of white shirts descended on the Barcelona area from the first whistle of the second period. The normally conservative Mourinho took off Lassana Diarra, Kaka and Higuain and replaced them with Esteban Granero, Karim Benzema and Jose Callejon to give his side extra firepower up front.
The breakthrough for Real Madrid seemed to have come in the 53rd minute through Sergio Ramos' header at the back post. However, referee Fernando Teixera Vitienes disallowed the goal for a foul on Dani Alves by Ramos as he went to head the ball.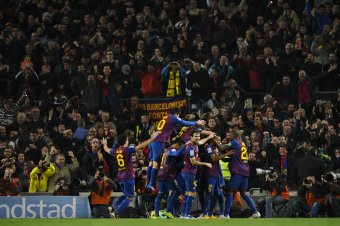 David Ramos/Getty Images
Madrid's attacking football finally paid off in the 68th minute, when the superb Mesut Ozil threaded a pass through Barcelona's defense, leaving Ronaldo to round Pinto and score. At this stage, the goal looked like a consolation, as Barcelona still held a dominant 4-2 lead on aggregate. Real Madrid still needed two goals.
Whatever comfort Barcelona fans held from the two-goal cushion on aggregate evaporated four minutes later as Benzema left Puyol scrambling before finishing coolly past Pinto. Real Madrid now needed just one goal with 18 minutes left to play. The balance of power had shifted into their hands, and suddenly, Barcelona looked worried.
Real Madrid continued to attack Barcelona's goal with the relentlessness of a beast of prey who has tasted his victim's blood.
Benzema almost sent Cule hearts into a tizzy when he found himself one-on-one with Pinto, but Puyol did just enough to miscue the Frenchman and prevent him from scoring from what was a golden opportunity.
Just as it looked like Madrid would continue to harry Barcelona till the final whistle, Sergio Ramos was sent off for elbowing Sergio Busquets. Replays showed the decision to be more than a little harsh, however, and that decision took the fight out of Real Madrid.
Unlike previous Clasicos, this match saw Real Madrid play to their full potential. Though Barcelona have qualified on aggregate, they will be wary of the sheer doggedness displayed by their arch rivals tonight.
Madrid simply refused to give up at any point in the match, constantly attacking and going toe-to-toe against a team they have normally shut up shop against. For the first time in 12 months, Real Madrid actually managed to outplay Barcelona over 90 minutes.
Most importantly, however, this match deserved to be called "El Clasico." Unlike so many of Barcelona and Real Madrid's matches throughout the past 12 months, this one demonstrated the raw footballing skill of both sides.
From Messi's run that set up Pedro's goal to Benzema's flick which beat Puyol, this match was a showcase of some of the best moments football has to offer.
Truly, a "Clasico."