Ever since the NHL introduced the fantasy draft format of the NHL All-Star Game last season, a whole new dimension of politics and drama has infiltrated All-Star Weekend.
Fan votes were tallied and the 36-man roster and 12 rookies for this year's version of the NHL All-Star Game was announced on Jan. 12. And just Wednesday the NHL announced that Ottawa's Daniel Alfredsson and Boston's Zdeno Chara will be team captains. The fantasy draft will be held on Jan. 26 for the All-Star Game in Ottawa, Ontario on Jan. 29.
Similar to how Eric Staal represented the hometown Hurricanes in Raleigh last year, Alfredsson will represent the Senators in Ottawa—creating a home-ice feeling for Team Alfredsson.
In the 2011 All-Star Game, captains Eric Staal and Nicklas Lidstrom drafted their teams pick-up hockey style, as Team Staal took on Team Lidstrom all weekend long—Team Lidstrom prevailing 11-10 in the All-Star Game to conclude the weekend.
Toronto's Phil Kessel was the not-so-unfortunate last pick of the fantasy draft by Team Lidstrom. Although he had to face a bit of humiliation and teasing from Alex Ovechkin, he won a new car and a $20,000 charity donation for being picked last. Not a bad trade-off.
After the All-Star Game, Kessel went on to have an impressive second half of the season, finishing the 2010-11 season with a career-best 64 points.
So far this season, Kessel is en route to having an even better year, with 48 points at the mid-season mark.
Perhaps being the infamous last pick in the fantasy draft is a blessing in disguise. This year's final pick of the draft may experience a surge similar to that of Kessel's in 2011.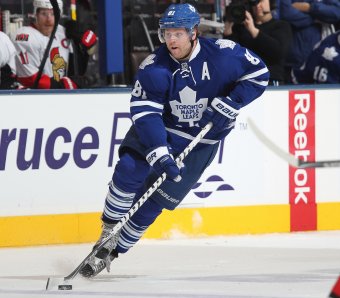 Claus Andersen/Getty Images
Here are three players who have a shot at the "glory" of being the least desirable All-Star in the eyes of Alfredsson and Chara.
1. Dustin Byfuglien, Winnipeg Jets
Despite his numbers being down from last season, Byfuglien leads Jets defensemen with 24 points. However, it is questionable whether or not he will be 100 percent come Jan. 29.
Byfuglien went down with a knee injury last month and hasn't played since Dec. 23. If his rehab progresses and he suits up for the All-Star game, it could be his first game in over a month.
2. Mikko Koivu, Minnesota Wild
While Koivu leads the Minnesota Wild with 33 points and a plus-9 rating, his stats don't quite measure up to his All-Star counterparts.
Among NHL forwards, Koivu ranks 59th in points and 140th in goals with nine. Other All-Star forwards Claude Giroux, Pavel Datsyuk and the Sedins will likely beat out Koivu.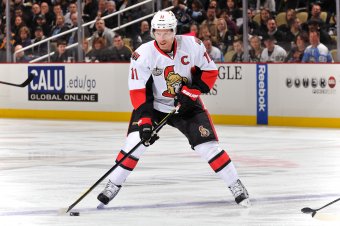 Jamie Sabau/Getty Images
3. Logan Couture, San Jose Sharks
As a Sharks fan, it was hard to pick Couture. But he is essentially in the same boat as Koivu in terms of how he has helped his team thus far.
Couture has been vital to the Sharks' success in the first half of the season—currently leading the team with 18 goals. His consistency has helped propel the Sharks to the top of the Pacific Division to be fierce contenders in the West.
Still, there is a good chance that other prolific centers will overshadow the 22-year-old in the fantasy draft.
In the end, the All-Star Game is indeed a popularity contest. While Chara and Alfredsson manufacture the teams, biases and politics will come into play. If anything, that will make All-Star Weekend more entertaining for the players and fans.
And be sure to remember the name of this season's last pick—not only will he drive off in a brand new car, but he could be back next year to do even better.