It's time to set the record straight.
Yes, apparently there were some rumors about a missed preseason call between Sean Payton and Jim Harbaugh, even though a call is usual and customary before a given preseason matchup. The New Orleans Saints blitzed, however, and if anyone else recalls, the Saints defense is what needed to be worked on from last year.
This is not the only storyline between these two coaches, however.
It hasn't been mentioned by too many others, so I thought I'd shed some light on the man who seems to continue to hold a grudge.
For Bully us this...
Steal from us that...
We're not afraid of you Jim Harbaugh...
You Big Fat Rat!
Way back in 1987, Jim Harbaugh was drafted 26th in the first round by the Chicago Bears. Sean Payton went undrafted.
Enter the NFL strike of 1987. Sean Payton is now a Chicago Bear—sometimes referred to as the "Spare Bears."
Could this have anything to do with the non-returning of aforementioned phone call? Could this be a holdout from years gone by? Sounds quite plausible to me.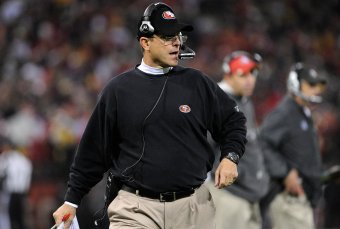 Thearon W. Henderson/Getty Images
But if that isn't enough for you, try this next nugget.
In the September 3,2011 match between LSU and Oregon, in a rare top-five opening day matchup, the "Honey Badger" moniker takes hold.
It is absolutely no secret that Tyrann Mathieu is from Louisiana, but he actually played high school ball at the St. Augustine High in New Orleans, Louisiana. The "Honey Badger" video went viral in September, and Harbaugh has been using the video as a motivational tool as of late (via Yahoo Sports).
I dare not say that LSU has sole custody of said name, however, it doesn't take a rocket scientist or mathmatetical genius to work these things out—especially in the age of the Internet.
Jim Harbaugh can attempt to use anything he wants to motivate: We have our ways, too.
We have been here before. We were once together in the NFC West and played second fiddle to the 49ers. We are not that team anymore.
I have heard all about Frank Gore and the 49ers rushing attack—how they are ranked eighth in the NFL this season. I hate to spoil all the fun, but the Saints have the sixth-ranked rushing attack, along with the passing record of Drew Brees and the all-purpose yardage record of Darren Sproles.
Not to be left out, Jimmy Graham takes second place in the record books for tight end receiving yards.
Yes the list could go on, but that would be like running up the score—and not very ladylike.
Ah Hell, I didn't get to talk about our defense, maybe next time. What I do know is it's almost game time!
Here We Geaux WhoDat's Here We Geaux!